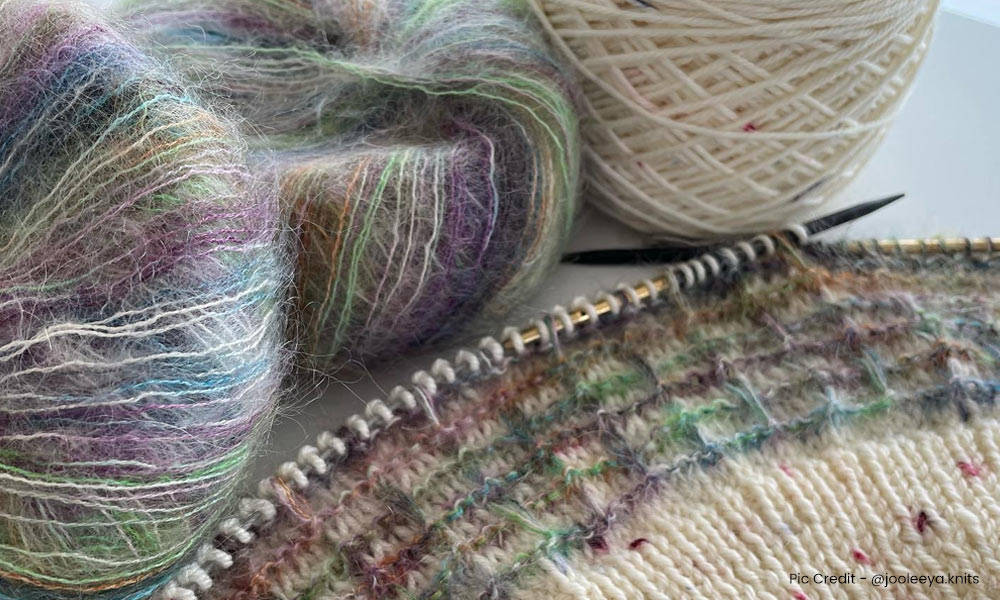 The term 'dropped stitch' refers to a stitch that has come off the knitting needles (one or both) and did not get worked. It is a very common knitting mistake and one that can be easily corrected. If you do not correct it on time and let it go, the knitted fabric slowly will unravel while you keep on knitting the remaining stitches on your needles.
A dropped stitch has happened to every knitter on the planet, be it a beginner or even the seasoned experts. Some yarns are way more slippery than others, some knitting patterns are complicated, and many more reasons for it. In this blog post, we'll take a look at how to fix a dropped stitch in knitting. Whether you work on single-pointed needles or the double-pointed or versatile range of circulars, you might face this mistake in your knitting journey. In fact, besides knitting tight stitches this is the most common mistake.
There are 3 options to fix dropped stitches and we'll take a look at each one of them. You need your knitting needles (the ones you are working with on the patterns), a repair hook or a crochet hook, stitch markers, etc.
Option 1 - Tink or Unknit 
If you have realized the dropped stitch only after a few stitches and you have a lot to make it to the end of the row or round, this is your best option. Slowly tink each stitch till you get to the dropped stitch and pick it up on the knitting needles. Tink is knit spelled backward and does exactly the same, unknitting the stitches. Though this step is time-taking this is the surest way to correct the mistake.
Option 2 - Frogging
Like the frog goes 'rib-it rib-it', your stitches will go ripping till you get to the mistake and pick your dropped stitch. This works best if you are just a few stitches from your mistake. Pick the dropped stitch back on the knitting needle and continue with your pattern.
In both of the above methods, you need to track your knitting pattern. You need to knit all the stitches you have unknitted or frogged.
Option 3 – Using a Repair Hook
This is the most effective and most used method to fix dropped stitches in knitting. Even if you have spotted the mistake mid-row or round, continue knitting until you reach the exact spot where your dropped stitch should be. Always ensure that you are looking at the right side of your project.
Step 1 - Take a repair hook and insert it into the dropped loop. You can also use a crochet hook a size smaller than the knitting needle. But, as the repair hook is specially designed to repair mistakes, having one is always a good option.
Step 2 - Make sure all the yarn strands are behind your loop. Use the hook and pull the dropped stitch through your knitted fabric. Do this step until you have reached the row you are currently working on. Pull one strand of yarn after the other through your knit loop and work all the stitches all the rows back till you get to the row you are working on. Now slip the loop (the picked-up dropped stitch) back onto your knitting needle.  Make sure you do not twist the stitch and the picked-up stitch to have the same direction as the other stitches on your needle.
Step 3 - Double-check and count your rows carefully to make sure the fixed stitch matches your pattern and number of rows.
Now that you've learned all about how to fix a dropped stitch, be confident and use it wherever you make this mistake. Even while knitting in a round a dropped stitch is corrected in the same way as when knitting back and forth.
All knitting patterns comprise knit and purl stitches, so you need to fix a dropped stitch on both. Knit and Purl stitches are fixed the same way. You have to turn the project for fixing each row. A knit stitch always appears as a purl stitch from the other side. Pull the repair hook through to form a knit stitch, always making sure it is not twisted.
Even while working on a color work pattern with several colors of yarn, you can fix a dropped stitch. The process requires careful attention, though. You may have to unravel several stitches until you have reached the row where your dropped stitch is. Secure all dropped stitches on a knitting needle (a size smaller than the one you are using) or even a cable needle. If you are using circular knitting needles for color work patterns (as most knitters recommend), stretch out your work on the cord length. Locate all the strands of color and make sure, they match the number of rows you have to work back.
There is no need to despair and get frustrated when you detect a dropped stitch in your knitting project. With a little patience and the Lantern Moon repair hook your work will quickly look impeccable again.