FREQUENTLY ASKED QUESTIONS
I have heard needle tips play a very important role in knitting. Can you explain why?

Some find that finely tipped needle tips make it easier to insert the needle in between stitches. This is especially important when working with multiple stitches and fine yarns. This prevents knitting fine stitches together or having stitches drop off. Many people report that their knitting improves with fine points. Knitters who like to create lace patterns also like a very fine point for the reasons mentioned above.

When knitting with heavier yarns, a knitter might find a less pointed tip easier to use. It all depends on the maker's preference.
Are circular needles and double pointed needles interchangeable?

Yes! Of course it's possible! As long as you are knitting a small project on the round, you can absolutely replace a set of 5 dpns with circular needles and you can also do magic loop, if that's your thing.

What are circular knitting needles used for?

Circular needles are the perfect choice for knitting in the round and also knitting flat pieces. They consist of a needle tip on each end with a cord joining them. These are used for projects like hats, sweaters, socks, sleeves, mittens and more.
What knitting needles do I need for a blanket?

Circular needles are great for any blanket project. They're long enough to hold a whole blanket and the size 8 is perfect for any worsted weight yarn.
How do I stop my knitting from twisting in the round?

A good trick for ensuring your stitches aren't twisted is to lay the work down on a table after you've cast on and make sure all the stitches are facing the same way without a twist before you join in the round or start knitting.
Should I clean my cords before using?

You can wipe down your cords and tips with rubbing alcohol before using to ensure a smooth yarn feed. After that, occasionally wiping them down is recommended.
Is the Ebony Wood used to make Lantern Moon needles legally sourced?

Yes, the Indian Ebony wood used to manufacture the Lantern Moon Needles and Crochet hooks is legally sourced from government authorized wood stockyards and is being sold as per the provisions of local laws and international treaties'.
How can the wooden needles surface be kept smooth?

The wooden needles get naturally moisturized by the oils in the wool yarn and your hands and become smoother with every use. However, it is good to clean and moisturize your wooden needles a couple of times a year. To do this, clean your needles with a clean, dry muslin or paper towel and apply a very thin layer of natural bee's wax. Allow it to dry and then buff it with soft muslin or chamois cloth.

Alternatively, rubbing your needles with wax paper is also a good option. Whatever method you are using for moisturizing the needles, make sure you let them dry for at least 24 hours before using them for knitting.
What are the cords on the Lantern Moon Interchangeable Needles made of?
How do I ensure that the cord does not come loose from the needle tip while knitting?

Make sure you use the included "key" to tighten the tips to the cords. If, for any reason they loosen, just re-insert the key and make sure to tighten securely.
What purpose do the end-caps that come along with the Interchangeable needles serve?

They are used when you wish to remove the needle tips from one or both sides of the work on the connecting cord. They make sure your work does not fall off the needle and unravel.
Why should one invest in a needle set?

There are many reasons a needle set makes sense. Among these are:
1) Ease of organization and having all equipment in one place;
2) The needles are all produced for one set, which insures that your gauge is always consistent when knitting with that set.
Why do you need different size crochet hooks?

Smaller hooks make finer and tighter crochet, while larger hooks produce a bulkier, more open weave. Patterns and yarn labels always suggest what size hook to use, but you may need to switch to a different size to achieve the correct gauge.
Can the regular cords be used with interchangeable/Tunisian Crochet Hooks?
I have received two types of cords with my needle set - one marked as swivel and the other one as fixed. What is the difference between these types of cords.

This is a matter of preference. The swivel top allows for easy rotation of the work while it is on the needle. Some knitters are more used to a fixed, or non-rotating, cord so Lantern Moon provided both.
The color of both the fixed and the swivel cords is the same. How will I distinguish between the two?

It's pretty easy to tell the difference. One rotates around and the other does not. It's also mentioned on the cord.
Accessories
Lantern Moon sells a good collection of accessories and tools that can help a knitter achieve a well-finished project. Most accessory products are self-explanatory, but here are a few questions and answers in regard to some of our most popular accessories.
Are the needle cases available to purchase individually?

The needle cases for the packaged sets are not available to purchase separately. However, we offer a wide range of empty cases for all kind of needles, hooks and accessories and these can be seen on our website at https://www.lanternmoon.com/collections/cases. These can be ordered and/or purchased from any of our retailers.
I love the collection of needle cases. Are these cases machine washable?
There are needle gauges and stitch markers which are made of sterling silver plated metal. Is this plating genuine 92.5 Sterling Silver?
What kind of wood is used to manufacture Lantern Moon needles?

The Indian Ebony wood is used to manufacture the Lantern Moon Needles and Crochet hooks. This wood is legally sourced from government authorized wood stockyards.
Is the sale of Ebony wood products legal?

All Lantern Moon knitting needles and crochet hooks can be legally sold in all markets, domestic and international. Sale of these products does not violate local laws or international treaties.
Is the entire packaging being used for Lantern Moon Eco-Friendly?

The entire packaging is made of eco-friendly materials like fabric & paper. There is no plastic used in packaging of any of the products.
By buying products that use Eco-friendly packaging, how do I help the environment?

Eco friendly packaging has benefits on many levels. First and foremost is that it reduces the amount of waste that is disposed of in landfills. Eco friendly inks and dyes also eliminate toxic materials running into local water supply.
Purchasing Lantern Moon Products
Where can Lantern Moon products be purchased?

Our products can be purchased from local yarn stores in your area. Please contact our distributor in your country to locate the nearest retailer in your area. The contact details of all our distributors are given on our website at https://www.lanternmoon.com/pages/stores
How can a wholesale account be opened?

We do not sell directly to consumers. If you have a store or business, and wish to open a wholesale account, you will have to contact a distributor in your country. The contact details of all our distributors are given on our website at https://www.lanternmoon.com/pages/stores. If there is no mention of any distributor in your country, please write to us at support@lanternmoon.com and we will get back to you with details.
Lantern Moon Replacement Policy
If I happen to get a faulty product, how do I get a replacement?

Return it to the store in which it was purchased along with a dated receipt/invoice. They will give you an immediate replacement. All our products are guaranteed for replacement within 1 year if there is a manufacturing fault.
If there is a problem with any particular part of The Mindful Collection needle sets, then can I get a replacement just for the faulty part?

In the case of needle sets, replacement will be provided for the affected needle and/or just the faulty part.
What type of rejections are not covered under the warranty?

No replacement for damage is offered for needles subjected to undue stress such as severe pressure or being used as tools not related to needlework.
What is the warranty time period?

Our warranty extends for 1 year from the date of purchase of the product.
What if the shop from where the product is purchased is permanently closed?

In this case, we send the replacement directly from our factory.
What if the product is purchased during transit to some other country/state/city?

In this case, we send the replacement directly from our factory.
Replacement for discontinued items

Any discontinued merchandise will be replaced with a similar item, wherever possible.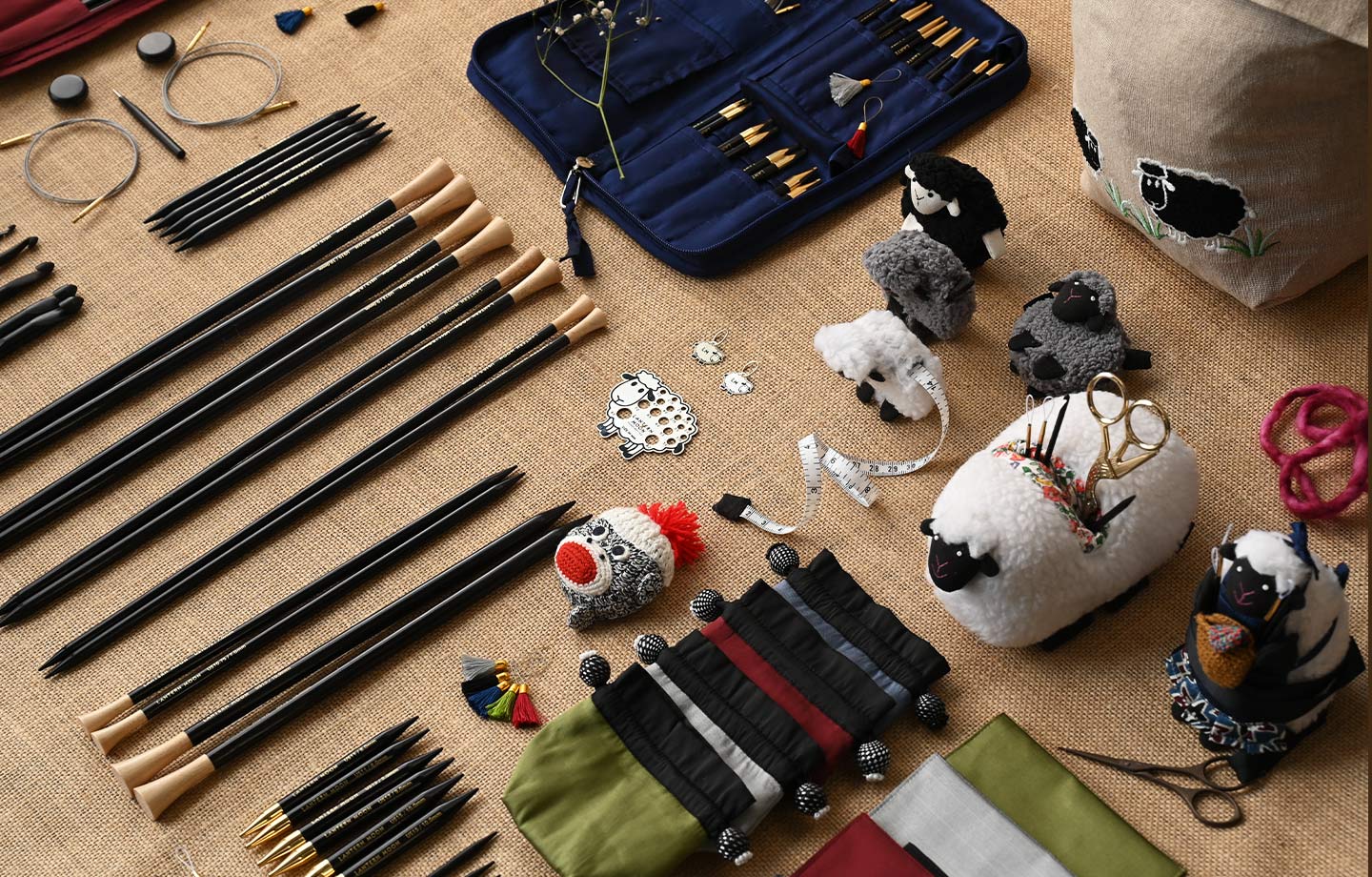 Lantern Moon: Sustaining Traditions
Find out how Lantern Moon Has been
able to blend craft with traditions over
the years.