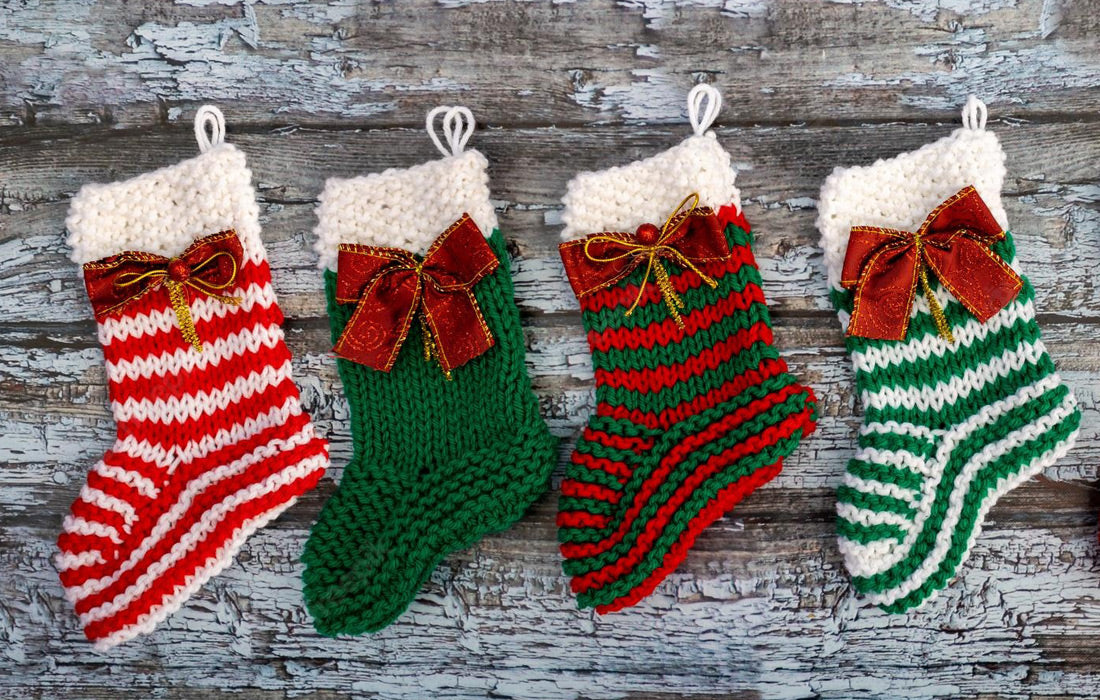 Knitted Holiday decorations are a popular way to celebrate the festive season and add a touch of handmade charm to your home décor. From wreaths and garlands to stockings and tree ornaments, there are many fun and creative projects that you can try to add a touch of knitted and crocheted magic to your Christmas and New Year celebrations.
To knit your favorite Holiday decoration, you will need a few basic materials and supplies. These include yarn, knitting needles, scissors, a tapestry, or finishing needles. Having a crochet hook at hand gives you the option to add some nice lace trims and edges to your work and use up your yarn leftovers.
The Christmas Mantle Stocking 
This is a classic. Whether you are looking for a traditional design or a more modern and playful pattern, a handmade stocking is a fun and festive way to create a truly personal and artful project for all your family members. Stockings are quick and easy to make in a variety of sizes.
For a Christmas stocking, you will want to use a yarn that is thick and warm, such as wool or a wool blend. It is essential to use knitting needles that are appropriate for the yarn weight and gauge of your pattern. Though socks and stockings are usually knitted on circular or double-pointed knitting needles, there is another, literally straightforward pattern making it possible to knit them on your straight knitting needles as well. It just requires some more seaming using your lovely Lantern Moon finishing needles made from ebony.
Take a look at our easy  recipe:
Cast on 56 stitches and work two inches of ribbing with a knit-two-purl-two sequence on the right side rows and purl-two-knit-two on the wrong side rows.

Work about 4 inches in stockinette stitch.

Bind off 14 stitches, then knit 28 stitches and bind off the final 14 stitches.

Re-attach the yarn and work the 28 stitches remaining in stockinette stitch for about 7 inches.

Begin shaping the toe by decreasing one stitch at the beginning and one stitch at the end of each right side row until 14 stitches remain.

Increase until there are 28 stitches on the needle again, then work in stockinette stitch until the bottom of the sock is as long as the top.

Shape the heel by decreasing in the first and last stitch of each right side row until 14 stitches remain, then increase until there are 28 stitches again.

Bind off the remaining stitches and sew the sock together.

 
To create a plain stocking, use one color throughout. For a different look, try a plain stocking with a contrasting color cuff. Or, for a striped effect, change the color every 2 rows after knitting the cuff. The options are endless!
You can add further finishing touches to your stockings, such as a crochet edging, a pom-pom, or a name tag. It makes your project a fun task to bring all family members to the table.
The Holiday Wreath
Whether you are looking for a simple and elegant design or a more colorful and playful wreath, a handmade wreath is a beautiful and welcoming addition to your front door. And because wreaths are easy to make in a variety of sizes and styles, you can create one that is just right for your home. 
Following your pattern or chart, knit the base of your wreath. This is typically worked in a circular pattern, using increases and decreases to create the wreath shape. You can use a huge variety of knitting techniques to give your Wreath a bit of an 'edge', such as twisted cables or structured patterns made of a combination of knit and purl stitches. 
Here is a lovely, last-minute gift idea to surprise a knitting friend with a unique wreath made entirely from yarn balls sewn together. Who wouldn't love to receive such a thoughtful present? Another quick crafting idea for a holiday wreath is to knit I-cords with chunky yarn in Christmassy colors and braid them into a circle. And finally, you can also treat yourselves to a day of pom-pom making from scrap yarn, and yarn ends and create a colorful and unique wreath out of these cute balls. 
Christmas Tree Balls
Speaking of balls, they always make a cheerful and personal gift to surprise your loved ones with. Knitted Christmas Tree Balls are worked in the round in stocking or garter stitch on double pointed needles, bottom up. 
Cast on 6 stitches using 3 needles in a smaller size in red. Knit one round. On the next round, double the number of stitches by working 2 stitches in each st (= 4 sts per needle, 12 sts in total). The balls will look cute if you include a nordic or Fair Isle pattern.

Place stitch markers to mark your increases and increase 1 stitch on each side of your stitch marker in every round until your ball has acquired the desired diameter.

Then decrease 1 stitch on each side of the stitch marker.

When only 4 stitches are left, fill the ball with fiberfill and finish with 1 knitted round.

Leave a long end tail out of which you can crochet a hanger.
In addition to stockings, wreaths, and Christmas Tree hangings, there are many other fun Holiday decorations that you can try. Have a scroll through our blog posts, and Social Media feeds in which we frequently include free knitting and crocheting patterns.