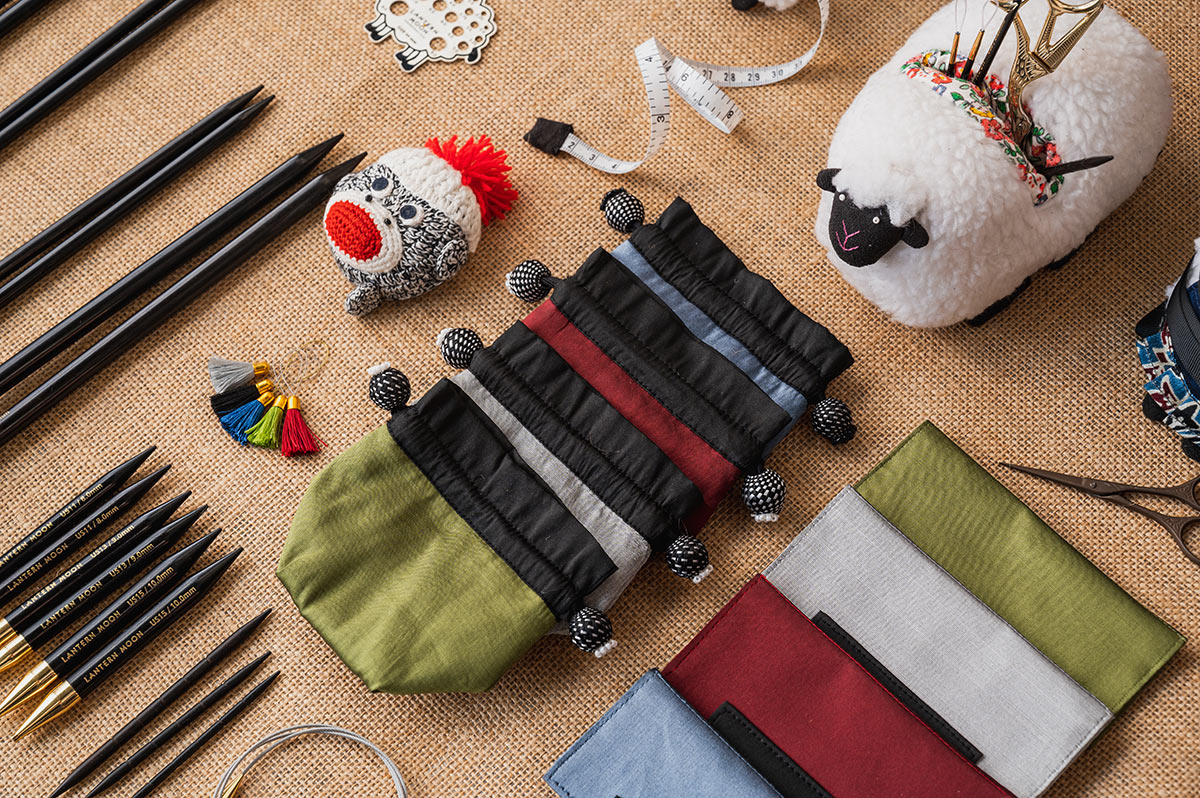 Notions are simply craft essentials whether you are knitting or crocheting. Notions are just another name for knitting accessories. While knitting needles and crochet hooks are the most important tools, accessories are essential in many ways. It help us be more organized, be more creative, capture a bit of our creative magic and even help us to get our projects right.
Ask any knitter or crocheter if they would do without notions, the answer will be no in different decibels. Be it a sharp scissors, stitch markers, finishing needles, repair hook, etc. you'll be needing these accessories in big and small projects. Knitting accessories and crochet accessories are generally the same thing as both crafts share some them to work with yarn.
Many times a pattern or yarn will get you inspired to begin with your project. You simple take up the knitting needles and crochet hook and get started only to realize you would be needing so much more.
To help you with your projects, here are the top 7 accessories from the Lantern Moon collection that you would be needing for your projects.
The name itself reveals the purpose. Stitch markers mark important places in a pattern. Say for example, the increases or decreases, changes in your pattern (colourwork), or marking complicated stitches or start of the round when knitting in the round. Whether you use double pointed needles or circular needles to knit seamless tubes, stitch markers will be of great help. Stitch markers help divide a pattern in manageable sections, also helping in keeping a count of the stitches. You can enjoy the show or the movie without keeping your knitting project aside. Our guide on using stitch markers will take you through all the reasons.
Lantern Moon offers stitch markers in the shape of our beloved four-legged creatures (sheep) and colourful tassels. Keep them safe in a drawstring pouch that allow easy access all times and keep them from getting lost in the nooks and corners of your home and craft table wherever you sit to create the wonders.
A nimble hook that looks like a crochet hook but is a size that is handy for various purpose. The repair hook does the job of repairing. The hook is your best help when you need to fix a dropped stitch. Go through our guide on how to fix a dropped stitch in knitting. It helps you go into the fabric and pick up the stitch through rows and rounds and back on the knitting needle. Also, weaving in yarn ends at the completion of a project becomes easier and quicker.
Lantern Moon presents a repair hook in premium ebony wood that has a luxury silk finish that works smoothly with all kinds of yarn.
With so many uses in knitting and crochet, the finishing needles are the most important of accessories to have in your craft bag. It does the job of proper neat finish to many projects, repairing mistakes and more. A finishing needle assists you in weaving yarn ends neatly. Round tip needles work well as it does not damage the yarn or tear the stitches. Like knitting needles and crochet hooks have different sizes, finishing needles too come in different sizes. It's best to have a set of needles so that you have one according to your project. The rule is to always choose a finishing needle smaller in size than the knitting needle or the crochet hook used for the project.
Similar to the entire line of knitting needles and crochet hooks made from premium ebony wood, the finishing needle is fashioned from wood.
Knitting needle sets and crochet hook sets have a kit of multiple needles and hooks in different sizes. If you do not own a set or find it bulky to carry, needle cases will have lots of options to keep you organized!
For your FCNs and the ICNs, there are options for Circular Needles Case with compartments to store needles, cords and accessories. The case for DPNs is designed to store multiple sizes conveniently with both ends properly packed to avoid accidental injury. Besides needles, there are bags & cases to store the project along with the tools.
Be it knitting or crocheting you will be working with yarn for longer periods to time. When at work or when you have the project away, it is very important to keep your yarn neatly stored and organized properly.
For this purpose, Lantern Moon has you're a very handy accessory - the Knit out Box. A box fashioned out of cloth that keeps yarn free from dirt and tangles. Instead of zippers, it comes with a closable lid and button-hole closure with a keyhole opening that allows yarn to feed out from inside. Besides it incredible design, the boxes come in traditional prints such as Ajrak and Ikat that show the beauty and charm of the handcrafted.
Every knitter or crocheted, beginner, or experienced will create projects that require measurements. For most projects gauge is vital and to calculate accurately there will always be need for a tape measure. A retractable tape measure is handy. It will retract without manual intervention, is portable and won't get tangled with the yarn or go rolling away across the floor.
The Lantern Moon tape measures are 60″ (150 cm) in retractable designs that feature both Metric and English measurements. The beauty and charm is, that the each measuring tape is handcrafted. Made by a skilled artisan is various colors and shapes. A fun sock money, warm merino sheep, sunflower, lady bug or fish, there are many whimsical accessories to have in your craft bag.
Having all accessories at hand, at one place makes knitting and crocheting much more fun. You don't have to reach out in your bag for everything. Accessory holder displays all the needed tools so that you can have them close by at all times.
Lantern Moon has two cute and useful accessory holders – Baabs and Sherpa. Our favourite four-legged creature have been designed with pockets to hold difference accessories all at one place.
Besides the above notions and accessories from the Lantern Moon collection, there is so much more to help you with your crafting needs. With premium knitting needles and crochet hooks of the Lantern Moon collection, you are sure to have a comfortable experience. Crafted from premium ebony wood the tools have a luxury silk-like finish that works with all kinds of yarns. It is always recommended to have knitting and crochet tools that you enjoy working with.