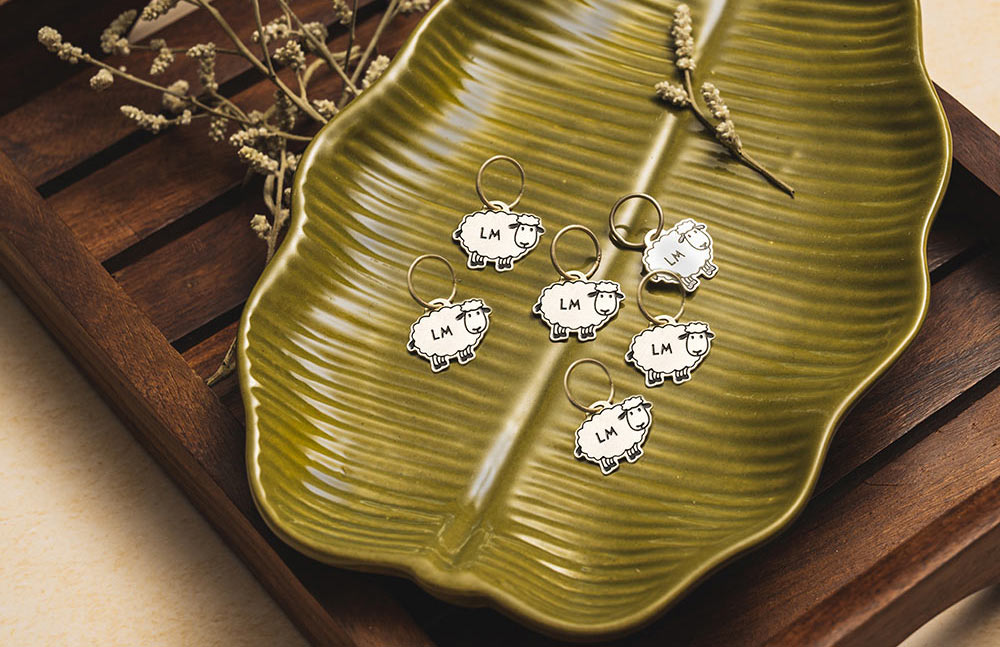 Have you ever lost yourself in a pattern? Do you knit or crochet while watching TV or catching up on a movie on Netflix? Then you are definitely in need of stitch markers. Like the name suggested they are markers for reference in important places of a pattern. A stitch marker is a craft essential, whether you are a knitter or crochet. The small yet mighty accessories are used to mark important places in your pattern and they are as important as the knitting needles or crochet hook. They can help you keep your place in a pattern, assist with complicated stitches, remember to mark color changes and more. This will ensure that you can multitask as much as you like, and never miss a stitch. 
There are a ton of great knitting and crochet accessories available, but stitch markers might just be the most useful. Before you get down to the nitty-gritty of knitting and crochet, get yourselves a pack of stitch markers. From the smallest project to the largest ones, you'll be needing these little helpers.
How to Use Stitch Markers in your knitting and crochet projects
Any knitting or crochet project without stitch markers is rather unthinkable. Who would mark your place? Here are some ways you will be using the stitch markers.
1. Mark the Beginning of the Round
Let's start our discussion here since it's the most common use of a stitch marker. When you're knitting it's a little tricky to tell when a round ends and begins. So, place a stitch marker between your stitches and when you get to that point again, you will know you have completed a round. Even when you crochet in the round you will need the markers.
2. To Mark Multiples of Stitches 
Many patterns whether knitting or crochet have multiple stitches at a time. To keep count of large numbers of stitches, mark every 10 or 20 stitches with stitch markers. This will help you keep a count and make knitting and crochet a lot easier.
3. Where to Increase or Decrease
Many times patterns will instruct you to count stitches before a decrease or increase of stitches. This might be happening in the same place for several rows. If that's the case, then place a marker. You won't have to count those stitches every time or keep glancing at the pattern, the stitch marker will let you know when it's time to increase or decrease.
4. For Cables and Other Special Stitches 
When you need to knit or crochet cables or special stitches, stitch markers are going to be your best friends. You might slip one on the knitting needle and can chill out and work the same stitch over and over again until you reach that marker, and then it's time to pay attention and refer to the pattern chart.
5. When Making Amigurumi 
Amigurumi is a special kind of craft. It is the Japanese art of making knit or crocheted dolls and animals. Many parts of these projects are knitted in the round and have lots and lots of stitches, so it's helpful to use a stitch marker to note your starting points. Remember, since this is crochet, it has to be a locking marker!
6. To Mark a Reference Point 
Sometimes a pattern says to work a particular stitch for 1″ or more. It is difficult to see where that certain point is and instead of guessing use a stitch marker and measure from there.
7. Repeats in a Color Chart and Lace Patterns
Projects with many colors require a keen eye and concentration. Yet, many times even an experienced knitter or crocheter can make a mistake. Make your yarn crafts, be it knitting or crochet a little easier by using a stitch marker to note the beginning and end of a color repeat in the pattern. Also, if something doesn't look right, the stitch markers can help you backtrack and get to the mistake. Use the markers to break the pattern down into smaller, more manageable sections.
Just like color charts, lace pattern repeats can be made easy with stitch markers. Mark those repeats and you can enjoy knitting and crocheting without stress.
8. To aid in working with difficult yarn
When working with difficult yarn, stitch markers are of great help. Use stitch markers when working with multi-colored, fluffy and variegated yarn. If you are crocheting in the round, then place a stitch marker in the first stitch, so you will know right away where the next round begins.
Now that we have discussed the use of stitch markers for knitting and crochet, let's take a look at our adorable accessories. They are available in cute sheep designs as well as colorful tassels. The stitch markers remind us of the gentle creatures who provide wool that we love for our crafts. The colorful tassels are beautiful and helpful for your projects.
If you have not yet used stitch markers for your craft, get the essential notions now! You can also learn more about the adorable Lantern Moon accessories in our previous blog post.