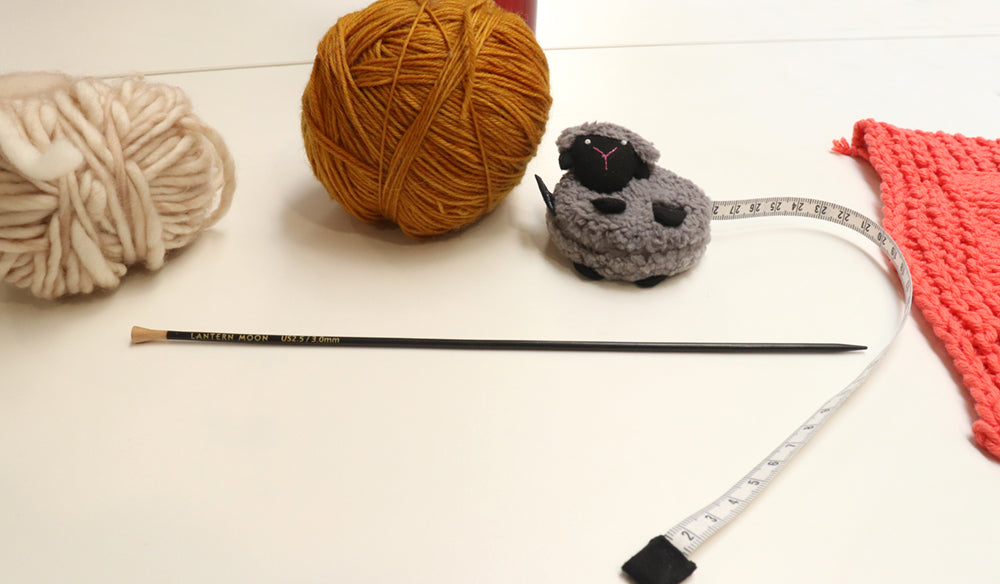 Do you have multiple stitches to cast on your knitting needles? The long tail cast on method is a popular technique for many knitting projects. The method works amazingly well, but as all knitters are different, they have their preferences. The long tail cast on is amazing but as you need a great number of stitches you must know the exact amount of yarn. You cannot risk running out of yarn as you will need to redo everything, waste expensive yarn and have long tails to weave in. New knitters might not understand the pain, but many knitters know the hassle.
To never let you suffer, in this blog post, we'll look at the easy methods to find out how much yarn to use for a long tail cast-on. Some require calculations, others some extra work. But the best part is the technique of calculating the length of yarn needed works for other cast-on methods, too.
So, let's dive right into it.
1. The Rule of the Thumb Method
Simply set aside four times the length of yarn as the final width of your project. For example, if you want to knit a scarf that is 10 inches wide, set aside 40 inches of yarn to cast on. This will leave a little tail long enough for weaving in later on.
For bigger projects such as an Afghan, you should change it to three times and 10 percent for the extra tail. For this method, you will need knitting needles, a ruler or a tape measure. Make sure that you calculate properly and then wind back the yarn into a ball without tangles.
2. Wrap Method
Here, simply take your knitting needle in your hand, start with the very end of your yarn, and wrap the yarn around as many times as the stitch count of your pattern. So, if your pattern requires you to cast on 60 stitches, wrap the yarn around the needle 60 times. Unravel it again, and you have the exact yarn you will need for the long tail cast-on. Make sure to leave a little extra tail for weaving in.
This method certainly works but make sure that you have to wrap the yarn around the needle with even tension. Too loose or too tight wrapping will make things more complicated. This method won't work on circular knitting needles as the cord is much thinner than your needle. Also, as the needle tips are shorter than the straights they won't accommodate all the stitches. Here you can improvise by wrapping around straight needles of the same size.
3. Zig-Zag Method
The zig-zag method is the most reliable method to find out how much yarn to use for a long tail cast on. In this method, cast on a few stitches on the knitting needles, unravel it, measure how much yarn you needed, and then measure out as many additional lengths as your pattern requires. For example, you need 60 stitches to cast on. Cast 10, unravel and measure the length, then take out additional length from your yarn ball 6 times more. You will get the length of yarn to cast on all stitches and even weave in the tail.
Use the unraveled cast on stitches length of yarn as a gauge. Then arrange the yarn on your craft table or the floor in a zig-zag way. Keep all lines even, so you don't end up with too much or too little yarn in the end. You will not need to actually measure things out, but it is always handy to measure the length and note it down.
4. Two-Strands Method
A foolproof method to calculate yarn needed for a long tail cast on that does not involve calculation or guesswork is the two strands cast on method. You can either use two separate skeins or balls, or work with the beginning and the end tail of one and the same skein. The two separate strands will always keep you covered from running out of yarn.
If you are using the same ball or skein, you need a ball that has both ends of yarn visible and accessible. Apart from the rearranged yarn, you don't need anything special.
5. Stitches per Inch
Another way to calculate yarn for a long tail cast on is by understanding the yarn. Every yarn has a stitch per inch gauge. The chart is handy to understand. As you will need to do quite some calculations and measure out correctly, it's good to have a measuring tape at hand. For example, if the stitch count is 7 per inch, but you need 130 stitches, then a calculator is recommended to determine your thread length based on the info chart below.
| | | |
| --- | --- | --- |
| Types of Yarn | Wraps Per Inch (WPI) | Stitch Gauge |
| Lace Weight | 30-40+ WPI | > 8.5 sts per inch |
| Sock, Fingering | 18-30 WPI | 7-8 sts per inch |
| Sport, Baby Weight | 14-18 WPI | 5.75-6.5 sts per inch |
| DK, Light Worsted Weight | 12-15 WPI | 5.5-6 sts per inch |
| Worsted, Aran Weight | 9-12 WPI | 4-5 sts per inch |
| Chunky, Bulky Weight | 6-9 WPI | 3-3.75 sts per inch |
| Bulky, Roving Weight | 5-6 WPI | 2.5-3 sts per inch |
| Jumbo, Roving Weight | 1-4 WPI | < 2.5 sts per inch |
With this, we have our guide to finding out how much yarn to use for a long tail cast on.  Whatever be your project knitting or crochet choose from our handcrafted range. Made from premium ebony wood, our needles and hooks are smooth with a liquid silk finish that makes working with them a truly pleasurable experience.
Happy knitting with Lantern Moon handcrafted range!