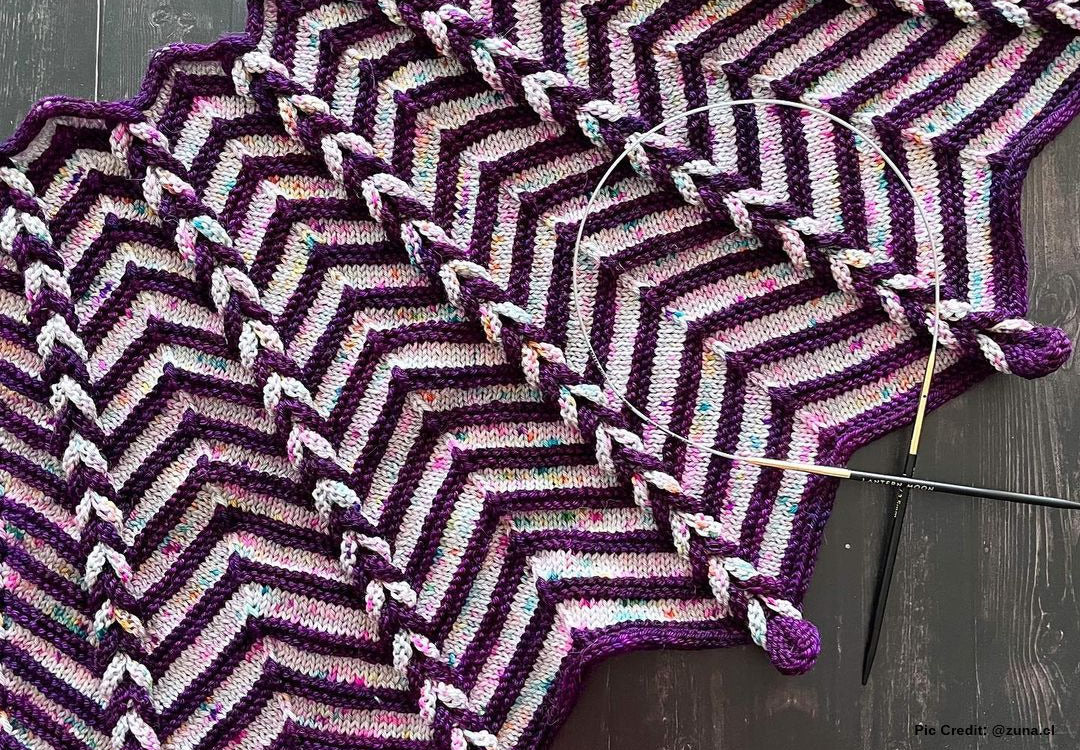 Short rows are a knitting hack that adds shaping to a knitted fabric from a bust of a sweater, or heels of socks, to gentle designs in a shawl and more. All you need is your knitting needles and yarn. Easy to learn even for beginners, the so-called German short rows have found more and more fans in recent years. As the name suggests, these rows are not knitted short. They are knit partly to a particular point and then turned. This method works on the edge of a project, but also in the middle to give a different shape and design. Though knitting short rows have an issue of creating holes in the fabric, there are many ways to avoid them. In this blog post, let's take a look at knitting short rows and many ways to knit them.
There is no special requirement for knitting short rows. You knit with yarn and your knitting needles (single-pointed, double-pointed, fixed circular, or interchangeable) for your pattern. When the time comes to knit short rows, you simply pay attention to the special methods to knit them and make sure to avoid holes.
What are short rows used for in knitting? 
Short rows in knitting is a technique that allows the creation of shapes for smooth knitting as well as decorative purposes.
You can use the technique to shape collars of sweaters.

Hats that require a different shape, elongated in one place and shortened in another can be worked with short rows. You can refer to our guide on how to knit or crochet a hat for your beginner projects. The technique works smoothly for the visors of hats.

Tucks can also be performed to bring shape to the sweaters or knitted tops.

Instead of traditional shaping by decreasing stitches in order to shape the shoulders and the armholes of your sweater or cardigan just as a dress, a beanie, or a tight skirt, short rows can work smoothly. In fact, it is executed properly, it removes any visible steps that could impede a clean seam and are easily avoided this way.

The heels of the socks often called boomerang heels are made with shadow wraps. Whether you knit socks on double-pointed needles or use circulars, short rows work the best for the heel shapes. In fact, it is easier to knit short rows with double-pointed knitting needles, particularly for heels. Many knitters switch to DPNs from circulars when there are a few stitches to work.

Furthermore, short rows make for great pattern effects. They cause real wow effects in shawls, blankets, cardigans, or tops especially with simple yet eye-catching leaf shapes, jags and waves in countless colors.
Sloping shoulder lines, round or oval necklines can also be decorated with such knitting.
There are as many as seven or more ways to knit short rows, but we'll take you through only three of the easiest and most used methods.
Double Stitches
Yarn Over Method

Wrap and Turn (W&T)
Working Double Stitches
The double stitches known as "bunny ears" are the most frequently used method for knitting short rows. Here the turning point is not covered with a kind of wrap, but by pulling up a stitch from the previous row. If you tension the yarn correctly, the method ensures no loose spots and remains almost invisible.
This is how this works step by step:
Step 1: Knit to the turning point, then turn the knitted piece.
Step 2: The first stitch on the left knitting needle now becomes a double stitch.
Step 3: With the yarn in front, slip the first stitch on the left knitting needle as if to purl. Do not complete the step.
Step 4: Bring the yarn back behind the right knitting needle.
Step 5: Pull the yarn firmly so that both "legs" of your stitch from the previous row are shown on your right-hand needle. This forms a double stitch, i.e created two stitches out of one. Tension the yarn tightly to avoid holes.
Step 6: Purl the next stitch while still tensioning the yarn tightly. Now continue to work the wrong side row as indicated in your pattern.
Short rows with a Yarn-over 
Easy to perform and commonly used to knit short rows, yarnovers bridge the gap between the shortened rows and the stitches on the right-hand knitting needle.
This is how this works, follow the steps.
Step 1: Knit to the indicated turning point, and turn your project.
Step 2: Create a tight yarn-over on the right-hand knitting needle.
Step 3: Work the wrong-side row as indicated.
If you wish to avoid holes, turn the orientation of your stitch. You simply have to knit your stitch through the back loop. In the next row, knit the yarn over and the previous stitch together.
Short rows with a Wrap and Turn 
The wrap and turn method of working short rows serves to make a smooth transition as inconspicuously as possible and avoid unsightly holes in your project. This method works in two steps, first where you wrap the stitches and then when you work the wrapped stitches. This method is preferred by many knitters.
Here is how you work this, follow the instructions.
Step 1: Knit up to the turning point. The next stitch will be your wrap stitch.
Step 2: Slip the next stitch on the left to your right-hand knitting needle.
Step 3: Bring the working yarn to the back between the knitting needles.
Step 4: Slip the slipped stitch back onto the left needle.
Step 5: Turn the work and bring the yarn to the back between the needles. This is how a wrap stitch has been formed.
Step 6: Knit the right side as shown in your pattern instructions.
The wrapped stitches need to be worked in the following row. Pick up the wrapped stitch from the right side from top to bottom with the right knitting needle tip and place it on the left needle. Then purl the wrap and the following knit or purl stitch together.
All these knitting techniques for short rows lead to the same result but every knitter will eventually pick their favorite method. Whatever method you choose, it is important to have knitting needles and accessories that you enjoy working with. The Lantern Moon collection has a range of premium ebony wood knitting needles and crochet hooks. Handcrafted by skilled artisans, the needles have smooth tips that work with all kinds of yarn. So, the next time you want to knit short rows with your circular knitting needles for socks or gorgeous blankets, explore Lantern Moon. Before you start with a project, get some practice with some quick swatches on single-pointed needles or any other from your craft collection and some waste yarn.