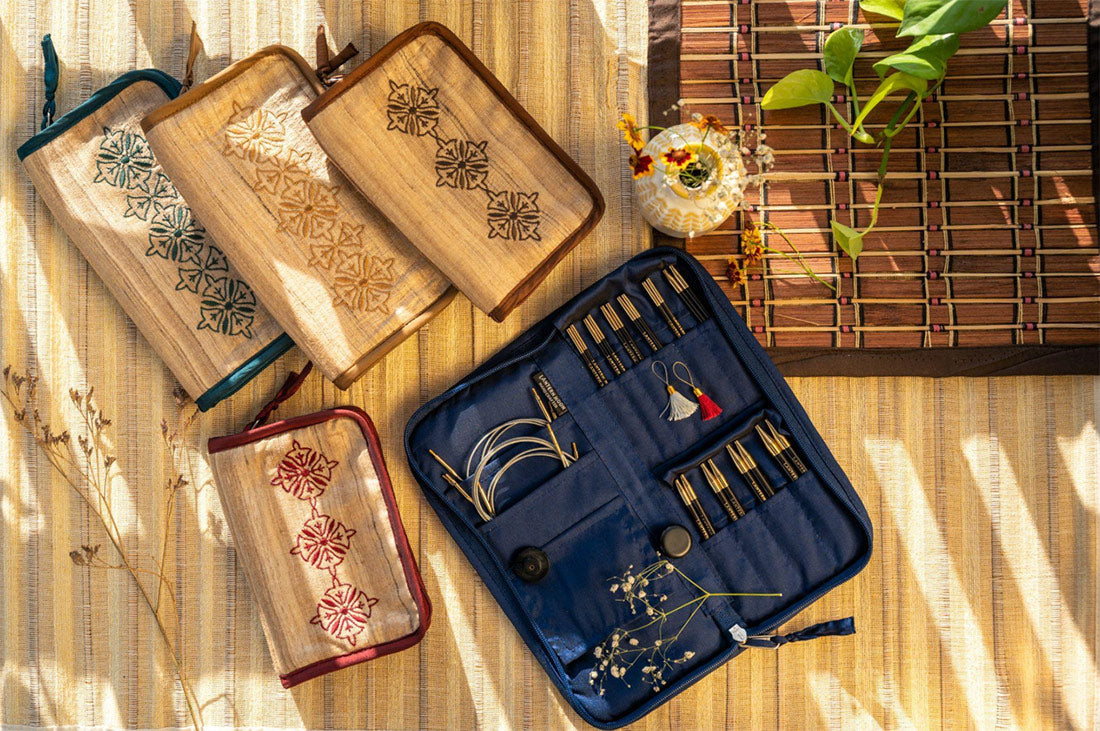 As gift-giving season bear down on us, many knitters and crochet fans begin to think of gifts we can give that come from the heart and the hand. Many of us have families and jobs so time is in short supply, yet the desire to make something is literally at hand. Hats are a wonderful solution to the question of what can be accomplished, economically and quickly. Most knitters have a good supply of yarn and even the busiest among us can squeeze out an hour during our day to sit and put our talent to good use. Goodness knows we have the knitting needles and crochet hooks, along with all that leftover yarn.
Knit or Crochet a Hat? 
So, now that you are planning to make a hat, you might wonder whether to knit or crochet one. We say both of them are wonderful. If you are proficient in any craft, just go ahead. The knitted fabric is a lot drapey while the crocheted fabric is mostly dense making the perfect warm hat. While knitting requires a pair of knitting needles, a set of five in the case of double-pointed needles, crochet requires one single hook. Both crafts share common accessories such as stitch markers, measuring tape, finishing needles, scissors, etc. While many makers think crochet to be quick knitting can be fast too if you dedicate time.
While it's true that hats are a dime a dozen these days. They can be bought cheaply just about everywhere and most of them are easy to care for and not mourned over if lost. This is the only real con I can think of on the hat subject, however.  Without a doubt, the pros outweigh the cons and the list is impressive. 
A hat made by hand is unique – you don't see it coming and going. You can easily make it any color that complements your friend or relative says you notice them and what makes them look good. When made from good yarn – hopefully, wool or a wool blend it keeps the wearer warm. To top it all off, that hour you spend knitting is good for you.  It gives you a chance to de-stress after a long day. The other fact about making a hat is that it's simple – even the newest knitter can do it.  It allows you to practice your new skill and it can be accomplished in a short time – giving you the satisfaction of a finished project. I promise you, it's as easy as pie – and a lot less fattening.
In this blog, we'll take you through ways to make a hat that fits the average-size head – about 23" around. Once you work through some adult sizes you can experiment with any baby hats and other designs. If you are an intermediate knitter, this can easily be done in an evening or two, at the most. With your creativity, you'll transform what was once just a skein or ball of leftover yarn into a hat that can keep someone warm and cozy. It's almost magic – and it came from your own two hands.
So, here's you can make a hat.
Option 1: With Single pointed needles 
Your hat can be easily knitted on single-pointed knitting needles and assembled later with the help of a finishing needle. Cast on stitches and knit back and forth until you have the required measurements. You can involve decreases to shape the hat and then seam the top together.
Option 2: With Double-Pointed Needles 
If you are experienced with knitting with double-pointed needles, it remains the best way to quickly make a hat. Even if you are a beginner, there is no harm in trying out new skills. You need to make your calculations first regarding the hat circumference and how many stitches you need to cast on and then divide on the 3 or 4 DPNs. After a few rounds as the hat grows, your confidence will grow as well. The best part is when you get to the top, make a drawstring with yarn and seam all the stitches.
Option 3: With Circular Needles 
Knitting with circular needles is a breeze with the right cord length. For your hat, you've got three options to choose from. First, knit with a needle length shorter than the hat's circumference. Second, choose a circular needle for the magic loop technique. You would require a cord that is 32 - 47". And, the third is just go back and forth knitting with your circular needles much like knitting with single points, and then seaming the fabric to make a hat. If you would like an easy pattern, we have a guide on knitting a hat with circular needles.
Option 4: With a Crochet Hook
Now, if it's crochet you love, get out your crochet hook collection and some more chunky yarn.  Once again there are many ways to go about it. You either crochet a rectangle and then seam it to make a hat. Or, crochet on the round with a magic circle or chain a row of stitches to begin your project. You can crochet top-down or bottom-up much like knitting a hat. Top it off with a unique pompom. Textured crochet stitches are also quite a beauty. If you prefer a knit-like look while crocheting then explore Tunisian crochet. The unique subset of crochet requires the special Tunisian hook that comes with an interchangeable cord.
Now that we think of it, there are not too many reasons to not knit or crochet a hat. So, get going, and look at your stash. You have a wealth of options and talent. Start knitting or crocheting one tonight!
With a hat, you are ready for the gifting season too. And, for your favorite knitter or crocheter, you can easily gift this hat, they would surely love your effort, or get them premium knitting needles or crochet hooks or even sets. The Lantern Moon collection offers handcrafted ebony wood tools that are amazing to work with. A needle set of interchangeable circular knitting needles are a perfect gift.