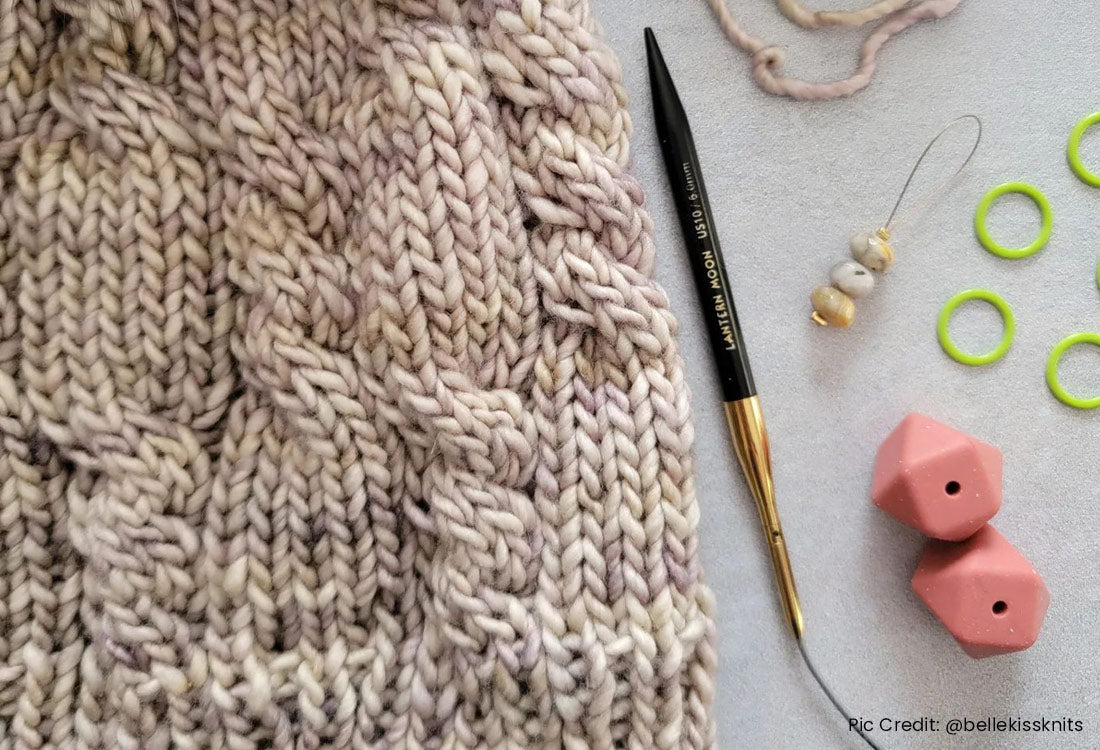 Hat season has arrived! In fact, every season is good for hats. Be it for babies or adults or a gift for a loved one, a hat is perfect. It is a quick knitting project that you can get done in no time at all. If you are a proud owner of circular knitting needles, let's guide you through the easy steps of making a hat.
Of course, you can use your double-pointed knitting needles or even the single points to make a hat but circular needles are a great choice to knit in the round. They are handy to carry along with the project while you are traveling. They put less strain on your wrists even when you go for chunky yarn. You only have to divide the cast on stitches on there or for DPNs while keeping an extra needle to knit. Before you get started, let's take a look at the standard sizes for a hat. While it is always recommended to have exact measurements for a hat, many times you can go ahead with the standard sizes. Just make sure to factor negative ease for the hat for the right fit.
| | | |
| --- | --- | --- |
| Age | Head Circumference (inches) | Hat Height (inches) |
| Preemie (1-2 lbs) | 9″ | 4″ |
| Newborn | 14″ | 6″ |
| Baby – 3 to 6 months | 17″ | 7″ |
| Baby 6 to 12 months | 18″ | 7.5″ |
| Toddler (12 months – 3 years) | 19″ | 8″ |
| Child (3 – 10 years) | 20″ | 8.5″ |
| Pre-teens and Teens | 21″ | 10″ |
| Adult Woman | 22.5″ | 11″ |
| Adult Man | 24″ | 11.5″ |
After you have decided on the hat size, you need to decide upon the yarn. If you are following a pattern just follow the instructions. 
What Circular Needle Should I Use? 
A fixed or interchangeable knitting needle is your choice as there is hardly any difference between the two while knitting. If you think that you might need to change the needle size or cord length, then it's best you choose an interchangeable knitting needle or a knitting needle set. All you've got to consider is the length of the needle.
The general rule is to choose a needle length that is shorter than the circumference of your project. For example, if you plan on knitting a hat that's 20 inches in circumference, choose a needle length that is shorter than 20 inches, maybe a 16" circular needle (fixed or interchangeable depending on your comfort). Now, you must wonder why does the needle need to be shorter than the circumference of the knitting project? The reason is stitches will not sit comfortably but will be stretched and strained against it. That doesn't make for a fun knitting experience.
But, the choice of circular knitting needle length changes when and if you decide on knitting a hat with the magic loop technique. The magic loop works wonderfully for baby hats or preemie ones. You'll need a circular needle the length of 32" to 47".
Thankfully, most knitting patterns list the exact needle size and length required for a hat, thereby eliminating the guesswork. Even though you have your instructions, it is always recommended to knit a gauge swatch first for the exact calculation of yarn needed and how the project will turn up. With the exact row and stitch gauge you simply need to calculate how to work on your stitches.
After settling upon a knitting needle size and length, get your finishing needle, sharp scissors, stitch markers, etc. You can also keep a set of double-pointed needles.
To assist you with knitting a hat on circular needles, here's an easy-to-follow guide.
Abbreviations 
st(s) = stitch(es)
k = knit
k2tog = knit 2 sts together as one
p = purl
rnd(s) = round(s)
[ ] = repeat instructions within brackets as directed
Instructions 
Step 1: Cast On 
Use the long-tail cast-on to make some stitches (calculate with the stitch gauge from the swatch). Follow our guide to calculate how much yarn you'll need for long tail cast on.
Arrange your stitches on the needles. Join stitches to work in the round. Be careful not to twist the cast-on around the needles. Place a marker to indicate the end of the round.
A common knitting method is to cast an extra stitch and when joining the round simply slip the stitch to the other needle.
Step 2: Knitting the Hat brim or base 
Work in a 3x3 rib pattern [k3, p3] until the brim measures 3 -5 inches depending on the style you prefer. You can experiment with a 2X3 rib too or any other combination. You can get the count of exact rows to knit with your gauge swatch when you measure it vertically and get the row gauge.
Step 3: Knitting the hat body 
Work in stockinette stitch [k the row, p the next row]  for 5 -7 inches. If you love an exact fit 5 inches works but if you want a slouchy look go for 7 inches or more. Knitting the stockinette stitch pattern on circular needles is very easy, all you need to do is knit. There is no need to purl as you will work in seamless pattern.
Step 4: Shape the Crown of the Hat 
The top of the hat is now shaped by decreasing stitches over several rounds using the knit-two-together (k2tog). You can knit 2 stitches over every 2-3 stitches so that the decreases are well-placed. Make sure to knit a row after a decreased row to balance out the stitch pattern.
Switch to double-pointed needles when you have a few stitches on the circular needle and your tube is getting stretched. In a way, DPNs can accommodate very few stitches and allows circular knitting even with two needles.
Finishing 
Leaving a 6inch- tail, cut yarn. Thread yarn through the finishing needle and take the needle through the remaining stitches. Pull tight to close the top. Weave in all loose ends. Follow our guide to weave in yarn ends.
Customizing your hat pattern 
There are many things that you can do to customize your hat. For instance, try switching yarn colors to create stripes. Just make sure you knit at least 2-4 rows for the yarn colors to pop. You can add a pom pom or tassel in the same yarn or you can use a contrasting color. A textured stitch such as cable knitting or a seed stitch looks beautiful.
With premium ebony wood knitting needles from the Lantern Moon Collection, you are sure to have a smooth experience. Choose from the handcrafted range of knitting needles, crochet hooks, accessories and needle sets to serve your knitting projects for years to come.