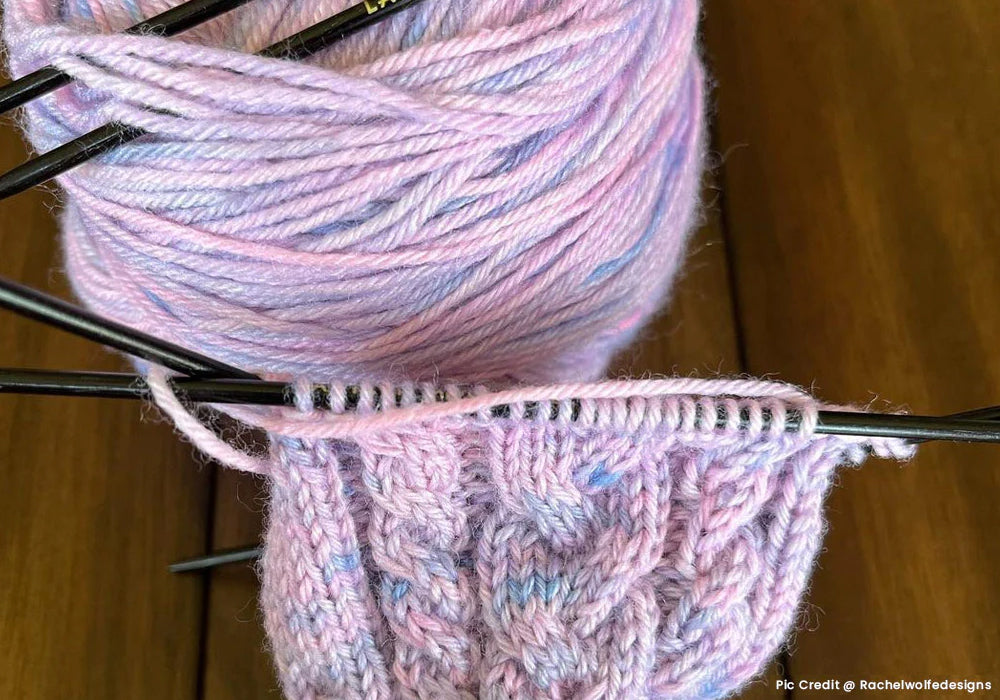 Cable knitting patterns are a timeless fashion, bringing beauty to any simple knit scarf, hat, blanket and pretty much anything. You can knit cables with your regular knitting needles and the very special cable needle. The beautifully textured stitches are made when you knit groups of stitches out of their usual order. If you too admire the gorgeous raised columns or twists on knitted projects and want to have the knitting skills to create them, then keep reading. Cable knitting is surprisingly simple to work. You can add to your regular pattern by working on any of the knitting needles you own. In this blog, we'll walk you through cable knitting to create new and exciting projects.
How to Knit Cables Stitches? 
Cables stitches are knitting techniques that involve crossing a series of stitches over other stitches. Of course, you will work with the basic - knit and purl stitches too but the cables create patterns of twists, braiding and other unique, textured effects.
To work a cable stitch, you place a set of stitches onto the cable needle (simple shorter grooved needle). These stitches are either held in front or behind the knit piece while you knit the next few stitches on the row or round. A knitting pattern (if you are following one) will tell you where to hold the stitches on the cable needle- front or back. As and when the pattern calls for it, take the stitches you put on the cable needle. You can either pick them on your knitting needle or knit them right off the cable needle. With this, you have twisted the stitches to create a cable. Here too there are only two options but needless opportunities. You either knit the cable left or right but then your pattern will mention it.
If cable knitting is new for you, start with knitting a gauge swatch before starting on your garment. You will understand how your cables are looking and the row and stitch count that will help you calculate the yarn needed.                               
Reading Cable Patterns
Cable knitting is best explained and understood with a chart. Most patterns generally include cables in a stitch stockinette of stockinette or garter. Many knitters prefer cable charts over written patterns as charts are pictorial descriptions helping you imagine and are easier to follow.
For cable patterns, you'll come across knitting abbreviations abbreviation such as C1F or C1B. The C stands for cable stitches, the number (in this example 1) in between lets you know how many stitches you add to the cable needle, and the final letter- either F or B, lets you know whether to hold the cable stitches in the front or the back.  When the cable needle with removed stitches is held in front they twist to the left, so you can come across C1L- for the left while C1R means twisting to the right and is the same as C1B and will be held in the back.
Before you start knitting a cable stitch pattern, here are some things you should have answers to.
After how many rows will the cable stitch pattern begin?
How many stitches are you sliding onto your cable needle?
Where do you need to hold your cable needle? To the front for the left or the back for the right twist on the WIP?
How many stitches do to work before knitting the stitches on the cable needle?
Do you knit or purl the stitches on the cable needle?
If you are following a pattern, you will have all the details. If you are making your own design, then like make sure to plan out these points. You need to knit and purl according to the pattern and continue the same for the cable stitches.         
With this, you can surely be an inspiring cable knitter!  There are hundreds of patterns from subtle curves to twists and turns that you can add to your project. With time and practice, you can even knit Celtic cables, complex braids or landscape cables are all beautiful and modern ways to go deeper into this technique.
Let the
Lantern Moon
collection be a part of your knitting life. Explore the handcrafted range of premium ebony wood knitting needles,
crochet hooks
and accessories. The Lantern Moon cable needles are also made of handcrafted ebony wood. They come with little groves to ensure that your stitches will not slip over the tip, even when knitting complicated cable twists. Just like needles and hooks, cable needles are available in different sizes. It is always recommended to choose a cable needle that is a size smaller than the knitting needles you are using for the pattern.