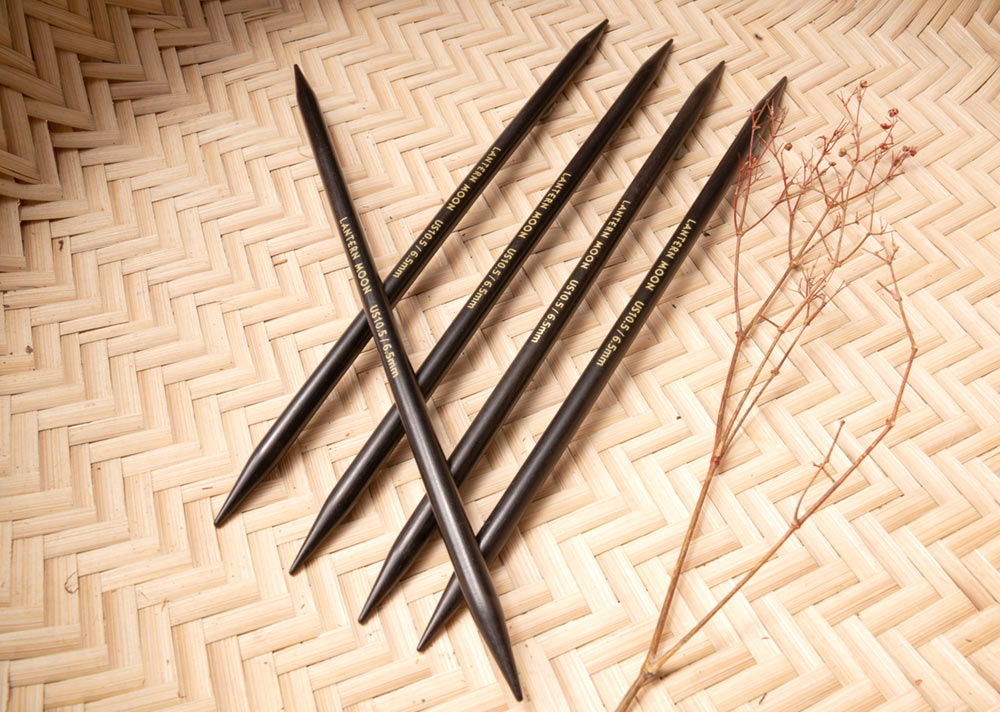 Can there ever be too many Holiday Gifts that you can make for your loved ones? We have designed two great patterns that can effortlessly be crafted in many variations, And you can personalize them individually for each member of your tribe. The Elf Slipper 'Moose on the loose" is a pattern, suitable for beginner and intermediate skills, and so is the recipe for the crocheted Holiday Candy Bag. Each of the patterns can be completed in less than a day.
'Moose on the Loose' Slippers 
This might be the most straightforward sock pattern you have ever encountered. The warm slippers come in sizes from 7 - 9 and are crafted with an unfussy, two-color design knitted in the Fair Isle technique. The first half is knitted in the round. When you reach the heel. you just divide the labor and continue in garter stitch in rows until the end of the heel. The slipper will have one seam at the toes and another at the back of the heel. 
We opted to embellish the upper border with an easy, one-row crochet edge in a twisted block stitch look. But of course, you can crochet or knit a longer border on top, too.
What type of knitting needles is required? 
We have used a set of double-pointed knitting needles, US size 4 (3.5 mm), because there are many rounds to knit. Of course, if you prefer circular knitting needles over DPNs, you can knit these slippers using the Magic-Loop method on circular needles with a longer cord. If you knit on a pair of interchangeable knitting needles you can connect them to a short, 9" long knitting cable.
What type of yarn does the pattern call for?
The yarn should be machine-washable and of lasting quality. We chose sock yarn made of 75% wool and 25% acrylic in a length of 100 m per 50g (109,3 yds). To give the knitted fabric a thicker structure than a normal sock, we then went below the recommended needle size. Knitting with a lower needle size will give your fabric more stability and make it warmer, too!
Knitting tension: 24 st. and 26 rounds in Fair Isle pattern = 4x4"
Start the pattern here:
Cast on 30 stitches and close to a round. We recommend placing stitch markers at the beginning of the round and in the middle to mark your increases. In the 2nd round, increase one stitch before and after your markers, i.e. 4 stitches per round. Repeat in the 4th and 6th rounds. There should now be a total of 42 stitches on your needles.
For the smaller sizes, start knitting the Fair Isle pattern as shown in the diagram now. For larger sizes, knit another 3 - 5 more rounds in your primary color, first. We have used a third stitch marker after finishing the colorwork to mark the division of your work further on.
When you have knitted the colorwork diagram, knit another 2 rounds in your main color. Then, divide the pattern at the third stitch marker. From now, you knit in rows and garter stitch as if the sock were a flat item. After completing an additional 5" it is time to bind off, leaving a 5" long strand of yarn that you can use to sew the slipper heel together.
Assemble:
Sew the heel seam along where you bound off your stitches. The toes have to be sewn together with the top stitches matching the opposing stitches beneath the foot so that the toes will lie flat later.
Crochet border:
With a crochet hook size 6, make a slip stitch at the upper heel, Start with 4 chain stitches,
yarn over and make a DC (double crochet) into the 3rd stitch. Connect with a slip stitch into the 3rd stitch, chain 3. Repeat ⋆ until the end of the round.
Knit the second slipper like the first one.
Candy Bag Pattern
This easygoing Sweets' bag has been made of worsted weight leftover yarn, mixed with cotton for more stability. We went for a size 7 crochet hook.
It's just triple crochets (Tr) or treble stitches throughout, and a few rounds of half double crochets at the upper border. If you are not familiar with these stitches, learn all about them in our crochet stitch tutorial. Additionally, this pattern calls for an easy color-changing technique in the white-striped parts. The instructions for this method can be found here.
The pattern starts here:
Work from the bottom up. Start with a slip knot and 4 chains (ch.) stitches and close them to a ring with a slip stitch (Sl. st.) into the first stitch.
1st Rd: Ch. 3 (counts as your first Tr.) and then 10 Tr into the chain ring. Close with a Sl.st.
2nd Rd: Ch. 3, then 2 Tr into each stitch of the rd. below.
3rd Rd: Change from red to white yarn. To change colors at the beginning of a round, work the sl. st. at the end of the previous round in the new color. Work 1 Tr into each stitch and 2 Tr into every 3rd stitch.
4th Rd: same as Rd. 3, but instead of working 2 Tr. in white into every third st., work the increases with red color into every third st.                                 
5th Rd: White yarn only. Work 1 Tr into each st. of the previous round.
6th/7th Rd. Change to red and continue to work as in Rd. 5.
8th-10th Rd. Same as 3rd to 5th Rd.
Finish: Switch to red and work Half double crochets (Hdc) into every stitch for two rounds. Then crochet a rd. of 1 Hdc, 1 ch. Finish with 1 rd. of Hdc.
Crochet a 10" long chain cord and guide it through the holes created in the row of Hdcs. 
We hope you have enjoyed crafting these holiday gifts on your Lantern Moon high-quality needles just as we had. Happy Holidays!