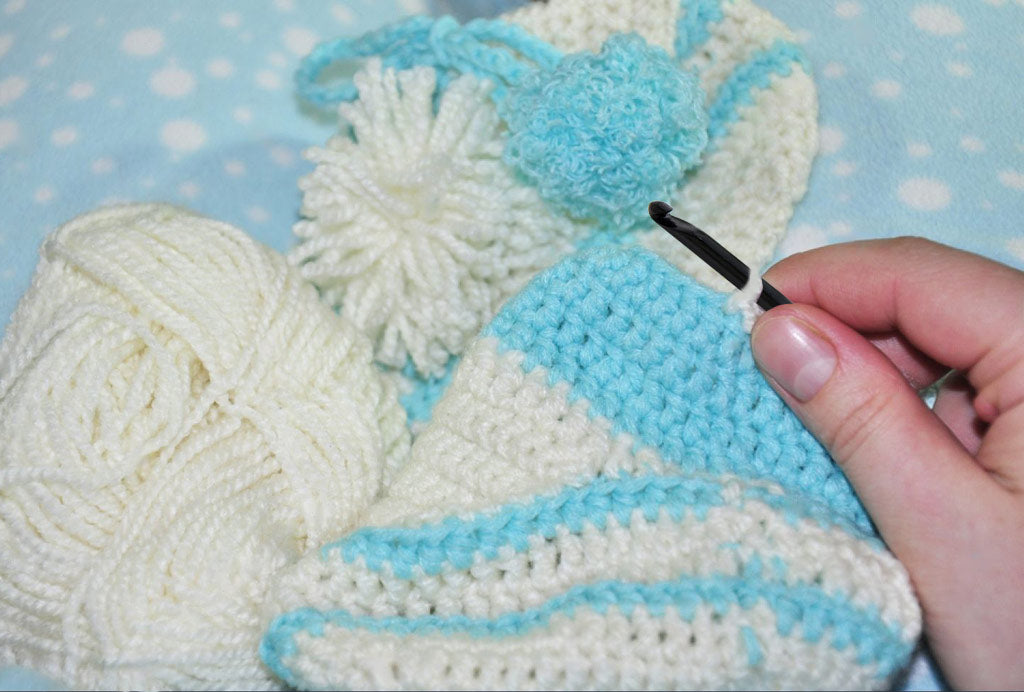 With winters around the corner, it's sock season. Bring warmth to your feet or gift some to your loved ones with these quick projects. So, whether you are into knitting or crocheting, you can make socks. Socks aren't just for knitters as there are many ways to crochet too. It's not as tricky as you might think! With your yarn (even leftovers from your stash) and crochet hook, you can easily make some socks! If you are new to crocheting, you might want to start by reading our guide on mastering the 6 basic crochet stitches first.
Even though socks are typically thought of as a project for knitters, you can totally crochet a pair! In fact, crochet socks tend to be a little bit simpler and work up more quickly than knitted socks. The crocheted fabric is comparatively denser than knitted fabric, making the crochet socks the perfect option for winter.  But, if you are a knitter and would not have it any other way, browse through our blog on knitting socks with double pointed needles.
Crochet Socks vs. Knit Socks 
Crochet and knit socks are somewhat similar. Like knitted socks, crocheted socks projects can be worked from the top down or the bottom up and both types usually feature a stretchy ribbing stitch on the cuff.
The main difference is that crochet socks are made with one hook, while knitted socks are made with two needles and four or five in case of double pointed needles. This can make the crochet sock project a little bit simpler and quicker to make.
Another difference is that knitting usually creates a fabric that lies flat with designs of 'V's and upside-down 'U's, while crochet has a bumpy texture. Single crochet (SC) stitch has a tight structure while the taller stitches such as the double crochet (DC) stitch and treble crochet (TR) have an open structure with holes in it. Also, knitting has more of a stretch than crochet.
That being said, whether you crochet socks or knit a pair, the idea is to enjoy your craft.
For your first crochet sock project, it is recommended to follow a pattern. You will have all the information you need on choosing the right crochet hook sizes, yarn and even instructions to work on the project.
If you are planning your own design then we have few tips that will help you.
1. Take right measurements for your socks 
When making socks, especially crocheting measurements are very important. Knit stitches are stretchy while crochet stitches are not. They do not have a stretch sideways but in length.
You need measurements for
Circumference for Leg.
Height of Leg from top of the heel.
Circumference of Foot. It needs to calculated from the top to the bottom of the ankle.
Instep is the length from your toes to the heel.
If the person you are making the socks for is, just get your measuring tape and note down the numbers. Now consider negative ease for these measurements. You must settle on a number that is -10%.
You can also refer to the general size chart for socks.
| | | | | | | |
| --- | --- | --- | --- | --- | --- | --- |
| (U.S. Shoe Sizes) | 4-6½ | 7-9½ | 10-12½ | 6-8½ | 9-11½ | 13 -14 |
| Foot Circum. (in.) | 7 | 8 | 9 | 8 | 9 | 10 |
| Sock Height | 6½ | 7 | 7½ | 7½ | 8 | 8½ |
| Total Foot Length | 8 | 9¼-10 | 10¼-11 | 9¼-10 | 10¼-11 | 11¼-12 |
2. Choose the Right Yarn 
The right yarn for crochet socks depends on the person you are making it for. Say for instance you want to make for a baby, choose superwash yarn in eco-friendly fabrics. For adults wanting chunky socks heavy-weight yarn works best. But, you can easily go ahead with a fingering-weight, wool-blend yarn but keep in mind that the yarn must give as crocheted stitches are tighter than knitted stitches.
To make it a bit simpler for you, crochet a gauge swatch to see how the yarn looks like and even the amount of yarn that will be required to complete the project.
3. Choose your Crochet Hook 
For your sock project you can choose single-ended crochet hooks in 3.5 mm (E) or 3.75 mm (F) sizes or even 4 mm (G). Tunisian crochet hooks also work perfectly fine. They can be used as regular crochet hooks when they are not attached with the interchangeable cords. Premium ebony wood crochet hooks from the Lantern Moon collection is a good choice as the wood has a grab on yarn and yet allows smooth stitch-making. It is better to crochet a gauge swatch first to see if you need to go one size up or down on the size.
4. Check Gauge
Like knitting, the first step of any crochet project must be a gauge swatch. Crochet a square of 6 inches with the same hook and yarn you have planned for the project. Wash and block the swatch. With a measuring tape mark an inch on the swatch and get your stitch gauge horizontally and row gauge vertically. 
With the measurements you have noted calculate the stitches.
5. Use a Stretchy Stitch Pattern for the Cuff and Right Crochet Stitches 
Choose a stretchy stitch pattern for the cuff of your sock so that it stays up on your ankle. You can also crochet a small piece of elastic in the first rounds to keep the socks the right fit. Ribbing patterns or the herringbone crochet stitch are the most commonly used. Even for the entire project, the crochet stitches can be the basic ones or even textured stitch patterns. Just keep in mind that crochet stitches don't stretch the same way knitted stockinette stitches do, so the choice of stitch is crucial.
6. Try Your Sock on as You Make it to check the Fit 
If this is your first sock or 100th, don't wait till it is finished to try it on. It's a good idea to check the fit of your sock after you have made few rows of the circumference. Keep trying before and after you add the heel to make sure the different parts of the sock fall correctly on your foot.
7. Take special care to weave in yarn ends 
When you are crocheting socks it is important to weave in yarn ends that leave no bump behind. Make sure to crochet the yarn ends while you are working on the pattern. It will be neat and the ends won't get loose. Or, just use your handy finishing needle to carefully weave in the ends with either duplicate stitches or bury it as invisibly as possible.