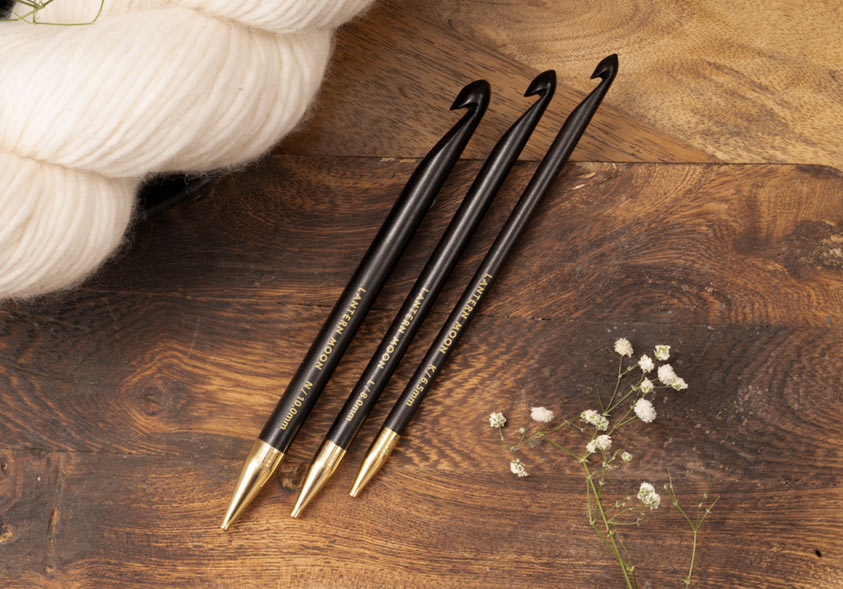 Tunisian Crochet is a very beautiful technique. It combines the attributes of two techniques:  the simplicity of crocheting with the aesthetics and options for knitting. This technique opens new possibilities for designs and patterns that are only possible with Tunisian crocheting. Another name for Tunisian crochet is Afghan Crochet. There is no difference between the two. The yarn, Tunisian crochet hooks and accessories required are the same.
How Tunisian Crocheting is different? 
Tunisian crochet is easy to learn and master with the right tools. The right tool being the Tunisian crochet hook, which is longer than regular crochet hooks and can have hooks on both ends or a cord at one end. They are shaped without a thumb grip so that they can hold many loops on the hook and the cord at a time – keeping all stitches on an even level. Tunisian crochet hooks are not significantly more expensive than regular crochet hooks, and a set of them is a nice addition to your library of craft supplies.
Lantern Moon has a collection of beautiful and professional Tunisian crochet hooks. These beautiful hooks are made from premium sustainable ebony wood.  They have a perfect liquid-silk smooth finish so the stitches move easily with no yarn drag. The connectors have a 24 carat gold plate finishing which adds to the smooth ride for all yarns.  It also makes an exceptionally beautiful hook.
The Lantern Moon Interchangeable Knitting Needle cords are compatible with our Interchangeable Tunisian Crochet Hooks. So you don't have to buy extra cords and you can use them for both needles.
How exactly does Tunisian crochet work? 
Tunisian crochet is a method of creating a pattern on the basis of a two-tiered row. One runs from right to left, and the second runs in the opposite direction. Unlike other crochet stitches, this way of crocheting requires you to work your row in two steps or passes.  One of the nice qualities of Tunisian crochet is that you do not have to turn the work - you always have the right face of your work facing you.
Foundation: The first row is formed by creating the required number of loops – just as you would do for any crocheted project. When working your chain stitches, be sure to keep the yarn slightly loose - in this way the loops will not be too crowded together.
Tunisian crochet stitches: Begin by inserting the hook under the first loop. Pull it up and leave it on the hook. Do not yarn over and pull through to make a single crochet. In Tunisian or Afghan crochet you always pick up all of the loops in one pass and then crochet all of the loops in the return pass. At the end of your return pass you should have the same number of loops on the hook as you did in your beginning pass.
Now you have completed what's called the forward pass of the foundation row. You have gathered all the loops on your hook, and now you are ready to work them off the hook for the return pass. To complete the row and start the return pass you have to yarn over and pull through two loops and repeat this all the way down to the beginning of your project.
By pulling the yarn through the loops of the second row or return pass, you create a transverse weave. The result is a light, airy and firm fabric which is ideal for many objects, from slippers, to large Afghan blankets and cushions.
While crocheting your stitches be sure to keep your loops loose. Tunisian crochet has a tendency to curl, and by creating looser stitches you maintain your fabric's flow and keep it manageable at the same time. Even if you do have any curled edges you will want to block and steam your finished item, as you do with knitting. Using a hook that is at least two sizes bigger than you normally would is one way to help prevent the curling. Another way is to block your finished piece.
If you have not dealt with Tunisian Crochet before, we suggest you give it a try. As Charlie Chaplin once said, "Imagination means nothing, without doing." With that in mind, honor your imagination and let us help you find the best tools.
Do you like the
Lantern Moon blog
? Would you like to read other interesting things about Knitting & Crochet? If so, please check the box and let us send you similar blogs.