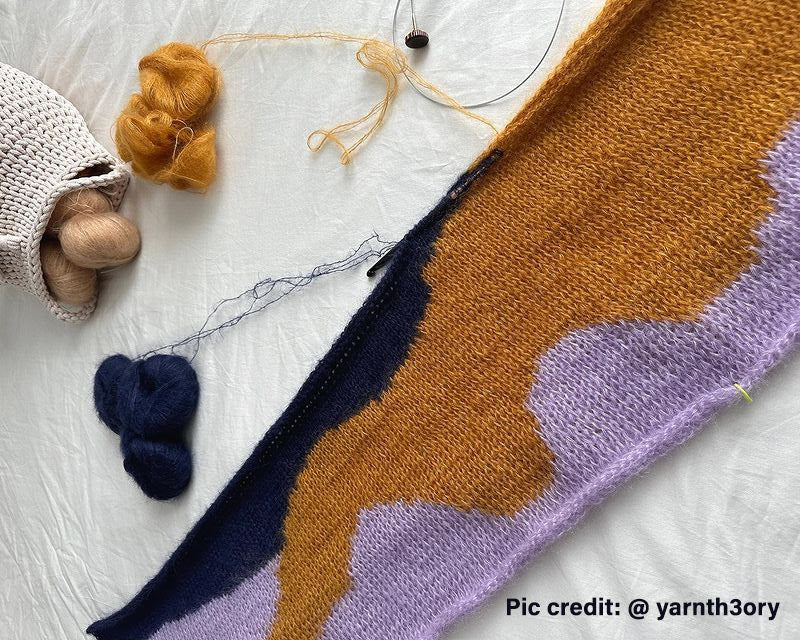 If you think crocheting a cardigan, let alone a seamless piece, is a daunting task, reconsider! Even as a beginner, crafting a seamless cardigan isn't as mysterious as it sounds. With the right guidance and a professional single-ended crochet tool, you're only a few loops away from creating a cozy masterpiece.
In this guide, we'll unravel the basic construction of a beginner-friendly seamless cardigan and provide tips to ensure that every stitch you make is a confident and joyful. As a delightful bonus, by the end of this blog, we'll also explore a curated list of free cardigan patterns to get those creative juices flowing. So, get your crochet hooks ready and let's explore all the secrets of crocheting your first, seamless (or nearly seamless) cardigan.
Understanding the Construction of Your Seamless Cardigan
Before we delve into how to crochet your cardigan, it is crucial to grasp the fundamental construction techniques of your first seamless cardigan and visualize the process.
Top-down Construction: As the name suggests, this method starts from the neckline and works its way down. One of the significant benefits of this technique is the ability to try on your cardigan as you crochet. This ensures you can easily adjust for fit, making it a favorite among many.
Bottom-up: This approach begins at the waist or hips and moves upward. While it might sound counterintuitive, it offers unique benefits and design possibilities. This method can provide a strong base for your cardigan, ensuring that the weight of the upper parts doesn't stretch out the bottom over time.
The Round-Yoke Cardigan: Now, let's delve into the details of crafting a round-yoke cardigan, a style that's been gaining popularity for its beautiful, draped look. Beginning with a foundation chain or the ever-magical magic ring, you work a predetermined number of stitches into your foundation. This creates the very top of your cardigan, sitting close to the neck. To form the yoke, you'll employ regular increases to create an ever-expanding circle. Watch as it gracefully drapes over the shoulders as it grows, giving the cardigan its signature look.
Gauge Swatch
Make a gauge swatch before starting. Because you're not sewing pieces together, it's even more critical that your gauge matches the pattern to ensure a proper fit. Our tip: make two gauge swatches and sew them onto your finished piece as pockets later.
Use the Right Tools
Stitch markers are crucial for most seamless projects. They help keep track of increases, decreases, and pattern repeats, especially in the cardigan yoke. Investing in high-quality crochet tools, like single-ended crochet hooks made from durable and liquid-silk polished ebony from Lantern Moon, can significantly improve your outcome and overall crocheting experience. Seamless projects require precise stitch work, and having tools that enhance your skill can be invaluable.
Measuring and Adjusting
Unlike garments pieced together, where adjustments can be made as each section is created, the seamless design requires a continuous flow of stitches. This is where taking precise measurements becomes pivotal. Exact measurements ensure that your finished cardigan fits you perfectly, hugging or draping just as you envisioned.
Also, everyone's body is unique. Even if two people wear the same size, their measurements can differ in terms of arm length, torso length, and more. You ensure the cardigan's proportions suit your unique body shape by taking your measurements.
Bust/Chest: Measure around the fullest part and ensure tape is snug but not tight.
Waist: Measure around the narrowest part, typically just above the navel.
Hips: Measure around the widest part.
Shoulder Width: Measure distance between outer edges of both shoulders.
Arm Length: Start at the shoulder's top and measure down to the wrist, passing over the elbow.
Upper Arm Circumference: Measure around the fullest part, usually the bicep.
Cardigan Length: Decide desired ending point (waist, hips, mid-thigh) and measure from top of shoulder to chosen point.
Neckline Depth and Width: Measure desired depth or width depending on design.
For round-yoke cardigans measure from top of shoulder to just below bust.
One of the advantages of crocheting seamlessly, especially top-down, is the ability to try on the cardigan as you go. This allows you to make on-the-fly adjustments for a custom fit.
Blocking your Seamless Cardigan
Once completed, it's crucial to block your cardigan. This process sets the stitches, evens out any irregularities, and helps achieve the final shape and drape. Blocking enhances the look and fit of your cardigan and gives you a sense of accomplishment as you see your crocheted creation come to its full potential. It's worth the time and effort to ensure your cardigan looks and feels its best!
Soak your cardigan in lukewarm water with detergent, then gently press it between towels to remove excess moisture without wringing. Lay it out on a flat surface, pinning to desired measurements, and let it dry away from direct sunlight, which might take several hours to days based on the yarn and environment.
Try these free and (mostly) seamless Crocheted Cardigan Patterns!
This short-sleeved cardigan is made from light DK wool and is great for the transitional days between summer and fall. The free pattern was created by Hazel and published on her blog HookedHazel. The cardi is perfect for warmer and cold weather, if you wear a long-sleeved shirt underneath or wear a coat on top. You can can combine it casually with your daily pair of jeans or elegantly wearing a skirt. The project is also an ideal starting point for newbies who wish to crochet their first sweater or cardigan.
Maya Luna has created this ankle-length sleeveless cardigan with a cowl collar that is crocheted in one rectangular panel, including the brim and slits for the armholes. However, a note for those eager to try this design: Maya Luna employs the front-post double crochet technique for the brim. This stitch adds a textured, ribbed look, providing both elasticity and a touch of style. If you're unfamiliar with this technique, you might want to practice it beforehand.
We found this impressive round-yoke cape with an added hood on Dora's comprehensive crochet blog Doradoes. (see photo above) She felt inspired to design this cozy cardigan after reading about the medieval wild man myth and beautifully transferred the spirit of this tale into her design.
We hope you now feel inspired to create your own seamless crochet cardigan and enjoy crafting with your unique, handcrafted crochet hooks made by Lantern Moon. Happy stitching!