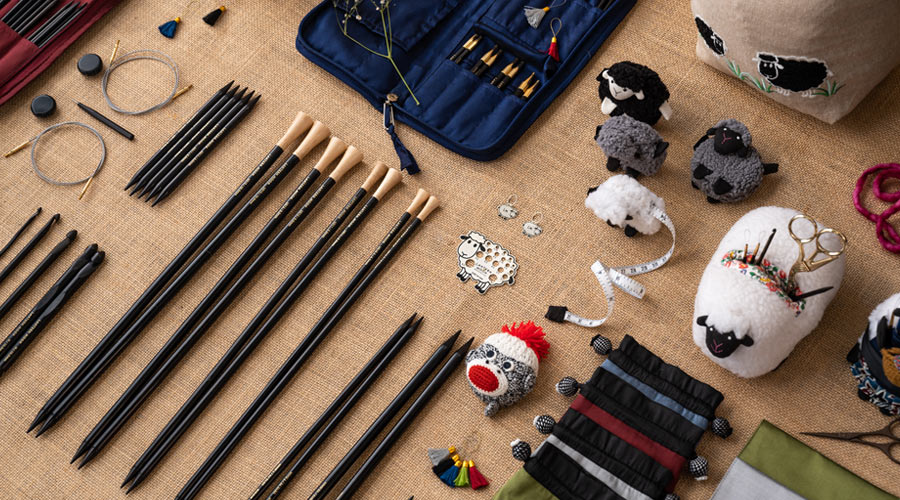 Working with handcrafted tools means pride and joy. Lantern Moon understands this sentiment and therefore has a range of handcrafted knitting needles, crochet hooks and accessories. Built on principles of craftsmanship, the collection serves the needs of new and experienced artists and every type of project. No matter the handcrafted product you choose from Lantern Moon, you can rest assured that you are getting a premium experience.
Each product honors the indigenous traditions of the artisans that have been passed on over generations! We are a community that values art and creativity, and when you support handcrafted, you support the continuation of skilled talent for the next generation.
From our hands into your hands, Lantern Moon knitting needles are crafted from premium ebony wood. They come in unique and modern designs that are also a part of the ancient traditions. The handcrafted knitting needles come in options of straight, double pointed, and circular needles. Their liquid silk finish makes knitting a joy. They surely bring your crafting to another level!
The single-pointed needles are themselves a work of art with perfectly tapered tips at one end and a beechwood stopper at another. The double-pointed knitting needles are available in a set of five, with smooth, tapered points that work smoothly with all kinds of yarn. The circular knitting needles come in options of both fixed circulars and interchangeable ones. The Destiny Circular needle has a brass connector joined by smooth cords available in a standard range of sizes.  Interchangeable circular knitting needles are available in different sizes with a variety of cords in popular lengths. Fixed and swivel cords work well with the needles, opening up various prospects with your convenience in mind.
Once you have knitted with Lantern Moon Needle Sets, we are sure that you will have a wonderful experience and never want to go back to your old knitting tools.
Lantern Moon crochet hooks are also crafted by hand from the warm ebony wood. The smooth liquid silk finish feels almost velvety, and there's very little chance of hand fatigue. They are ideal for crochet artists, whether just starting out or experienced in the craft.
Designed to work smoothly with all materials, the crochet hooks are available in the full range of standard sizes. The options offered are single-ended crochet hooks, the basic tool for the craft. The Tunisian crochet hooks have a meticulous finish and ensure easy stitch passing. The connecting joint between the cord and hook is snug and smooth to enable stitches to move easily.
The cords used in the Tunisian crochet hook are similar to the needles. The range of fixed and swivel cords from Lantern Moon work both with our interchangeable needles and crochet hooks.
The handcrafted beauty of Lantern Moon is also available in bags and cases. Each of them is made by local artisans from fabric and prints based on an old process that has been preserved and passed from generation to generation.
The beautiful options of drawstring bags, easily cinch and close for the secure transporting of small projects and tools. Our stitch marker pouches are available in three popular shades. The Meadow drawstring bag is available in designs of black and white sheep.
The handcrafted needle cases are made of Indian materials and styles. The beautiful silks from India are made all the more aesthetic with the 'Ajrak' prints. The traditional block-printed fabric inspires with its vibrant shades derived from nature.
Be it cases made for the single point (STNs), double-pointed (DPNs) or circular needles or even the entire interchangeable needle set, there are lots of options to keep you organized! These beautiful needle cases are not just fun for you but are also ideal gifts for any loved knitter or crocheter!
When it comes to crafts of knitting and crochet yarn is a loved essential. To care for the essentials our Knit out Box is another piece of handcrafted luxury. Made of exquisite silk with beautiful Ajrak prints, the box has a closable lid and button-hole closure along with a keyhole opening to feed out yarn from inside. You will love to carry your yarn in this box as it highlights the beauty of the handmade!
The handcrafted wonders from Lantern Moon are also available in our variety of knitting accessories. The knitting notions offered are useful and beautiful. Be it our adorable accessory holders- Baabs and Sherpa or our beloved tape measures, - the sock monkey or the charming sheep, there is a lot to love! Our stitch markers, gauge and other accessories are essentials that add to the elegance of your craft collection.
Lantern Moon is focused on craftsmanship and premium experience. We will never get tired of repeating it, there is a certain magic in the handcrafted range of Lantern Moon knitting needles and crochet hooks, and we think it comes down to the detailed hand finishing. Skilled artisans give special attention to ensuring every handmade product has a long life and is a worthwhile investment.