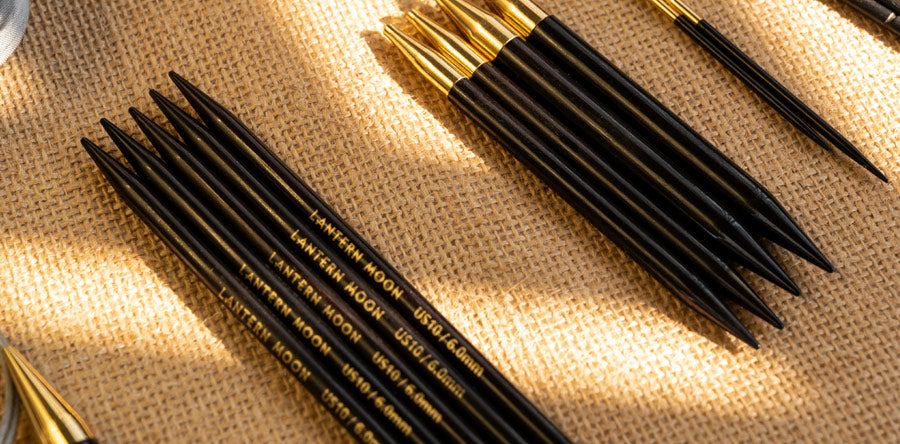 The knitting world is amazing but for a beginner, it also becomes overwhelming given the plethora of choices. To assist you in making a smooth entry, we'll talk about knitting needles, their sizes, and their uses.
Often we are introduced to knitting by a loved family member or friend and we adopt their needles and their styles. While this is perfectly acceptable, it is important to understand your knitting needles to plan out your own projects in the future.
Needle Sizes
The needle size is calculated by its diameter. There are two measurements on most knitting needles, one in millimeters and one that usually says "US" and then a number. If you have needles or a pattern that mentions one or the other this handy chart can help!
| | | |
| --- | --- | --- |
| Metric Size | US Size | UK Size |
| 2.0 mm | 0 | 14 |
| 2.25 mm | 1 | 13 |
| 2.5 mm | 1.5 | – |
| 2.75 mm | 2 | 12 |
| 3.0 mm | 2.5 | 11 |
| 3.25 mm | 3 | 10 |
| 3.5 mm | 4 | – |
| 3.75 mm | 5 | 9 |
| 4.0 mm | 6 | 8 |
| 4.5 mm | 7 | 7 |
| 5.0 mm | 8 | 6 |
| 5.5 mm | 9 | 5 |
| 6.0 mm | 10 | 4 |
| 6.5 mm | 10.5 | 3 |
| 7.0 mm | – | 2 |
| 7.5 mm | – | 1 |
| 8.0 mm | 11 | 0 |
| 9.0 mm | 13 | 0 |
| 10.0 mm | 15 | 0 |
| 12-12.75 mm | 17 | – |
| 15-16 mm | 19 | – |
| 19.0 mm | 35 | – |
| 20.0 mm | 36 | – |
| 25 mm | 50 | – |
Why does Needle size matter?
The general rule of the thumb to knitting needles, is the bigger the size, the bigger the stitches. The needle size is really important whenever you take up a project.
Almost all patterns suggest a needle size to use with the yarn to achieve a particular gauge. Start knitting a swatch as suggested to see if you are producing a similar result. If you have more stitches per inch, go up a needle size. If you have fewer stitches per inch, go up a needle size. Continue going up or down needle sizes until you get the exact gauge for your project. Every knitter has their own way to tension their stitches, therefore it is best to knit a swatch.
What Needle Size Goes with what Yarn?
Most patterns provide information on suggested needles. A yarn label will not only give you the weight of the yarn, for example, lace weight, aran or worsted but will also give an indication of the size of knitting needle to use with it.
If you are not following any pattern or want to experiment, you can change needle sizes as needed to get fabric that you like. However, the following is a good indication of the different yarn weights and needle sizes that are used together. So, when in doubt you can refer to this.
US 0-1 needle sizes work best with very intricate lace knitting work.
US 1.5-2.5 sizes can be used to knit socks and fine shawls with sock or fingering weight yarn.
US 3-5 can be used with sport-weight yarn for socks, baby blankets, sweaters, and more.
US 6-7 works best with double knitting (DK) yarns to make sweaters, scarves, and gloves.
US 8- 9 sizes are best compatible to use with worsted weight yarn. These needles are usually the ones that you learn to knit with because they are easier to handle and the stitches are easy to count.
US 10- 11 needles suit projects that bulky weight yarn.
US 11- 17 sizes are for the bulky to jumbo yarns.
In most cases the needles have the size imprinted or engraved but if not so, a needle gauge is going to solve the issue. Needle gauges are tools that help you find the size of your needles and, in some cases, help you measure your knitting gauge.
Knitting Needle Lengths
While we have discussed needle sizes in detail, it is important to also talk about needle lengths. The needle lengths also play an important role as they accommodate the stitches of the project. The knitting needles – single-pointed, double-pointed and circulars follow the standard metric sizes. The difference between these needles is generally the length.
Single pointed needles (STNs) are available in sizes of 7 to 16 inches. The needles hold all the stitches therefore the choice of the length depends on the size of the project.
The DPNs set of five is available in lengths of 4, 6 and 8 inches. The set of four or five work together to create circumference and then again the needle lengths are decided according to the project. Socks, mittens and small projects can work on the smaller lengths while sleeves, hats, etc. can be knitted on the longer needles.
When it comes to circular needles, the lengths are calculated from one needle tip to the other including the cord length. The needles are generally 4 and 5 inches with cords of lengths 8"(20cm) to make 16"(40cm) needle to 49" (125cm) to make 60"(150cm) needles. This versatility of lengths makes the circular needles an ideal choice for varying projects.
The interchangeable circular knitting needle sets are undoubted superstars when it comes to their versatile needle lengths. The choice of switching cord length according to the project is unmatched. Also with cord connectors, you can further extend the lengths.
Once you have understood the knitting needle sizes, now it's time to choose from our handcrafted range. Made from premium ebony wood, our needles are smooth with a liquid silk finish that makes knitting a truly pleasurable experience. Learn everything you need to know about Lantern Moon knitting needles with our previous blog.