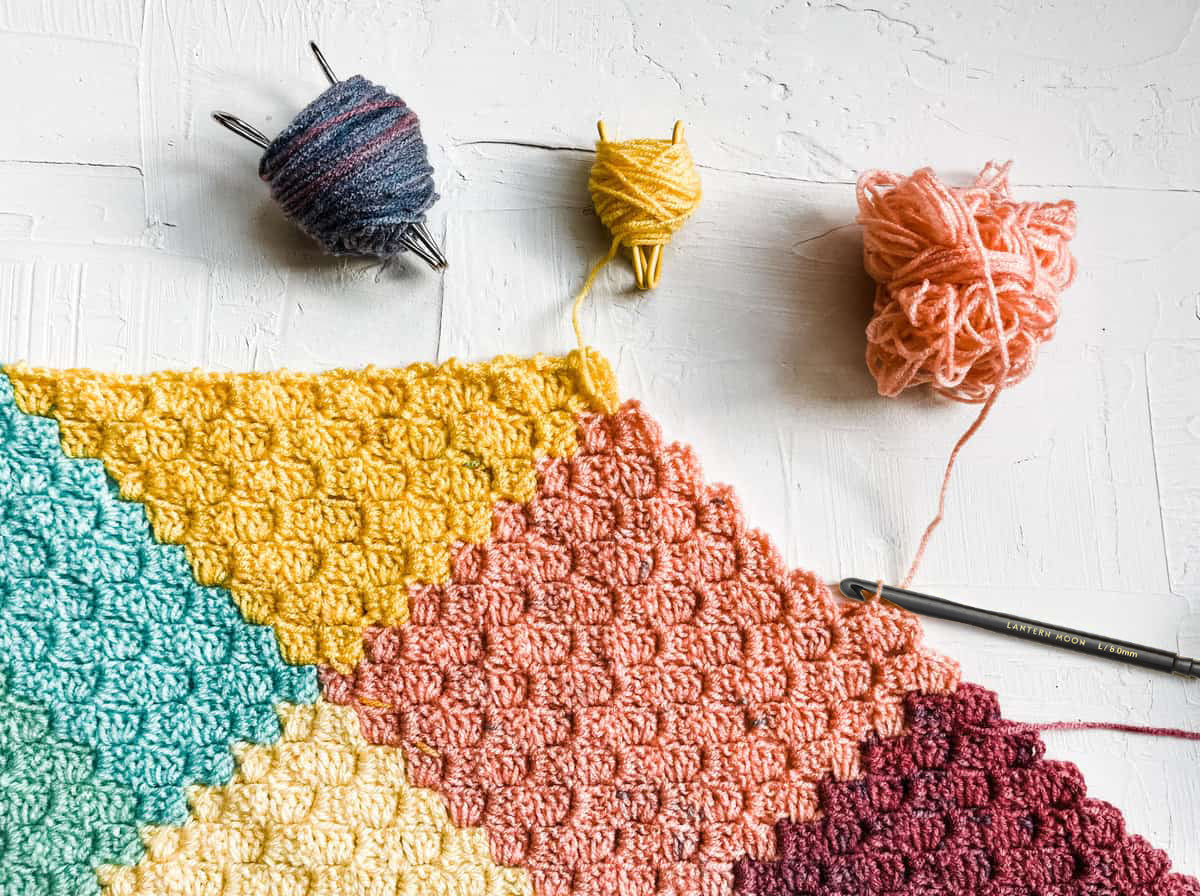 Crocheting can be done not just row by row or round by round, corner-to-corner crochet is an amazing crocheting technique that works from one corner to corner. Abbreviated as C2C, you can create some very impressive designs for blankets and Afghans. Be it a beginner or an advanced crocheter, C2C can be easily learned and used for a wide variety of projects. 
All you need is your regular single-ended crochet hook, yarn and the basic crochet stitches and techniques. You can also work this technique with an interchangeable Tunisian crochet hook. It works for regular patterns too without the interchangeable cord. The right crochet hook size matching the yarn weight is essential for the smooth working of your project. Multiple yarn color combinations create impressive textured effects. 
So, let's get started. 
How to Crochet Corner-to-Corner?  
Corner-to-corner crochet (C2C) is a technique in crochet in which you work diagonally. You begin your pattern at one corner of the project with a small number of stitches. You gradually increase your stitch count on each row until the desired size of the project is reached. From the middle onwards, you decrease stitches. The technique creates a diagonal line that finishes at the opposite corner of the project assisting in the creation of various textured and visually stunning fabrics. 
C2C crochet can be used to create multiple projects, from a simple dishcloth to blankets, shawls, or even cardigans or a hat. The technique allows for endless creativity and flexibility in design and color choices offering multiple options to create interesting textures. 
Creating the gradient effect using different shades of the same color or gradually transitioning from one color to another can create a gradient and sometimes even an ombre effect that looks beautiful in blankets, scarves, and shawls.
Stripes with changing colors after every row or a few rows can create stripes of different widths.
A checkered pattern alternating two colors after every block of four squares will create a checkered pattern.
Work on Geometric designs using a combination of colors. This can be done with strategic crochet increases and decreases for designs like squares, triangles, or
When employing a graph or chart, it is possible to create a picture afghan, where the C2C blocks are worked in different colors to create a picture or design. 
To begin with corner-to-corner crochet, you'll need the following skills and materials: 
Skills: 
For the corner-to-corner crochet technique, you work with basic stitches and techniques. 
CH – chain. Used as a foundation of all crochet projects and even for turning a row or round, you will be needing chain stitches for this unique technique. The turning chains are abbreviated as T-CH, and each stitch requires a different number. For example, for single crochet, you need to chain 1, HDC 2, DC 3, and more for taller stitches.
DC – double crochet. The main stitch used in C2C, DC is a stitch that has an open effect than SC but yet creates dense fabric. Half double (HDC) crochet is an easy substitute. SC is also used. Following a pattern is important for your project to turn exactly as you want.
Sl St – slip stitch. More than a crochet stitch, this technique is used to join one tile to the next. The stitch pattern does not make a fabric but helps in moving yarn from one stitch to another on the surface. 
How to Master Corner-to-Corner Crochet Step by Step  
Step 1: Start with a slip knot. Work the foundation with either chain stitches or foundation DC stitches. To create a foundation double crochet, you create a chain and stitch at the same time. This will ensure a neat start. 
Step 2: Insert the crochet hook in the fourth chain if you are working with a foundation chain. If you are starting with foundation DC, skip this step. In the 4th ch work 1 double crochet (DC). This stitch counts as your first "box." 
Step 3: Chain 3 stitches and turn your work. 
Step 4: Insert the hook into the chain-3 space (the gap between the chain and the first DC) and work 3 DC. This will create a new "box." 
Step 5: Chain 1 stitch. Turn your WIP.  Insert the crochet hook into the chain-1 space and then work 3 DC. You will have another "box." 
Step 6: Repeat step 5 until your swatch is the desired width.
Increase stitches on the edges of the project by working 3 DC. Chain 3 and make 3 DC into each chain space. Finish off by working 1 chain stitch at the end of each row. 
Step 7: Once you have the desired width, it is time to work on the desired length. You will start to decrease stitches. 
Step 8: Instead of making chain stitches, join the boxes with slip stitches. Continue your DC and decreases till you reach the desired length. 
To finish your swatch, cut your yarn and weave in any loose ends with a finishing needle. 
Count your stitches and boxes carefully to ensure your swatch is even and square. You can later experiment with different colors and yarn weights to create intriguing textures and patterns. Once you've mastered the basic technique, try incorporating different stitches and variations, such as working in the back loop only or adding stripes. 
Have fun with your corner-to-corner crochet projects! 
Tips and Tricks for Corner-to-Corner Crochet Projects (C2C)  
C2C crochet projects are challenging but deliver beautiful results. With these tried and tested tricks, you will definitely enjoy them. 
Work with charts as it helps to understand the technique with pictures. The stitches are marked with icons (or a key) that help you imagine what you'll be working on. 
For C2C projects it is best that you wait to weave in ends until after you have completed a few rows or in fact the entire project. This is because you may need to pull on some yarn tails to tighten up holes that form in the crochet.
Block your project when finished. The right blocking tools and method will assist in making the crochet blocks lay flat and let the yarn bloom. We recommend steam blocking. 
Now you can use the technique to make some impressive creations. Make sure to practice and start with small projects, before heading for blankets and bigger patterns. Dishcloths are ideal as they will give you enough practice in the techniques to do a quick project. 
With the Lantern Moon Collection, explore the wide range of handcrafted crochet hooks. Made from premium ebony wood the crochet hooks have a velvety finish that prevents hand fatigue and provides an effortless glide to the yarn. Handcrafted by skilled artisans, the crochet hooks reflect the love and appreciation of the handmade!