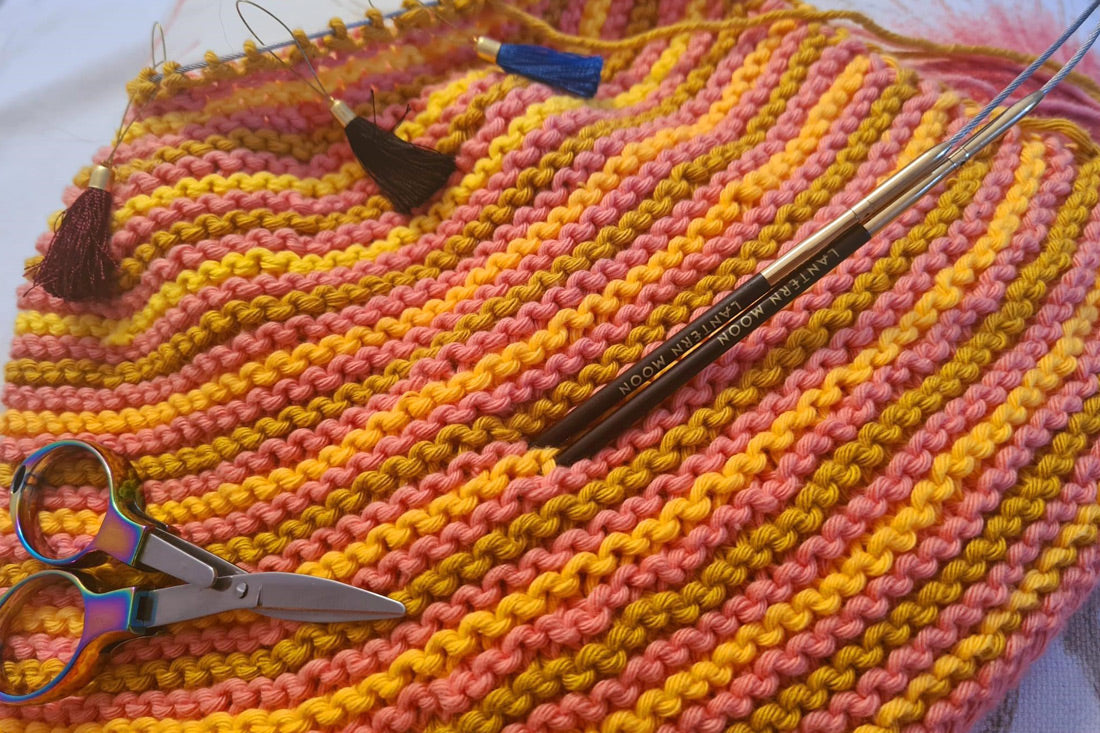 Mother's Day presents a fantastic opportunity to express our appreciation for the most important woman in our lives. In addition to celebrating the maternal bond, it is fascinating to learn that the roots of Mother's Day date back to ancient Greek and Roman cultures. The modern holiday version only emerged in the early 20th century, though. 
Knitting and crocheting are super fun ways to create lasting memories with your mom! You can use your imagination to create all sorts of cool things, and we've got some fabulous patterns for you to try out - no matter if you're new to crafting or a seasoned pro. 
Knit a Bucket Hat 
If you love knitting, then you know how amazing it feels to make something cute and wear it or give it as a gift to someone special. With summer coming up, you can create a super cool bucket hat to keep your mom and yourself protected from the sun. 
And here's the best part: you can make your own bucket hat with any of your favorite knitting needles with this new pattern! It's easy to follow and great for beginners, so you'll be able to create a fashionable and colorful accessory in no time.
The pattern uses breathable, light cotton yarn, perfect for hot summer days. Plus, the stripes give it an eye-catching design. You don't even have to worry about knitting in the round, which can be tricky - this pattern is worked flat, so it's super easy. All you need to know is how to cast on, knit, and k2tog (which means knit two stitches together). 
To start this knitting project, you'll need some cotton yarn in your primary color (50 g) and a bit less for your other colors (about 20 g each). Depending on how you like to knit, you can use straight or circular needles (size 3.5 or 4), plus nine stitch markers, scissors, and a darning needle.
The pattern for this project is 17 stitches and 38 rows for every 10 x 10 cm/4x4" square. After gathering all your supplies, you can cast 120 stitches in your first color and knit in a garter stitch. Start by knitting two rows in your primary color, then two rows in your first added color, two more in your main color, and two in your second added color. This creates a cool stripe pattern. Keep knitting this way for about 5 cm (around 2 inches).
On your next right-side row (RS), you'll knit two stitches, then k2tog (knit two stitches together), and repeat this pattern all the way to the end of the row until you have only 90 stitches left on your needles. 
When your knitting is 6 inches long, it's time to shape the top of your hat. On the inside (wrong side), place nine stitch markers evenly every nine stitches. Then, on the outside (right side), knit two stitches together (k2tog) to the right of each stitch marker. Do this decrease four times every four rows, always on the outside (right side).
When you have 54 stitches left on your needle, decrease to the right of your markers every other row until you only have ten stitches left. Then, bind off and weave in all the ends. Finally, sew the hat together in the middle of the back. The finished hat should be around 9 inches tall. 
Granny Square Bag
Our shoulder-strap bag is made in the classic granny square crochet technique. These squares are put together in a special way that gives the bag a unique shape. To make the bag, you'll need to make ten large granny squares of any yarn of your choice. This pattern is a great stash buster as you can mix and match your leftover yarns for the added colorwork.
And don't worry, you only need to know a few basic stitches like chain stitch (ch.), double crochet (dc), and slip stitch (sl.st.)! Once you've made all ten squares, you'll use the slip stitch technique to put them together and form the final bag shape.
For the bag we're making, you'll need yarn in your favorite color and four other colors, a crochet hook that fits your yarn, and the pattern we provide. Start by making ten squares with basic crochet stitches, and then arrange eight of them in a specific way shown in a diagram. Next, use a different color of yarn to stitch the squares together, leaving the corners open. Finally, connect the last square to the first one to close the bag's upper part. 
To attach the bottom of the bag, grab the last two squares in the second diagram. Start at the bottom right corner and connect square 5 to square 1. Then attach square 5 to square 3. Keep connecting using the slip stitch in your contrasting color until both squares are fitted to the bottom of the bag. To finish off, use a slip stitch through the last stitch of the previous seam. After that, cut the yarn and weave in all tails.
If you decide to make the straps with crocheted fabric, make sure you have extra yarn in the colors you want, as making twisted cords uses less yarn. Also, don't forget to block your finished project. This will make all seams and granny squares look even better! 
Crocheted Lacy Scarf Necklace 
Our last quick gift pick introduces a delightful crochet tutorial for a multifunctional scarf in a lacy pattern. 
The captivating design has been skillfully crafted by the talented Cindy Culbertson and generously made available for free download. The only necessary tools are a size G (4.25 mm) hook and one ball of your preferred yarn selection. This pattern can also double as a necklace using a smaller crochet hook size and with the addition of captivating embellishments such as shimmering beads, playful fringes, and tassels, or dazzling variegated threads. 
Yoga Socks
A lovely pattern all you need is some yarn, a crochet hook, and a little time. To make these yoga socks, you'll need a worsted-weight yarn in your chosen color, a crochet hook in size H (5mm), and a stitch marker. The pattern uses basic crochet stitches such as single, double, and slip stitches. And if you need to become more familiar with any of these stitches, our in-depth web tutorial will help you. 
By crocheting these socks for your mom, you're giving her a thoughtful and practical gift and encouraging her to stay active and healthy. And who knows, you could join her in a yoga or pilates class and show off your matching socks.