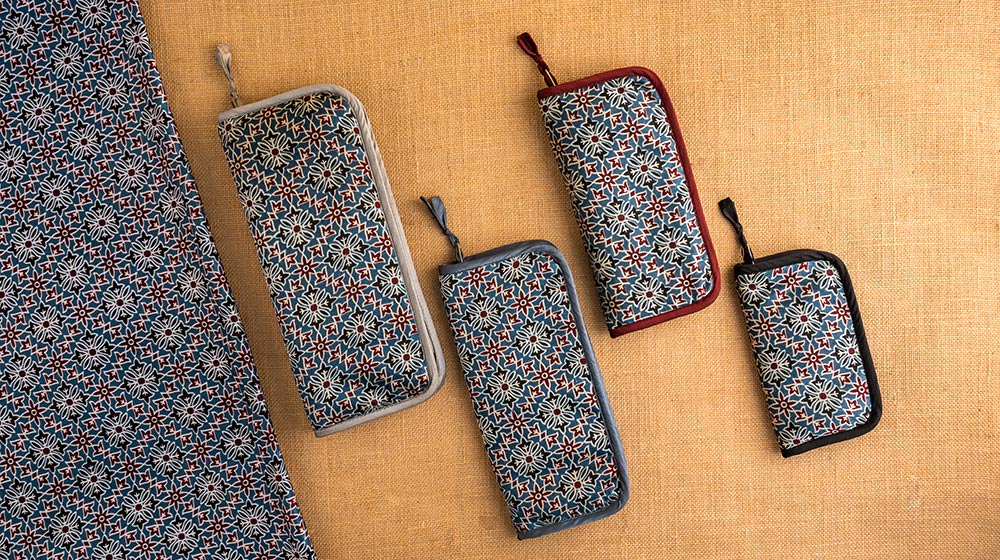 Lantern Moon is a brand distinguished by its craftsmanship and elegant designs. As knitters and crocheters yourselves, you know that the right tools can elevate your creative ability and result in a beautiful outcome. Crafted by skilled craftsmen, the entire range symbolizes handcrafted luxury for needlework artists who practice knitting and crochet. 
In this blog, we'll be exploring the handcrafted range of Lantern Moon knitting bags and cases. Lantern Moon understands knitters and presents a range of storage options such as bags, needle cases, and yarn boxes. Just like the premium needles and crochet hook, Lantern Moon offers storage solutions for knitting. The handcrafted bags and cases are designed to fit your tools comfortably and to be carried anywhere.
Bags
Lantern Moon has beautiful options of drawstring bags that easily cinch and close for the secure transporting of small projects and tools. Light in weight, durable and visually aesthetic, once you have used their adorable pouches, you will never be wanting anything else.
Options offered are the stitch marker pouches in three popular shades and the Meadow drawstring bag available in designs of black and white sheep. Each of these cute bags is the perfect gift for knitters. 
Needle Cases
Knitting needles require to be stored and organized so that they stay in perfect shape for a long time. For this purpose, there are a variety of options for needle cases to store your knitting needles in style with Lantern Moon. The handcrafted cases are made of Indian materials and styles. The beautiful India silks are made all the more aesthetic with the 'Ajrak' prints. The traditional block-printed fabric captures the elegance of nature, inspiring with its vibrant shades and feel.
Be it cases made for the double-pointed needles (DPNs) or circular needles or even the entire interchangeable needle set, we've got lots of options to keep you organized!
For your FCNs and the ICNs, there are options for Circular Needles Case. They come with compartments that can store needles, cords and accessories separately. The zippered pouches have sleeves and pockets for easy storing. The case for DPNs is designed to store multiple sizes conveniently. Both ends are properly packed so that there is no accidental injury. Our Mindy Sleeves are specially designed to organize a variety of tools with a fabric flap at the top and a magnetic dot closure.
Interchangeable circular needle sets are packed in a handcrafted zippered case that safely contains needles, cords and other accessories. These beautiful needle cases are not just fun for you but are also perfect gifts for your loved knitter or crocheter!
Yarn Boxes
While the knitting tools and notions are taken care of, how can we miss out on yarn? The yarn needs to be stored and organized properly. Our beloved Knit out Box is designed for this purpose. The lovely modal satin box keeps yarn free from dirt and tangles. The beautiful Ajrak prints make it an elegant beauty that you are proud to work with or gift to someone special. It has a keyhole opening that allows yarn to feed out from inside. Instead of zippers, the yarn box comes with a closable lid and button-hole closure. This makes sure that your yarn does not get stuck in between zippers. 
So, with Lantern Moon bags and cases, store your needles, tools, and notions in an organized manner. Once you are assured about the safety of your tools, you can focus on enjoying the craft!
Lantern Moon's Handcrafted Range
We will never get tired of repeating it, handcrafted goods mean there is so much love included in every detail. The reason behind this is, that they are crafted by the hands of artisans who dedicate hours, passion and creativity with an incredible amount of time to each little detail. Also, special attention is given precisely to ensure the handmade products have a long life and are a worthwhile investment. 
Lantern Moon is focused on craftsmanship and the line is known for elegant knitting needles and crochet hooks made from ebony wood. This premium wood has a very smooth, tight grain and is extremely resilient, providing the knitter with a smooth surface and a pleasurable knitting experience. The knitting notions offered are useful and whimsical adding to the fun of knitters and crocheters while they create.