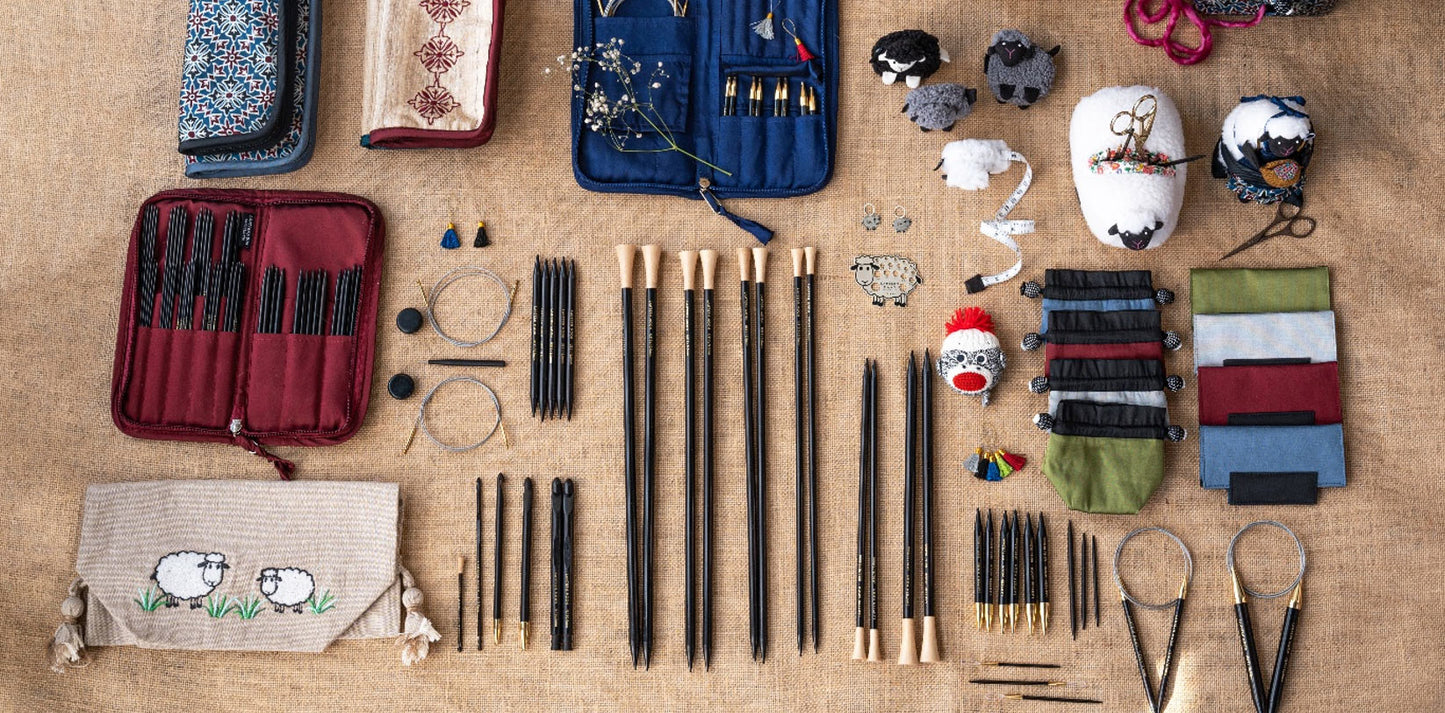 Worldwide, knitters and crocheters have fallen in love with the exquisite beauty and superior performance of Lantern Moon's ebony hardwood tools, and with good reason. The brand's commitment to excellence is primarily due to its focus on personal luxury, exceptional craftsmanship, and elegant designs. Lantern Moon's product range includes a wide array of handcrafted needles, crochet hooks, and various accessories, each designed with an emphasis on quality, practicality, and sensory delight.
Elegant tools and superior craftsmanship
Lantern Moon's collection is designed to celebrate personal luxury, with a strong focus on the purity and textures of materials used, enhancing the sensory experience for crafters. The brand distinguishes itself through its craftsmanship and elegant designs, crucial in elevating your creative abilities and enhancing the outcome of your projects.
The diverse range of handcrafted ebony tools made by skilled artisans include knitting needles and crochet hooks, which are crafted to provide customized and cutting-edge solutions for knitters and crocheters. This bespoke approach caters to the individual needs and preferences of crafters.
Understanding that crafting is as much a tactile experience as it is visual, Lantern Moon tools are polished with materials like liquid silk oil. This ensures a seamless glide and offers the luxurious cherry on the cake, elevating the very act of your crafting. A harmonious combination of beauty and practicality results in handcrafted tools that are a joy to use and have inspired crafters all around the globe to improve their skills to new heights.
Sustainably Sourced, Premium Materials
A notable aspect of Lantern Moon's products is the use of premium materials, such as ebony wood, from which all their knitting needles and crochet hooks are meticulously handcrafted. Ebony hardwood is known for its polished, tight grain, making it highly resilient yet smooth and lightweight and resulting in a supreme knitting and crochet experience.
Crafted with a commitment to sustainability, Lantern Moon's ebony knitting needles and crochet hooks ensure a guilt-free indulgence in the finest materials on the planet. The ethical sourcing of the ebony wood showcases a pursuit of perfection that encompasses not just the knitting needles and crochet hooks but reflects on your crafting, too.
Additionally, by marrying traditional craftsmanship with modern-day needs, Lantern Moon tools are timeless and innovative. The interchangeable knitting needle and Tunisian crochet hooks feature precision-engineered luxurious gold-layered joins to ensure a smooth and snag-free transition during projects. The use of solid 24K gold for the joins adds a visually appealing aspect. It offers excellent protection against aging, rust, and breakage, ensuring you can pass down Lantern Moon tools from one generation to the next.
Lantern Moon pays homage to age-old traditions and materials that carry deep cultural significance by housing their tools in hand-sewn Khadi silk. For many needle and hook cases, Khadi silk is the base material, a historically significant and natural hand-woven fabric from India. This choice reflects Lantern Moon's dedication to quality and craftsmanship. Khadi silk is prized for its quality and historical value, making the elegant cases functional for storing and organizing tools and a statement of luxury and cultural appreciation.
This harmonious balance of durability with aesthetic beauty ensures that Lantern Moon tools aren't just functional and highly durable but also an expression of your individual style as a knitter and crocheter.
Whimsical and Useful Accessories
The brand also offers a curated line of knitting and crochet accessories that are as useful as they are whimsical, such as adorable hand-crocheted measuring tapes or accessories holders like Sherpa or Baabs, bringing fun and uniqueness to your everyday crafting.
Silver-plated stitch holders and exquisite silk or cotton canvas bags with traditional prints add to the Lantern Moon collection's luxurious elegance. Simple utility tools, like the ebony darning needles, are not just tools; they are meticulously carved, each a piece of art. The transformation certainly helps make weaving in ends a pleasurable and luxurious task. Owning a piece from the Lantern Moon collection, like the ebony darning needles, can feel special because they are not just ordinary tools but carefully crafted items that not everyone possesses.
Tools for All Skill Levels
Their wooden crochet hooks and other tools are ideal for artists of all levels, from beginners to experienced crafters. They ensure everyone can find tools that suit their skill level and provide an unmatched pleasure of working with them. The sensory feel of the ebony wood and the satisfaction of handcrafting unique designs intertwine in perfect harmony.
As a knitter or crocheter, working with superior tools can encourage you to challenge yourself with more complex projects, knowing that these tools will not limit but expand your capabilities. This leads to skill development and achievement as you continue to grow and master your craft.
Investing in Lantern Moon tools makes them a good investment and ensures that you can work on multiple projects over the years with the same beloved tools, adding a sentimental value to everything you create during the process.
In summary, Lantern Moon's status as a luxury brand is rooted in its commitment to using traditional premium materials and designing elegant, durable knitting and crocheting tools for the modern crafter. The result is a carefully curated collection and a crafting experience like no other. Every choice, from material to design, reflects the holistic vision behind the brand that resonates with all who see crafting as an art form demanding nothing less than perfection.