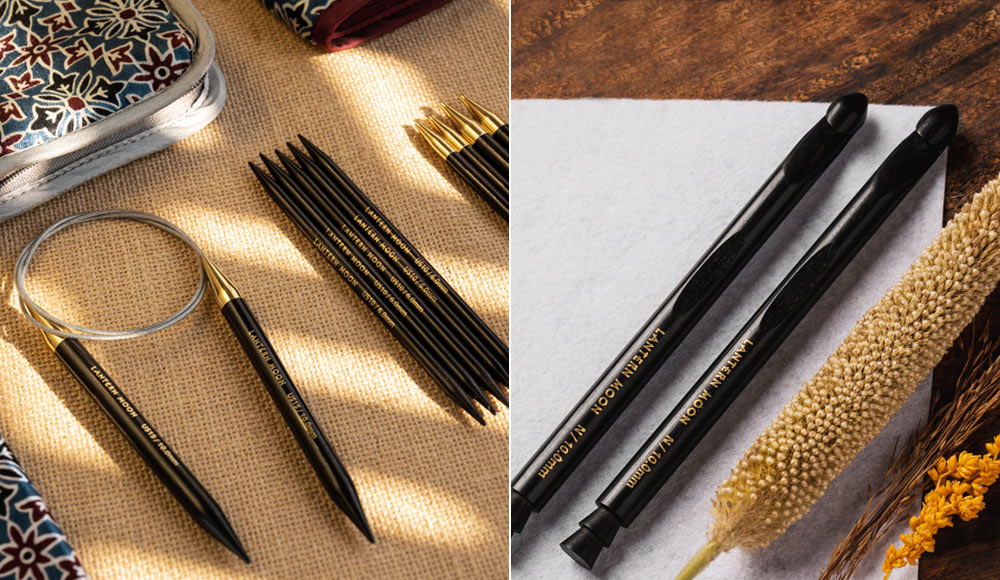 Are you looking for some quality knitting and crocheting supplies that will make your hobby even more enjoyable? In that case, Lantern Moon knitting needles and crochet hooks are just what you've been looking for.
Our handcrafted needles and crochet hooks are made for makers that value high quality tools. Our needles and hooks work well and look even better!
Do you want to bring your crafting to another level? Then you should definitely have a look at our range of products.
Let's dive into the world of Lantern Moon…
Lantern Moon Knitting Needles – A Knitter's Dream Come True
With our years of experience, we managed to develop knitting needles with exceptional finish and detail.
Whether you are a new or a very experienced knitter, from the first stitch, you will see how great it is to work with our exclusive knitting needles.
For example, our Destiny Circular Needles are made out of Ebony. Ebony is very valuable and of high quality, it's even known to be the most precious wood worldwide.
Ebony is very high density, which make the needles long-lasting and durable. The 24k finish on the brass connectors is a beautiful detail and guarantees snag-free knitting.
In case you aren't a knitter or you want to try out crocheting, make sure to have a look at our Lantern Moon crochet hooks.
Lantern Moon Crochet Hooks – Crochet Artists Rave About Them!
As much as we love our knitting needles, our Lantern Moon crochet hooks deserve their own introduction.
They are made out of super soft and durable Ebony and the warm touch of the wood will make you want to crochet for hours and hours.
No matter which kind of yarn you are using, the liquid silk finish of the Ebony hooks will make your loops fly of the hook. The warmth of the Ebony is especially nice to touch.
Be sure to pick a time when you have nothing else planned if you want to use these hooks. Otherwise, you might have to delay the chores and take an extra crochet break… Great for you, but the boss might see that differently.
Lantern Moon Knitting Needle Sets and Crochet Hook Sets – Everything You Need in One Place
Our Lantern Moon knitting needles and crochet hooks are available individually or as part of a set. Whilst it is great to purchase just the right size of knitting needle or hook, it is even better to be prepared for any spontaneous project you might want to start.
Each of our sets come in its own well-appointed case and contain that "extra special" something that makes Lantern Moon stand out compared to its competitors.
The sets contain the most popular sizes of knitting needles or crochet hooks and come in beautiful and practical cases. The cases are made out of Khadi silk, a material that has historical significance in India.
Let's have a closer look at the Heirloom interchangeable needle set, which is the perfect set for all knitters. It contains 10 pairs of 5" interchangeable needle tips. With this range of needles, you can cast on pretty much anything you can think of.
As well as the knitting needles in US size 2.5 to 11, you will find 6 cords to connect your needles together. 3 of the cords are our signature fixed cords and 3 are swivel cords.
4 wooden end caps, 2 tightening tools and 5 colourful tassel stitch markers round this set off beautifully.
The Heirloom interchangeable needle set is a great example for the attention to detail that we have put into our range. If you would prefer to have a closer look at our crochet hook set, you can find our Bequest Tunisian crochet hook set here. 
Conclusion
Our Lantern Moon knitting needles and crochet hooks are popular for a good reason. They are high quality and very exclusive. Many knitters and crocheters have told us that they've been waiting for Lantern Moon to come back for a long time. We are so excited to have finally taken this step and we can't wait to show you what else we have to offer.
Our full range of products can be seen on our website. If you would like to purchase any of our products, you can find the list of retailers here.
If you want to stay up to date with our products and find out more about our beautiful knitting and crocheting supplies, you should definitely follow us on Instagram and Facebook.
We are looking forward to seeing you there.