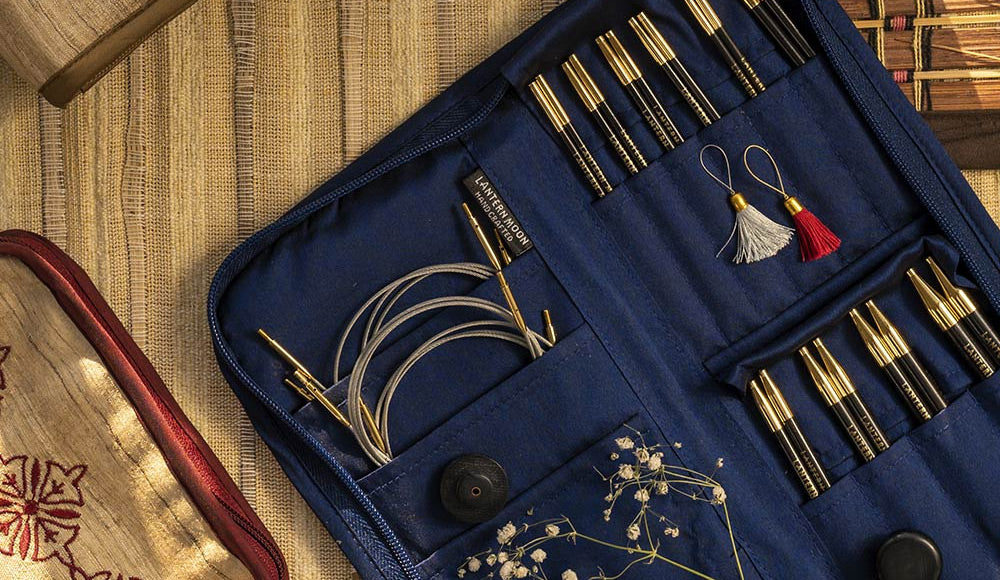 Purchasing your first interchangeable knitting needle set could be considered a rite of passage, a sign that you have moved on from "learning to knit" to "investing in your craft." When you first start knitting, you may have been passed down a set of needles, or picked one up without much thought from a local craft store. As you continue to progress in your craft, you realize you do not want to buy every size for every new project and that is where the beauty of interchangeable sets comes in! With a needle set, you have access to a variety of sized needles but also cords, allowing for projects from intricate socks and hats to bulky sweaters and throws.
The Lantern Moon Interchangeable Knitting Needle sets represent a luxury and elegance while emphasizing functionality. Each separate set is contained within its own well-appointed case and each one contains that "extra-special" something that makes these sets a desirable gift for the needlework artist. In this post, we will discuss the four sets that are part of the collection and the unique benefit that each provides. Navigating the variety of options can be difficult but knowing the details of each is important to making your decision, whether for yourself or for a gift!
The main differences between the sets are in the length of the knitting needles themselves and the number of needle sizes contained in each set. Starting with the 5" needles, you have two elegant options in the Heirloom Set and the Legacy Set. The Heirloom Set is truly as the name describes, an Heirloom that will be passed on for generations of needle crafters and considered a treasure to be revisited time and time again with each new project. The set contains 10 sizes of needles ranging from US size 2 (3.0 mm) to US size 11 (8.0 mm). The set also contains 1 swivel cord and 1 fixed cord of each 24", 32" and 40" cords. In addition, there are 4 wooden end caps, 2 tightening tools and 5 colorful stitch markers all contained in a Khadi silk case. This is truly the gift for the experienced knitter (or you)! The Legacy Set is also 5" needles, of 5 sizes ranging from US size 3 (3.25 mm) to US size 8 (5.0 mm). The set contains 1 swivel cord and 1 fixed cord of each 24" and 32" cords, along with the same accessories, housed in Khadi silk case.
The next two sets have needles that are 4" in length which can be better for those with smaller hands or those that tend to work on smaller projects. The cords in these sets are also shorter in length, leading to being better suited for hats, sweaters and cardigans. The Ancestry Set will be your expansive 4" set with 9 sizes of needles ranging from US size 2.5 (3.0 mm) to US size 10 (6.0 mm). The Ancestry Set contains 1 swivel and 1 fixed cord each of the 16" and 20" cords. The Ancestry Set contains the same amazing accessories again housed in a beautiful Khadi silk case. Lastly, the Heritage Set contains 5 sizes of 4" needles ranging from US size 3 (3.25 mm) to US size 8 (5.0 mm). This set contains the same size cords and same accessories as the Ancestry Set.
When it comes to the Lantern Moon Needle Sets there is truly something for everyone, whether that someone is you or a loved knitter in your life! It's time to make the leap into the next phase of your craft. Let us know in the comments which set you plan to invest in!