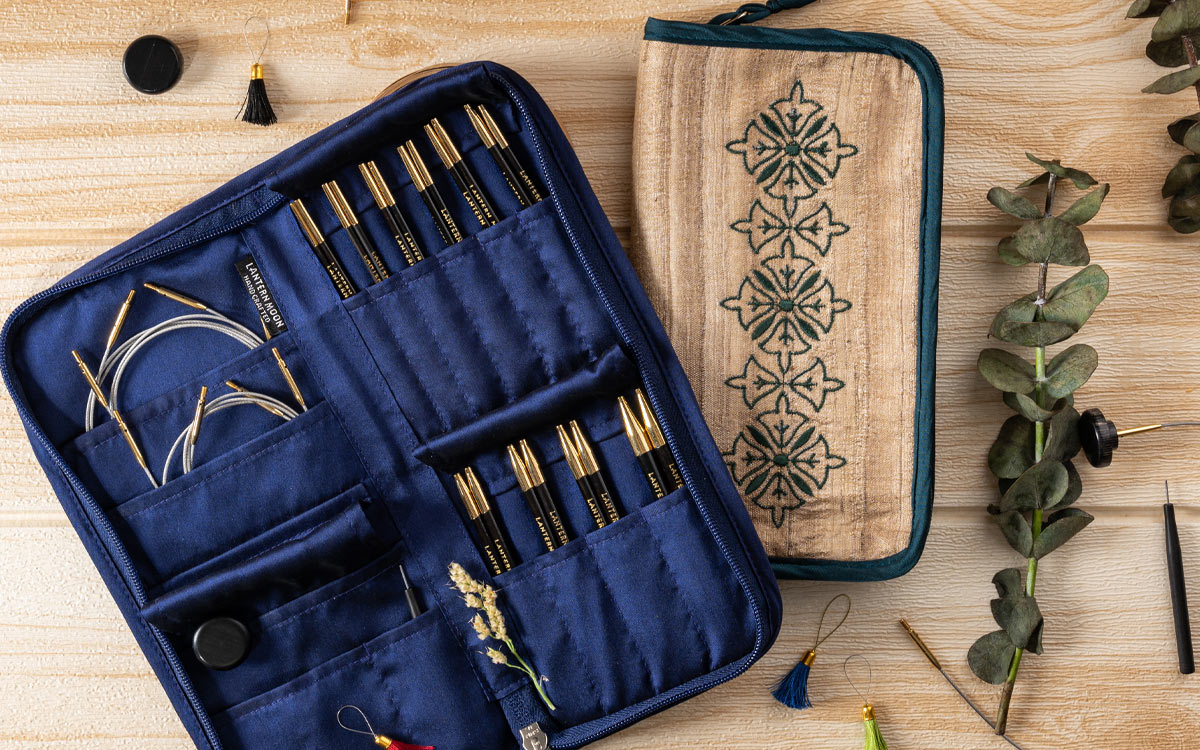 Summer calls for vacation with friends and family. Avid knitters do not like leaving their knitting behind. And, why should they? Knitting is therapeutic as your vacation. A new place is just another place to express your creativity. Travel knitting can be a wonderful way to pass the time while on the go. You can easily knit while wiling away time at the airport, train station or while making the road trip. Your favorite knitting needles will keep your stress at the minimal, keep you occupied, help keep up with practice, especially if you are learning the strings of the craft.
Here are some tips to make your travel knitting experience enjoyable and hassle-free: 
Tip 1 - Choose the right project 
Opt for a knitting project that is portable and doesn't require too many supplies. Small projects like socks, hats, or mittens are great choices as they are compact and can be easily worked on while traveling. Even if it's a scarf or wrap, one in lightweight yarn is easy to carry.
Tip 2 - Consider yarn and needles 
Select yarn that is travel-friendly, such as wound in skeins or balls rather than large hanks that can tangle easily. If you are working on a project for a long time with the same yarn, you can pamper and prepare with yarn winding accessories. Similarly, choose circular or double-pointed needles over straight needles, as they take up less space and are less likely to poke out of your bag. An interchangeable circular knitting needle sets are the ideal choice as one kit contains multiple needles and accessories for all kinds of projects. Whether you knit back and forth or in the round, you can work according to your comfort.
Tip 3 - Use project bags 
Invest in a dedicated project bag or use needle cases and yarn boxes to keep your knitting supplies organized and secure while traveling. This will help prevent any accidental unraveling or damage to your project.
Tip 4- Check security regulations 
If you're flying, be aware of security regulations regarding knitting needles. Generally, circular needles or wooden/bamboo needles are less likely to raise concerns, but it's best to check with the airline or transportation authority beforehand to avoid any issues. Some airlines and airports will have their own set of rules so it is best to know them to plan accordingly.
Tip 5- Keep it simple 
Choose a knitting project with a straightforward pattern or repetitive stitches. Complicated lace or intricate cable projects may be challenging to manage while on the go. Simple projects will allow you to knit without needing to refer to charts or instructions constantly.
Tip 6 - Bring stitch markers 
Stitch markers can be handy for marking pattern repeats or keeping track of your progress. They also help prevent mistakes and make it easier to pick up your knitting after a pause.
Tip 7 - Pack extra yarn and notions 
It's a good idea to bring extra yarn in case you run out or make a mistake that requires unraveling. Additionally, pack a small set of essential knitting notions like scissors, tapestry needles, and a row counter to handle any unexpected situations.
Tip 8 - Mindful of the surroundings 
While traveling, be mindful of your knitting in public spaces. Pay attention to your surroundings, especially when knitting in crowded areas or on public transportation, to avoid accidentally poking someone or dropping stitches.
Tip 9 - Take breaks 
Use your travel time to relax and enjoy the knitting process. Take breaks to rest your hands, stretch, and admire your progress.
Tip 10 - Enjoy the journey 
Travel knitting is not just about the finished project but also about the experience itself. Embrace the opportunity to knit in new places, enjoy the scenery, and create lasting memories.
Remember, knitting can be a soothing and enjoyable activity during travel. Choose projects that suit your preferences and travel needs, and have fun knitting on the go!
Here are some ideas for easy knitting projects to make on vacation: 
1. Scarves or Cowls
Knitting a simple scarf or cowl is a classic and versatile project that you can work on during your vacation. Choose a soft and cozy yarn in your favorite colors, and you can experiment with different stitch patterns like garter stitch or ribbing for added interest. A circular knitting needle or needle set is enough for this project.
2. Headbands or Ear Warmers 
Headbands or ear warmers are quick and practical projects, perfect for keeping your ears warm in cooler weather. They typically require minimal yarn and can be worked up in a short amount of time.
3. Coffee Cozies 
Coffee cozies or cup sleeves are small, portable projects that can be completed in no time. They make great gifts or handy accessories to keep your drinks warm without burning your hands.
4. Simple Dishcloths 
Dishcloths are practical and make great beginner projects. They are small, quick to knit, and an excellent way to practice basic stitch patterns like garter stitch or seed stitch. Plus, they're easy to wash and maintain.
5. Baby Booties or Baby Hats 
If you're in the mood for knitting something cute and baby-related, baby booties or hats are fantastic options. These small-sized projects are adorable and can be completed relatively quickly.
6. Knitted Washcloths 
Knitted washcloths are not only useful but also make great portable projects. They can be worked in simple stitch patterns and are perfect for practicing new techniques like lace or colorwork.
7. Mittens or Fingerless Gloves 
If you're up for a slightly more involved project, knitting mittens or fingerless gloves can be a fun and rewarding option. They provide an opportunity to learn basic shaping techniques and create a functional accessory.
Remember, the goal is to choose projects that are enjoyable and suit your vacation timeframe and destination. By selecting easy and portable knitting projects, you can relax, unwind, and create something beautiful while enjoying your vacation.
Lantern Moon ebony wood knitting needles are the perfect choice for all your craft needs. With the Lantern Moon Collection, you can explore premium knitting needles that are handcrafted by skilled artisans. These needles reflect superior craftsmanship and are made from prized ebony wood. The velvety finish of these tools and accessories provides a smooth and comfortable experience in the hands of the maker. Upgrade your knitting tools with Lantern Moon and enjoy the luxury of high-quality materials for your crafting projects.