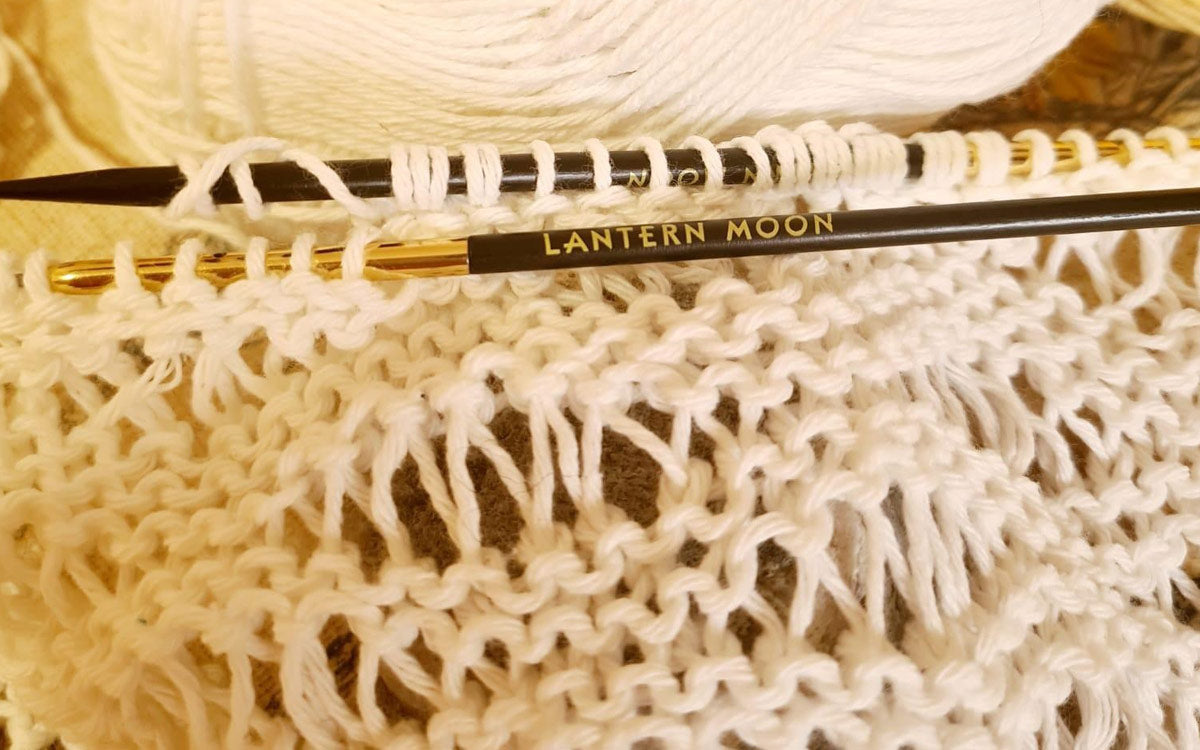 Summer knitting is fun, light and something that shows you off in style. For knitters who design their garments with their regular knitting needles, a very unique design can be created with Condo knitting. The easy-to-learn knitting technique is a vintage trend from the 1970s. Recently, it has found its way back into the spotlight. It has now graced international fashion brands with its unusual charm and added a touch of bohemian flair to spring and summer wardrobes.
The knitting pattern stands for net-like lace designs without any special techniques but just working with knitting needles of two different sizes. Since its invention, this technique has been used for creating lightweight and airy garments perfect for spring and summer. The unique pattern is applied to casual tops, shawls, t-shirts, cardigans or light jumpers and more. Add to your knitting repertoire and explore this exciting technique with us.
Understanding Condo Knitting 
The unique knitting technique "condo knitting" is believed to have been coined in the 1970s by Elizabeth Zimmermann, a renowned knitting designer and author. Inspired by the design of interconnecting spaces and the open structure of the condominium complex, the knitted fabric resembles captures the visual resemblance. Remarkably, there is no particular technique involved; you just use two different needle sizes to achieve its unique texture. It started as a hack to create lace-like effect with the humble Garter stitch pattern and became a popular trend.
How to get started with Condo Knitting 
Condo knitting works with any needle type - you can use single pointed needles for flat pieces and that won't be a pain in your hands while you can enjoy the crafting process. For projects knit in the round, the double-pointed knitting needles work for seamless patterns. With different lengths of circular knitting needles, you can work condo knitting patterns both back and forth as well as in the round. In fact, working with interchangeable circular needles has more benefits as you can attach two different needle sizes on both ends. A knitting needle set with multiple sizes will work for the incredible stitch pattern. You can go one or multiple sizes up for the open-weave effect.
To begin, cast on any number of stitches preferably the smaller-sized knitting needles. You work with a size that matches your chosen yarn weight and a bigger size that will help you create a contrasting lace effect.
Row 1: Start working with the smaller or better equally-sized needles to knit each stitch. This will have you make a stable and foundation edge.
Row 2: Now, switch to a larger-sized needle to knit every stitch for the row.
Repeat the pattern of knit stitches while alternating between knitting needle sizes.
Whether you prefer knitting in rows with single-pointed needles or circular or rounds with DPNs or circulars does not matter, you can adapt this knitting technique.
If you're knitting in rows, all you need to know is the garter stitch, knitting every stitch, every row alternating a smaller needle size with a bigger one. You start with one needle size and work the next row in the bigger needle size. When knitting in the round, with double pointed needles or varying lengths of circulars the pattern becomes alternate rounds of knit and purl stitches as you are always working on the right side (RS) of the knitting pattern.
How to Choose the Knitting Needles for Condo Knitting Technique
Condo knitting works with two needle sizes. You can cast on stitches on the smaller needle or the bigger size, whichever feels comfortable. The smaller size or the one that matches the yarn weight is basically used to set the foundation. The open net effect is created with knitting needles of bigger sizes. For example, if you are knitting with DK weight yarn, you can work with needles of 3mm to 4mm for the row with the foundation stitches. For the open effect, you can opt for 5mm needles or choose something as big as 8mm sizes. But, then you have to be careful that when you switch to the smaller needles, the yarn does not become twisted.
If you are not comfortable with two different needle sizes simultaneously, you can gradually increase the size creating an intriguing gradient lace structure in your item. For a stable edge, simply knit a few rows with the smaller size.
Before you bind off the knitting, for the final row or a few rows before that, work with two needles of the smaller sizes. If you are a tight knitter you can switch to the bigger sizes for a stretchy edge.
Condo Knitting Patterns with Different Yarn Weights 
Like knitting needles, you can work condo knitting patterns with any yarn weight. Starting from intricate lace to bulky yarns, the yarns help you experiment with different effects. The trick is to try and match the yarn weight to the knitting needle size or keep it close.
It is recommended to not pair lace yarn as the knitted fabric will have a net-like appearance and the light fabric may look damaged. Pairing bulky yarn may not have the desired effect. You can alternate between two yarn weights to create sections of open lacy fabric, giving your Condo knitting an eye-catching appeal. You can also experiment with two fibers, paired with silk, mohair, wool and other fuzzy fabrics. There is, however, one downside. If not planned properly the knitted fabric's loose and lacy nature may result in some sagging. The blocking process with the right blocking tools may help but only to a certain limit.
Get ready to embark on a summer knitting adventure filled with breezy, bohemian vibes. Another interesting technique for the vibrant summer weather is slip-stitch in knitting which also helps create an open effect. You simply work with two knitting needles of the same size and for the stitch simply slip it off to the other knitting needle tip without working it out.
Discover the artistry of knitting with Lantern Moon's exquisite ebony wood knitting needles. Crafted by skilled artisans, each needle is a testament to traditional craftsmanship and attention to detail. Experience the smoothness and warmth of premium ebony wood as you create stunning masterpieces with ease. Elevate your knitting journey with Lantern Moon premium knitting needles and indulge in the luxurious beauty of these handcrafted treasures.