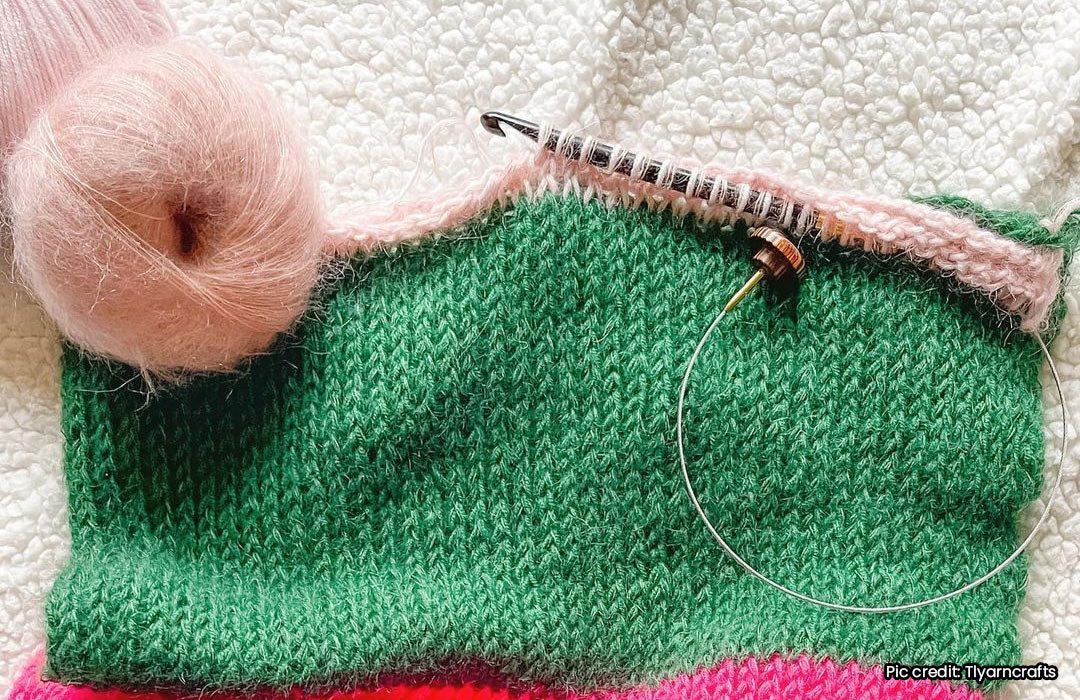 Is crochet your expression of creativity? Do you love to transform yarn into wonderful projects with your crochet hooks? Why just stick to regular crochet? Get ready to elevate your crochet skills. In this blog, we'll walk you through crochet tricks and techniques that will make your craft easier and more fun. Get hold of any of your crochet hooks (single-ended or Tunisian ones with interchangeable cords) and yarn (don't go shopping for yarn to your favorite LYS yet as your stash will do) to get started.
10 Crochet Techniques that will improve your Craft Skills 
1. Foundation Crochet 
When you get the first step of your project right, you get the rest also right. This brings us to game-changer foundation crochet stitches. Traditionally you begin a crochet project with chain stitches that you work your stitches into. But instead, you can use the basic crochet stitches that bring more consistency to the fabric.
The chainless foundation of the project does require some time and practice but once you've tried it there is no going back to chains. Try this out with a gauge swatch and forget wobbly foundation chains. Foundation Single Crochet (FSC) stitch will be a good place to start and then move on to half double crochet and double crochet. For this technique, you will need a few chains to get started but not the entire row of stitches.
2. Magic Circle 
The magic circle also called the magic ring or the magic loop is a technique to start crochet projects in the round without a hole in the center. The adjustable circle cinches tightly and removes any scope of a hole that generally happens when you start to crochet a circular pattern. For example, the magic ring works beautifully for Amigurumi toys, granny squares and hats crocheted in the round.
It will take time and practice to learn how to crochet the magic ring but it's well worth learning. Once you've mastered the magic circle you can easily use it for all projects that can be crocheted in the round.
3. Front and Back Loop Crochet 
Every crochet stitch has a front post and a back post. Inspect to understand crochet stitch anatomy. When you learn to work the same stitch in only the front loop or back loop it adds rich texture and also changes the stretchiness of the fabric. Working only the front loop will result in a tighter fabric and working only the back loop offers more stretch. This crochet technique works with all crochet stitches. Single crochet is one of the easiest crochet stitches and the first step that people learn. Though very basic, it can give surprising results. Start with the practice of working the single crochet in the front and back loops before going ahead with the taller stitches.
4. Reverse

S

ingle

C

rochet 
A very helpful crochet technique for making neat edges and adding a beautiful texture, the reverse single crochet stitch makes your crochet projects more fun to make and look at. Known as the Crab Stich, the reverse single crochet stitch is simply single crochet worked in the opposite direction. You follow all the steps of a regular SC but in the opposite direction where you usually insert the crochet hook. So, as a right-handed crocheter, you typically work right to left but when crocheting the crab stitch, you would hold the work normally across the row from left to right.
5. 3rd Loop HDC 
As we said before, all crochet stitches have a front and back loop (post). However, the half-double crochet (HDC) is quite different as it has a third loop. Once you learn how to crochet in the third loop many new options and prospects open up. You can create new textures and a knit-like look with the unique third loop of HDC. Of course, the Tunisian crochet stitches do the same knit-like but then you won't be needing to shop for new Tunisian hooks or to learn an entirely new crochet craft.
6. Join Yarn Invisibly with Russian Join Technique 
This is a crochet plus knitting technique that is of great help when you want to join yarn as invisibly as possible. Forget knots on your fabric with the mind-blowing Russian Join. Do carry a finishing needle for the task. You will need to hide yarn tails in the yarn strands which will strengthen the join and not let it unravel. 
7. Make

Jogless Stripes When Working in The Round 
A jog in your crocheted fabric looks out of place. To make jogless stripes when you crochet in the round you need to first introduce the yarn and then slip stitch before making stitches with the new color. Though it is a  little difficult to learn, it is a useful hack for amigurumi lovers. You can refer to our guide on changing colors when crocheting. 
8. Explore Ways of Weaving in Ends 
There are many crocheters who don't have any love for weaving in yarn ends. To assist you with a neat way to weave in the yarn ends, explore clever tricks. All you need is your finishing needle (darning or wool) ready to weave these ends in! Or, why wait to finish your project, you can crochet over ends to weave them in. When you attach a new yarn, work your first few stitches over the tail end of the old yarn and the new one to weave them in. Trap the yarn tails in between the rows or rounds and get them out of the way. The tails that stay can be secure by weaving them in the opposite way. 
9. Standing Crochet Stitches 
A standing crochet stitch will definitely change the game. You can use standing stitches instead of joining the yarn with a slip stitch, then do a turning chain or build-up chain to reach the level of the current (or new) row of stitches. Standing crochet stitches are made with crocheting in the air rather than into any particular chain or stitch. This crochet technique gives more consistency to your stitch work.
10. Crochet Colorwork Techniques 
Colorwork crochet techniques are interesting and not that difficult to make. Instead of changing colored yarns try out a colorwork method. Some easily allow graphic designs while some are great for carrying two colors of yarn together, working one then the other. Among the crochet techniques, mosaic and tapestry are most commonly used. To try something new, consider C2C crochet, Filet crochet are other names.
One of the most wonderful things about crochet is that you can do so much with just a few basic stitches. There is almost always something new to learn. Adding new crochet techniques to your repertoire can be a fun way to re-engage with the crafts. Make sure to always use premium tools and accessories for your craft. Handcrafted ebony wood crochet hooks are a beauty to work with as are wonderful gifts to give a loved crocheterd. If you prefer sets over individual hooks then explore the Radiance single-ended crochet hooks set or the Bequest Tunisian crochet hook set.
Happy Crafting this New Year!