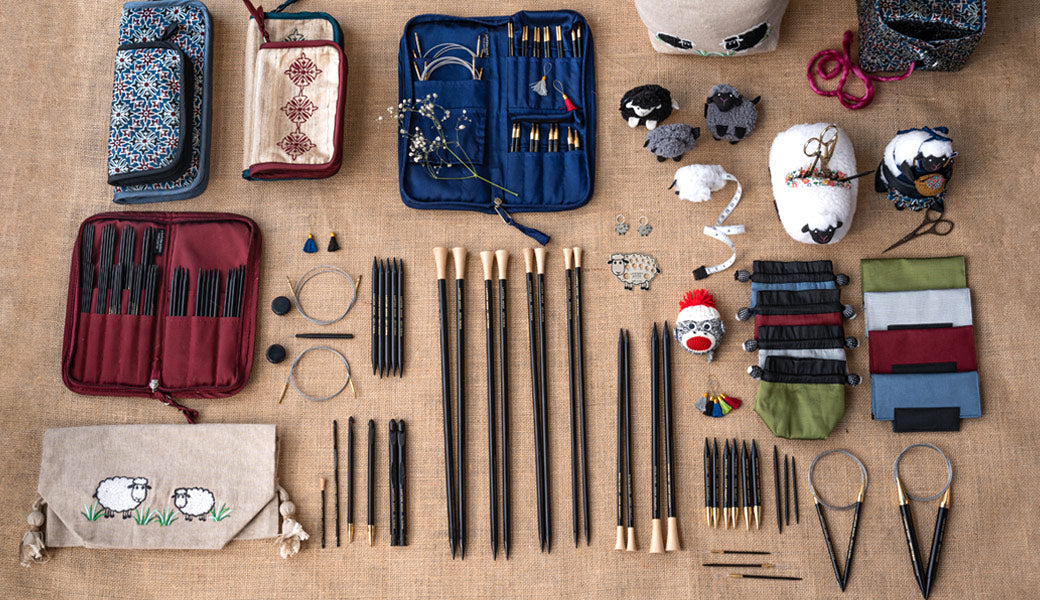 Each New Year offers an exciting opportunity for a fresh start and new beginnings for everyone, especially the creative markers. Knitters and crocheters are not far behind. It is the joyful season for handmade gifts, decorations and inspiration for projects for the next season. With the New Year comes 365 wonderful days to enjoy knitting and crocheting. Lantern Moon too comes with a new year of wonderful crafting sessions. The handcrafted range of knitting needles, crochet hooks and whimsical accessories has expanded their collection. Each handcrafted product from the Lantern moon range is amazing to work with therefore are prized gift for knitters and crocheters.
Built on principles of craftsmanship, the Lantern Moon collection serves the needs of new or experienced artists and every type of project. The premium ebony wood used in the tools has a warm feel, a liquid-silk finish with tight grain, and is extremely resilient, providing a smooth surface and a pleasurable crafting experience. In fact, the joy of working with ebony is such that crafters who've used these tools have converted for a lifetime. With so much attention put into handcrafted knitting needles, experience shows that they perform better. In response to the knitter's and crocheter's requests and understanding of their needs, new additions to the line have been produced and released.
Knitting Needles & Sets 
The Lantern Moon Collection takes pride in its range of premium knitting needles. Available in option of single point, double point, fixed and interchangeable circular styles, each ebony wood tip is crafted for smooth crafting.
The single-pointed knitting needles are available in a standard range of sizes from US 2.5 (3mm) to US 17 (12mm) in 10" and 14" lengths. Circular knitting needles are available in four common lengths (16", 26", 32", 40") in a range of sizes from US 2.5 (3mm) to US 17 (12mm) fitted with 24K brass-plated connectors. The double-pointed needles (DPNs) are smooth tips available in 6 and 8 inches in US 1.5 (2.5 mm) - US 11 (8 mm) that work beautifully for knitting in the round.
The knitting needle sets from the collection also make a great gift for any experienced knitter. Lantern Moon has several gorgeous interchangeable knitting needle sets to choose from—no matter what your needle material preference is, we've got a set for you! Given the versatility of interchangeable needles, each set carry many sizes of needle tips, cord lengths and accessories allowing multiple combinations that work from a pair of socks to a wide blanket to almost any project.
Four new needle sets have been introduced while the previous ones- Heirloom, Legacy, Ancestry and Heritage have been favorites among knitters.
The Glory Interchangeable Needle Set containing 8 pairs (US 2.5, 4, 6, 7, 8, 9, 10 & 11) of 5" needle tips is a complete kit for multiple knitting projects. The smooth ebony needle tips come with accessories such as cord lengths, cable connectors, end caps and more.
The Charm Interchangeable Needle Set contains 5" needle tips in 5 sizes (US 2.5, 4, 6, 7 & 8) with accessories in a beautiful Khadi fabric case. The set is simply ideal for knitting small portable projects on your regular commute or a vacation.
The Bliss Set comprises 4" (10cm) needles in 7 sizes of (US 2.5, 4, 6, 7, 8, 9 & 10). If you are a knitter who always has a pair of socks or similar things on your knitting needles, this is the perfect set. You can easily carry your favorite pair of knitting tools to enjoy outdoor crafting as well as finish your projects on time.
The Grace Set has interchangeable needles of 4" (10cm) in 5 sizes (US 2.5, 4, 6, 7 & 8). Packed in a compact case of handcrafted khadi with a range of accessories, it is ideal for multiple knitting projects.
Crochet Hooks & Sets 
Similar to the knitting needles, Lantern Moon has handcrafted ebony wood crochet hooks. Available in varieties of single-ended crochet hooks and the specialty Tunisian crochet hooks in a full range of standard sizes, the premium crochet hooks are ideal for both new and experienced crochet artists.
For multiple hooks and accessories, the Radiance Single Ended Crochet Hook Set brings a complete kit for crochet artists with the 6 most popular sizes of hooks from 4mm to 8mm.
The Tunisian crochet hooks work for Tunisian patterns as well as others. You can attach the interchangeable cords if needed or work without them. The Bequest Set contains a range of hooks, cords and accessories in a beautifully compact case.
Storage 
The handcrafted collection of knitting and crochet tools also takes care of storage options. The bags, cases and even the sets are made with Khadi silk in traditional prints such as "Ajrak" and "Ikat". Khadi is a natural, hand-woven fabric with a long history valued worldwide because it is warm in the winter and cool on warm days. Ajrak is an ancient hand-block-printing method that is a magnificent depiction of age-old Indian heritage and culture. Mostly crafted with block motifs, immersed in hues of indigo blue and crimson red), the highly contrasting hues reveal detailing in every motif.
Knit Out Box – Knitters and crocheters love their yarns and carry them for projects almost everywhere. To make carrying the yarn much easier, the knit out box is simply perfect. The keyhole opening allows yarn to feed out from inside and keep them safe from dirt and entanglement. This allows great comfort to knit anywhere- on the commute or outdoors. Similar to the entire hand-craftsmanship the rich silk case comes in Ajrak and Ikat prints.
Needles Cases – To ensure that your needles are safe and can be carried for knitting on the go, there's also a range of needle cases. From double points to circular needles and even accessories, the cases are made of quality khadi silk in artistic Ikat and Ajrak prints.
Meadow Drawstring bag - For yarn, knitting & crochet projects and many of your accessories, a drawstring bag can accommodate a lot. Offered in various colors with the design of your favorite sheep, this is a wonderful gift for your craft collection.
Tool Kit - Designed to hold multiple tools and smartly constructed to stand up and keep tools close at hand, the tool kit is a very useful acecssory. It  folds down and snaps together for compact storage.
 Accessories 
Accessories for knitting and crochet are essential for smooth crafting. To assist the makers, there are tape measures available in colorful designs made by the hands of skilled crocheters. A beautiful ladybug, sunflower and fish join the adorable sock monkey and merino sheep tape measures.
A pair of new scissors as beautiful as the range are also a worthwhile gift. The beloved Baabs and Sherpa, sheep accessory holders are a gift that a maker will always cherish.
So, if you are looking forward to a year of wonderful crafting, then the collection has everything to get you started. Not just a gift for yourself, you can easily make your loved knitter or crocheter very happy with handcrafted needles, hooks, sets and accessories.
Have a very crafty New Year!