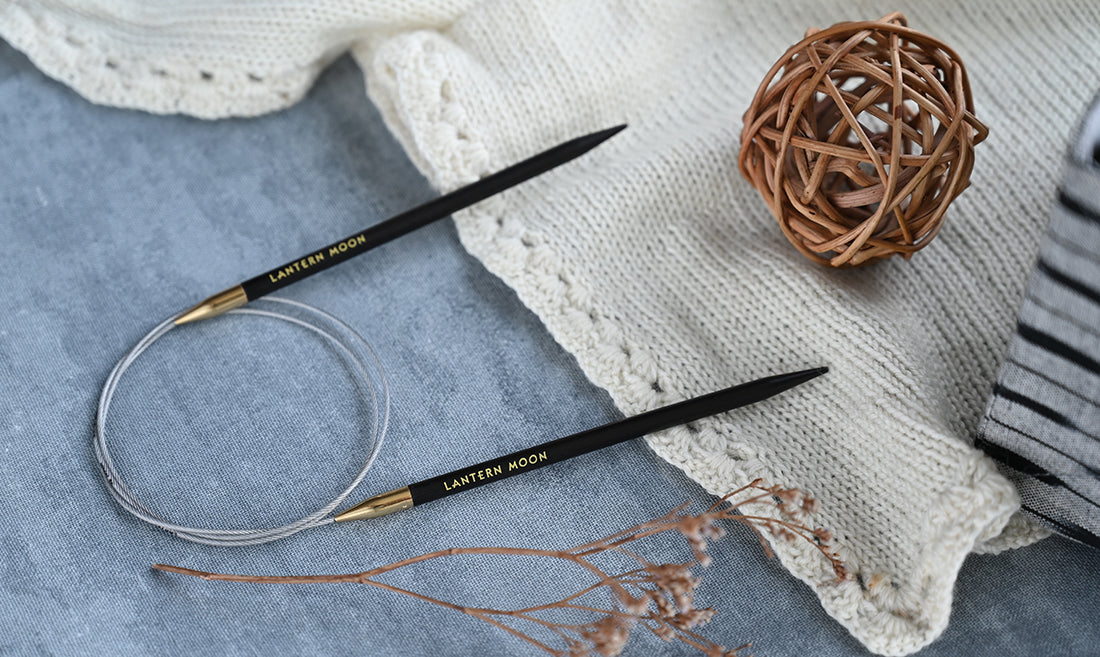 Every knitter is going to have a different preference for needle material. Wooden knitting needles are beginner-friendly, and even many advanced knitters prefer them for many knitting projects. Many knitters believe that they must refrain from wood as they assume the yarn will snag or will need more effort for stitch passing. But, most of these drawbacks will not be an obstacle when you work with premium wooden knitting needles.
In the knitting community, the favorites are not just the natural fibers but the needles are essential as well. Fashioned from natural products, knitting needles are some of the most comfortable, lightweight needles in the world. They keep an even temperature in your hands while you work, and the natural bend and ease in the wood fibers are less stressful to your hands and fingers over the years. The material can be fashioned into single pointed knitting needles with smooth tips and comfortable end stoppers. The double-pointed needles have precision tips on both ends. The circular knitting needles have wooden tips with flexible cords that work for all kinds of projects and styles. With a little care and love, knitting needles will serve you for years and even be cherished heirlooms to gift to the next generations. Even if you have other favorites, wooden knitting needles will change the way you knit.
In this blog, we'll walk you through the magic of knitting with wooden needles. Here's how.
Ideal for Knitting with Slippery Yarns
Wooden knitting needles aren't slippery, but they still have a smooth feel. So, when it comes to slippery yarn nothing can be as effective as wood. While they'll give a little extra grip to hold your stitches on the needles, they are a good choice if you are prone to dropping stitches or accidentally slipping entire projects off your needles! They're great for both experienced knitters and beginners and work well with slippery yarns, where the yarn can slide more smoothly in the knit.
Now, you will be wondering what about stiff fabric. Cotton and wool, work with wood recognizing them for their natural condition. The lanolin oil naturally found in wool helps with the knitting needle. Premium wooden knitting needles are designed to be smooth and you won't be facing the snag of the yarn.
The Rounded Tip does not damage Yarn
The tips of wooden needles are rounded which makes them ideal for working with all yarn fibers and weights. Though perfectly tapered, the precision points do not damage the yarn unless you put a lot of force and effort into inserting the needle tip in the knitted stitches. Think of yarns such as mohair, fingering and lace. The tip won't damage their delicate fibers and yet help you create wonderful pieces.
Lightweight Needles work smoothly for heavy projects
Wooden knitting needles are lighter in weight and are comfortable to be held in your hands. When working with heavy yarns, the needles will assist you with not adding weight to the project. Also, many knitters find that wood does not cause fatigue in your hands and wrists; and works best for knitters with carpal tunnel syndrome. A wood circular knitting needle is a great tool. The cord that lies on your lap away from your hands carries the weight of the project. Whether you are working back and forth or in the round, the cord assists in managing the weight. If you have doubts, refer to our guide on knitting back and forth with circular needles.
Getting a gauge when you cannot
Gauge in knitting is very important. If you are following a pattern then you need to get the exact or similar count. And, even if you are making your own design, a gauge is essential. This explains more than just fit and size. It is also a sample of the project you are planning. You will get an idea of how the yarn behaves with your tools. Even if you have followed the instructions mentioned by the pattern designer sometimes you don't get a gauge. This is because not all knitters stitch the same way, therefore, following another's pattern and instructions might not always work. Some of us create tighter stitches, while others make it lose. There are many ways to get gauge and switching to wooden knitting needles is one of them.
This is also a tried and tested method to improve knitting tension.
Premium Wooden Knitting needles & Sets
At Lantern Moon, we got you covered. Our premium ebony wood needles are sourced from sustainable sources. The tropical hardwood from the mystical lands of Southeast Asia is highly valued as an ornamental material. The soft and silky finish wood is transformed into beautiful instruments of yarn crafts. They are handcrafted by skilled artisans to become the highest-quality knitting needles, crochet hooks, and even some of our accessories
Working with handcrafted tools means pride and joy. Plus, they can become your cherished instruments for realizing awe-inspiring knits. The value of artisan creativity is an unexplained feeling as is the joy of working with ebony is similar in this way. When using ebony needles, you are using art to create art, which is truly a gift.
Lantern Moon knitting needles are crafted to bring your crafting to another level! The single-pointed needles of US 2.5 (3mm) to US 17 (12mm) have a perfectly tapered tip at one end and a beechwood stopper at another. The double-pointed needles are available in the range of US 1.5 (2.5mm) to US 11 (8mm) in a set of five. The circular knitting needles come in options of both fixed circulars and interchangeable ones. The Destiny Fixed Circular needles are available in lengths 16" (40cm) to 40" (100CM) in sizes US 2.5 (3mm) to US 17 (12mm). The needle tip is fitted with a brass connector joined by smooth cords available in a standard range of sizes.  Interchangeable circular knitting needles are available in different sizes with various cords in popular lengths. Fixed and swivel cords work well with tips opening up various prospects with your convenience in mind. 
Even with the Lantern Moon Needle Sets, we are sure you will have a wonderful experience and never want to return to your old knitting tools.
With this, get read to knit magic with wooden knitting needles!