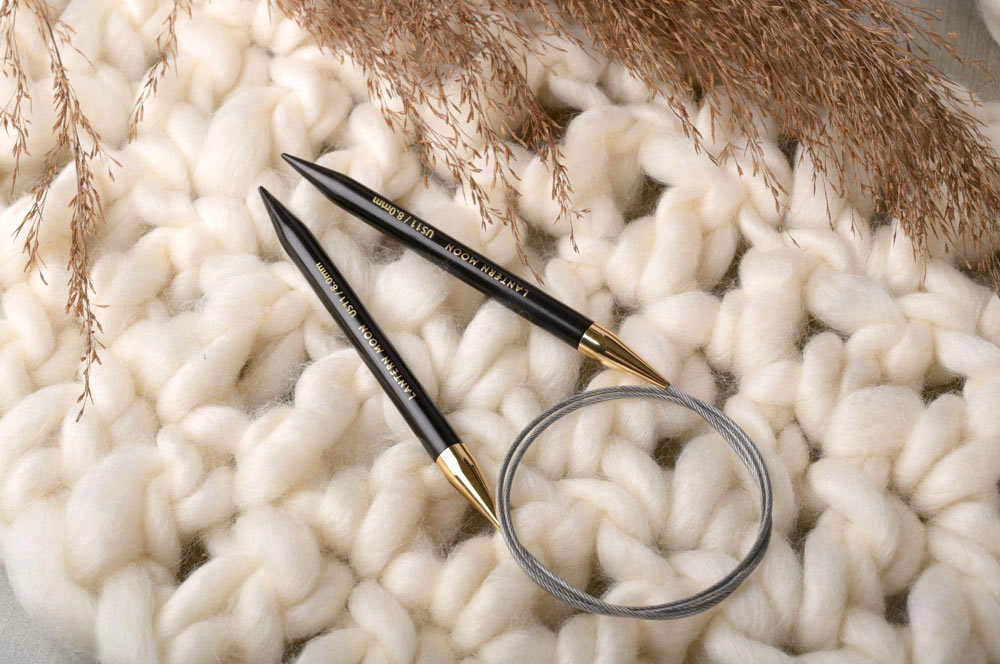 Circular knitting needles are versatile tools. While the name describes its practical function of knitting in circle, the same needles can be used to knit back and forth. Many knitters prefer circular needles using them for every type of knitting project. (There are many reasons to choose circular needles, which we have discussed in our previous blog.)
Knitting flat with circular needles is convenient. When you want to knit something very wide, let's say, a blanket or an adult shawl, there is simply no way to accommodate all your stitches on a straight needle. It is much easier, in these cases, to use a circular needle. They are also very useful while traveling or while working on a heavy-weight project  The needles serve wonderfully if you take your knitting while traveling or working on heavy-weight yarns. Of course, you will not close your work in a circular way, but you will knit back and forth – to create a flat piece of knitting.
If you have been using circular needles only for knitting in the round or you are just beginning knitting with them, we'll show you how easy it is to use them for all your knitting.
Instructions to Knit Back and Forth
Step 1 - Make a slipknot. Slip it onto your knitting needle and hold it in your right hand. The slip knot counts as your first cast-on stitch. For example, if you need to cast on 20 stitches for your project, then you will only need to cast on 19 more.
Step 2 - Cast on as follows: Hold 1 needle in each hand with the cord hanging. With the slipknot on your right-hand needle, loop the yarn around the left-hand needle, insert the right-hand needle into it, yarn over again, and use the right-hand needle to pull the new yarn through the loop on the left-hand needle. Repeat this process until you have the desired number of cast-on stitches.
If you are using a pattern make sure of how many stitches you need to cast on.
Step 3 - Turn your knitting project so that the working yarn is on your right. When knitting flat, the working yarn (yarn that you use to knit) should be on your right-hand side. After casting on, the yarn might not be on the right side. If not, make sure to turn your work around to position the working yarn on your right.
Step 4 - Knit the rows according to your pattern or project. Complete knitting all of the stitches that are on the left needle tip. Take care not to knit with the cast-on tail but with the working yarn from the skein. If you are using a knitting pattern, follow the instructions for how to work each row. Just, keep in mind to turn your work after each row. If you are knitting a stockinette stitch (knit 1 row, purl 1 row) you will purl on the following row.  If you are knitting a garter stitch (every row knit), you will knit back.  Finish the work to the desired length.
Step 5 - When you have finished knitting your rows, you will need to bind off the last row or round of stitches. If you are following a pattern you will have the instructions to bind the project.
Step 6 - After you have finished casting off your stitches, cut the working yarn about 6″ from the last stitch. Weave in the yarn ends with a finishing needle and you are done.
Once you've used circular knitting needles for a few flat projects, you'll probably find yourself reaching for them for most projects. The key to working back and forth with circular needles is to treat them as straight needles and not be distracted by the cord.
If you are the proud owner of circular needles or sets from our Lantern Moon Collection, you have everything you need. You have smooth wooden knitting needles handcrafted from premium (sustainable) ebony wood. The cord is nylon-coated stainless steel which uncoils easily and stays relaxed with no twisting. The 24K plated solid brass connector is threaded for easy connection to needle tips. Both fixed and swivel cords come in various lengths from 8" to 49". Besides, individual needles please explore our interchangeable circular knitting needle sets. These include multiple needle tip sizes, cords and accessories. They are an economical way to collect the most popular sizes.
Follow our blog for more knitting & crochet inspiration, techniques, tricks and tips on yarn crafts!