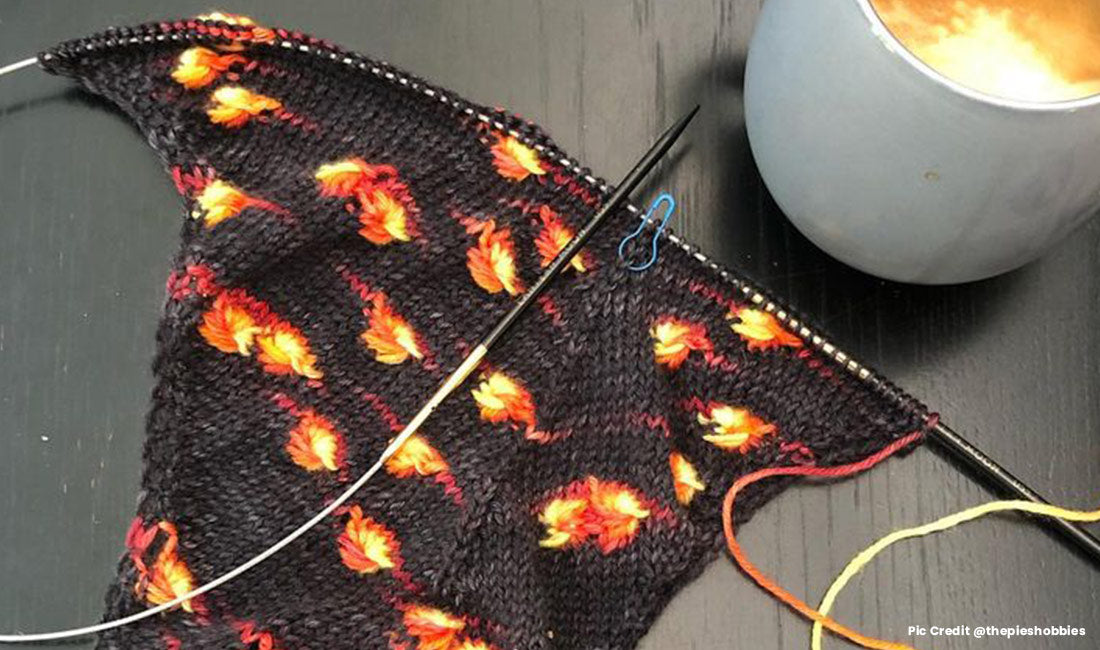 Spring is about to arrive and with it the season of lovely blooms and warm weather. Shawls are fun projects. It is easy to plan one and gives you immense joy when you use it for the changing weather and accessories for your outfit. Whether you knit or crochet, you can easily make a shawl. All you need is soft and washable yarn in lively shades of spring and knitting needles or crochet hooks. Both knitted and crocheted shawls are easy projects, but each has its pros and cons. The choice of knitting or crochet depends on the type of shawl you want to make, your skill, time, and your preference.
So, let's get started.
Step 1 - Decide on the Shape, Size, and Look of the Shawl
Shawls come in different shapes and sizes. From a light drape over your shoulders to a warm wrap that keeps you cozy. Shawlettes are also in a trend that is quite small in comparison to a shawl. The triangle shape shawl or even a regular rectangle can look beautiful. Now, whether you knit or are into crocheting you can make any shape of the shawl. A pattern would definitely get you started but you can also go ahead without one. Just plan the look in your mind, whether you want the shawl to be airy with an open effect or dense with tight-knit stitches.
Step 2 - Choose your yarn
Yarn is the soul of the craft whether you work with knitting needles (a pair of classic single-ended or circulars) or hooks (single-ended crochet hooks or the specialty Tunsiain crochet hooks). For shawls, you can work with any yarn fiber, cotton, wool, acrylic and even acrylic blends are popular options.
Choosing the right yarn is important. First, it should match the needle or hook size as the needle/hook-yarn combination determines how open or dense your stitches will be. Second, the yarn plays the role of how your finished item will look and feel. And, last it also determines how long it will take you to finish your project. Chunky-weight yarn projects are quickly done in comparison to lace-weight but both have their own beauty and advantages. If you are a beginner, it will be easiest to work with worsted-weight yarn in colors and fibers that allow you to see the stitches clearly.
A quick chart of the yarn and hook and needle size will give you an idea of planning your project.
| | | | | |
| --- | --- | --- | --- | --- |
| Yarn Category name | Metric hook size | Crochet Hook size (US) | Metric needle size | Knitting needle size (US) |
| Lace | 1.5 - 2.25 mm | B-1 | 1.5mm - 2.25mm | 0 - 1 |
| Super fine | 2.25 - 3.5 mm | B-1 - E-4 | 2.25mm -3.25mm |  1 - 3 |
| Fine | 3.5 - 4.5 mm | E-4 - 7 | 3.25mm - 3.75mm |  3 - 5 |
| Light | 4.5 - 5.5 mm | 7 - I-9 | 3.75mm - 4.5mm |  5 - 7 |
| Medium | 5.5 - 6.5 mm | I-9 - K-10 1/2 | 4.5mm - 5.5mm |  7 - 9 |
| Bulky | 6.5 - 9 mm | K-10 1/3 - M-13 | 5.5mm - 8mm |  9  -  11 |
| Super Bulky | 9 - 15mm | M-13 - Q | 8mm - 12.75mm |  11 - 14 |
| Jumbo | 15mm and higher | Q and larger | 12.75mm and higher | 14 - 17 |
Here are some recommended yarns to use for a shawl.
Super Fine or Fingering yarn is suitable for light, lacy shawls
Fine or Sport Weight is perfect for light yet cuddly shawls
Light Worsted or DK (Double Knit) is ideal for warmer, yet still, light shawls
Worsted Weight yarn is slightly heavier, but very easy to work with
Bulky yarn is quick to knit with but a little tedious to crochet and can be very heavy for a shawl also not draping well
Step 3 - Choose your Knitting Needles or Crochet Hooks
Knitting needles are available from US 0 (2 mm) to US 50 (25 mm). The needle size you choose will depend on your yarn. Most yarn labels and patterns mention the knitting needle size that matches the yarn weight. You can also go ahead with a pair of your classic single-pointed needles. But you will require a length that can accommodate all stitches. For the shawl, circular knitting needles are the best choice as they will provide the required length and also divide the weight of the project all through its length keeping the strain away from your wrists. If you have been using the ciruclr needles only for round knitting, then our guide on knitting back and forth with circular needles will walk you through the steps.
Similar to knitting needles, crochet hooks come in a range of sizes starting from 2mm with an alphabet. The above table will help you with crochet hooks size. Single-ended crochet hooks are perfect for the project as are Tunisian ones. Interchangeable Tunisian crochet hooks work like a typical crochet hook but when attached to the cord it is the best tool for Tunisian crochet stitches.
Step 4 - Planning the Pattern
The quickest shawl to make is a one-piece blanket made with bulky or chunky yarn using simple repetitive stitches, whether you knit or crochet.
Knitting- Once you know the knit and purl stitches, you can pretty much master any other basic stitch. Textured stitches are a combination of both. You can browse for patterns online. Simple stitches such as garter stitches are also perfect.
Lace knitting patterns look great for shawls. You can also go ahead with a regular garter (rows of knit stitches) or stockinette (alternating rows of knit and purl stitches) and make them look beautiful with decorative edges. A lace knitting edge or a scalloped edge or even a picot edge makes the pattern look truly breathtaking.
Crochet - Know the stitches. There are dozens of different crochet stitches and techniques, but most of them are built on basic crochet stitches: single crochet (SC) and double crochet (DC). Lace crochet patterns look great for shawls.
Always remember to make a gauge swatch. A swatch will give you a look at the stitch pattern, how the yarn is behaving with the needle or hook and also the quantity of yarn that you would be needed for the entire project. If you are following a pattern you will have all information on how to knit or crochet a gauge swatch.
Knit or crochet a shawl?
Knit and crochet shawls are very popular and there are thousands of patterns to discover. Our guide on knitting or crocheting - differences, similarities and what's better can assist you with making the right choice.
If you ask yarn lovers of our community who have been making it for years, they are of the opinion that both knitting and crochet are perfect for shawls. For lacy shawls, crochet is recommended since lacework is easier and faster to crochet than knit. For a more solid shawl, knitting is a better choice because it creates a solid fabric that drapes well while with crochet, the fabric either has holes in it or is quite dense and rigid.
For the shawl, stick with the yarn craft that you feel most confident in so you can relax and enjoy the process.
Happy knitting or crocheting! The Lantern Moon collection will assist you with a smooth crafting experience. The handcrafted needles and hooks are made by skilled artisans. The luxury silk finish comes from the premium ebony wood.