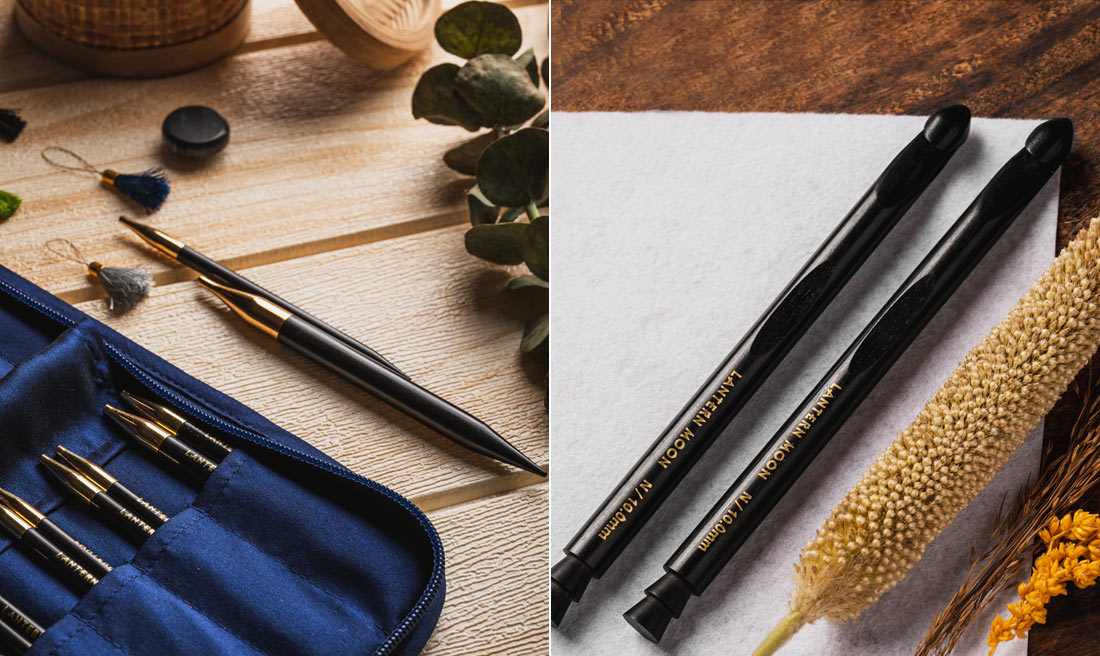 Knitting and Crocheting are both wonderful yarn crafts. Both require creativity to create woven fabrics, accessories, and garments with yarn. But they use different tools - knitting needles or crochet hooks. Knitting versus crochet is a debate that has been raging for centuries in the crafting community. While some find knitting easier there are many who prefer crocheting but, generally, among the yarn artisans you'll find many who are experienced in both.
In this guide, we'll discuss knitting and crocheting. We'll walk you through the techniques, tools, and final fabric. This will help you understand the knitting differences, similarities, and what's better for you. Whatever you decide it is always recommended to work with premium quality tools and accessories. Your project will have that extra shine and love if you have enjoyed making it.
What's the Difference between Knitting and Crocheting?
Knitting and crochet both work with yarn but with different techniques and tools. The end result is also different with crochet creating dense fabric and knitting creating a lighter fabric. Both can be used to make a sweater, socks, blankets and any kind of project. Traditionally, different yarn crafts were used for different purposes. For instance, knitting was used for sweaters and socks while hats, home accessories and blankets were generally crocheted. But now, both can be used interchangeably. The resulting items look different, too. Crochet creates a denser, more textured fabric than knitting but then lace patterns work very easily in crochet as compared to knitting. Our guide on how to knit and crochet a hat will be a good starting point. You can later experiment with making a blanket and other stuff.
Here are some of the main differences between knitting and crocheting: 
1. Stitching Technique 
Knitting and crochet both involve yarn to make stitches. However, the stitching techniques involved in each craft are completely different.
Knitting involves transferring loops from one needle to another to create rows of "V" shaped stitches. The knitting needles are held in both hands whether you work on single-pointed, circular needle tips or a set of five double-pointed needles and hold your stitches. The one on the left has the loops and you'll be transferring them to the right. This process is repeated to create rows or rounds of stitches that make up your knitted fabric. At any given time, there are several active stitches on your needles until you "cast off" to remove your needles from the work.
In crochet, stitches are made one at a time with a chain of small knots, set up from a single stitch (loop). The stitches are off the hook and directly on the loop. You insert the single-ended crochet hook into different areas of the fabric and pull the yarn through making the stitches. You simply add loops to the previous stitch and make the fabric with the loops. How many loops and where to add them depends on the crochet stitch.
Knitting is done with two basic stitches: the knit and purl stitches. There are different ways to increase and decrease stitches that give the pattern shape and design. With just knit and purl you can create different stitch patterns and fabrics.
Crochet has five basic stitches: single crochet (SC), half double crochet (HDC), double crochet (DC), treble crochet (TC), slip stitch (SS) and chain (CH)
2. Tools, Accessories and Yarn
Knitting always use knitting needles to create stitches, while crochet always uses a hook. In a way choosing the right knitting needle size or crochet hook size is determined by the yarn and the fabric you want to create. All yarn labels mention the size of the needles and hooks that best match the yarn weight. There is a topic of debate that crochet uses more yarn than knitting. It is always due to the stitch formation and the height of the stitch. Textured knitted cable stitches also use more yarn in comparison to others. To help you understand, it is always recommended to start a project with a gauge swatch whether you knit or crochet.
 Here's a handy chart to assist you with choosing the right size:
| | | | | |
| --- | --- | --- | --- | --- |
| Yarn Category name | Metric knitting needle size | Knitting needle size | Metric hook size | Hook size |
| Lace | 1.5mm - 2.25mm | 0 - 1 | 1.5 - 2.25 mm | B-1 |
| Super fine | 2.25mm -3.25mm |  1 - 3 | 2.25 - 3.5 mm | B-1 - E-4 |
| Fine | 3.25mm - 3.75mm |  3 - 5 | 3.5 - 4.5 mm | E-4 - 7 |
| Light | 3.75mm - 4.5mm |  5 - 7 | 4.5 - 5.5 mm | 7 - I-9 |
| Medium | 4.5mm - 5.5mm |  7 - 9 | 5.5 - 6.5 mm | I-9 - K-10 1/2 |
| Bulky | 6.5 - 9 mm |  9  -  11 | K-10 1/3 - M-13 | 8–11 sts |
| Super Bulky | 9 - 15mm |  11 - 14 | M-13 - Q | 7–9 sts |
| Jumbo | 15mm and higher | 14 - 17 | Q and larger | 6 sts and fewer |
Knitting needles come in multiple types and sizes as does crochet hooks only. There are three different types of knitting needles: single-pointed, circular, and double-pointed. The classic single-pointed needles are used to create flat pieces with a back-and-forth movement. For knitting in the round, circular and double-pointed needles allow you to knit in a tubular shape. Circular needles are two needle tips joined by a flexible cord that works for knitting in rounds as well as back and forth. In circulars, there are two varieties: fixed and interchangeable, with the difference in both needles being explained by the name. Double-pointed needles work for knitting rounds, especially for small circumferences.
For crochet, there are two options: single ended crochet hooks and the unique Tunisian crochet hook. Single-ended crochet hook comes in a wide range of sizes. The Tunisian hooks offer an option of attaching an interchangeable cord, similar to the interchangeable circular knitting needle. They are specially used for Tunisian crochet crafts but if you do not attach the cord you can use them for your regular crafting.
While the tools are different, the notions and accessories are pretty much the same. You will be working with stitch markers, finishing needles, repair hooks, scissors, measuring tape, and bags and cases.
3. Knitted and Crocheted Fabric 
The fabric created by knitting (knit and purl stitches or textured stitches) is woven and stretchy. The knitted fabric works wonderfully for projects that require shaping. Think of sweaters, shawls, cowls, socks and those delicate fabrics.
The crochet creates a fabric that is thicker. It looks textured with bumps and holes in it. It is less stretchy than knitting, and in fact a lot denser. Crochet works best for 3-dimensional fabrics and shapes a lot easier for Amigurumi, or home decorations.
A blanket is a topic out for debate. Some prefer the knitted fabric while many love the crocheted blanket for its warmth. You can make one or both, to know what works best for you.
What's better? 
There's no saying which is better. It is always recommended to try both crafts to find out which you prefer. If you've already started learning one craft whether it is knitting or crochet, we highly encourage learning the other, too. For continental-style knitting, it is easy to adopt crocheting. With a basic understanding of both knitting and crochet, you'll have the freedom to choose the best option for each project. And also combine the two techniques for creative yarn projects.
The Lantern Moon collection offers an entire range of handcrafted knitting needles, premium crochet hooks and accessories. Choose from premium ebony wood tools that pass on their luxury crafting experience to the makers.