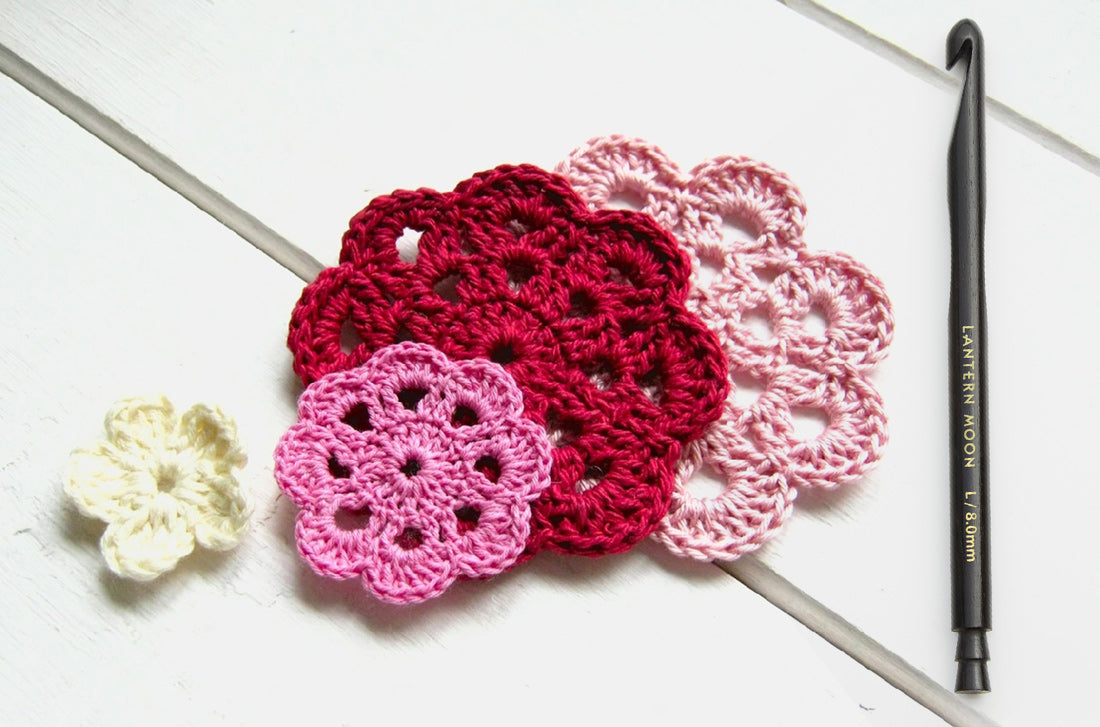 Spring is fast approaching and with it the season of blooming buds. If you are a crocheter, you can crochet flowers with any of the crochet hooks with any yarn you own. These blooms will never wither and brighten up your homes and even your garments and accessories. Flowers are surprisingly easy to crochet, you only need to understand the basic stitches and techniques. With vibrant colors of yarns and crochet hooks, they bring in so much brightness and cheer especially when the weather is dull and gloomy. You can craft flowers individually, a bouquet, or transform them into beautiful coasters and other home décor projects. Furthermore, basic flower patterns are an ideal crochet project, especially for beginners and advanced crocheters who want to reduce their stash. 
 What do you need to crochet flowers? 
Yarn – Any yarn fiber works for the project but it's recommended to not work with chunky or heavy-weight yarns. Make sure to stick to a yarn color that matches the natural shade of the flower. A pattern will provide you with details regarding the yarn weight and fiber. But, if you are making your design, go for lightweight yarns to make small and tight stitches.
Crochet Hook – Choose any crochet hook that you enjoy working with. Single-ended crochet hooks work best for beginners. It should definitely match the yarn weight. You can go ahead with an interchangeable Tunisian crochet hook. Just don't attach the cord and use it as a regular hook. Small crochet hook sizes are mostly recommended as the flower pattern requires a dense fabric and structure. Refer to our guide on how to choose crochet hook for the project.
Pattern or Design - Before you start with your project either browse through the patterns or make your own design. Flowers are abundant, from roses, sunflowers, lotus, daisies and many more. So, choose your favorite. 
Stitch Markers - These essential accessories assist with smooth crafting so make sure to use them generously for your project. 
Finishing Needles– A crochet project is complete after you weave in the yarn ends. A finishing needle size smaller than the crochet hook works the best. 
Scissors – Sharp scissors to snip the yarns neatly. Any scissor in your craft collection does the job. 
Stitch markers, measuring tapes, yarn box, repair hook and more are other craft essentials that will assist you with smooth crafting.
Crochet Terms (US) 
Flowers like all regular crochet projects are made with basic crochet stitches and techniques. Let's walk you through the crochet terms you'll be working with to make flowers.
CH – Chain. In the most basic crochet stitch, the chain serves as the foundation for crochet stitches. They don't have a height as they run horizontally but are useful for the foundation or adding to the height of a stitch. You can make chains on fabric or in the air to add to the height or create an open effect.
SL ST –Slip Stitch. More of a technique than an actual stitch, it is made by inserting a crochet hook into the stitch or space indicated, yarn over, and pulling yarn through both loops on the hook. The stitch does not add height but runs horizontally. It is effective for joining two stitches, creating surface stitches and other purposes. This will be particularly important when you will start a project in the round with a foundation chain.
SC – Single Crochet.One of the basics of crochet, the stitch adds the least height to the fabric and is dense. Insert the crochet hook into the second chain or space indicated. Yarn over and pull up a loop. With two loops on the hook, yarn over and pull the thread through both loops on the hook. For a turning chain, you need to add 1 chain.
HDC – Half Double Crochet. The basic stitch has a little more open than the SC but is denser than DC (double crochet). For the turning chain, add extra 2 chain stitches.Insert the crochet hook into the third chain or space indicated and pull up a loop. There will be three loops on the hook, so yarn over and pull the yarn through all the loops. 
DC – Double Crochet Stitch. Similar to other crochet stitches, insert a hook, pick up three loops but pull yarn through 2 loops and then pull yarn through the 2 loops again. The fabric is open and yet stiff enough to give your crochet flowers a tight shape.
TR - Treble Crochet Stitch.The tallest of the basic crochet stitches. TR makes an open fabric almost like lace. To work this stitch, you start like any basic stitch but pull up 4 loops on the crochet hook and pull yarn through 2 loops on the hook 2 times. 
Crochet Increases and Decreases - These crochet techniques are used to provide shape for crochet projects. For flower petals, you would particularly need them to increase and decrease stitches than previous rows, Refer to our guide on crochet increases and decreases. 
Understanding the basic stitches and their height will assist you with almost any crochet pattern for almost any existing flower out there. 
How to Crochet a flower 
Step 1: Start with a magic ring or the foundation chain. For the foundation chain, chain 5-6 stitches and join by a slip stitch. But, if you want to go ahead with a no-hole ring, then start with a magic ring. You can refer to our guide on how to crochet a magic circle.
Step 2: Once the circle is complete, work 2 chain stitches and keep the hook attached. 
Step 3: Work a DC (Double Crochet) either through the magic ring or the foundation circle. 
Step 4: Select a yarn for the petals. Simply pull the yarn through any top chain stitch of the ring and form a small loop and tighten it. Decide the stitch according to the guide above for the height and effect you want for the project. 
Step 5: Use a finishing needle to stitch the open ends of the yarns on the backside of the pattern. or, you can weave in the ends while working on the flower pattern. 
Your crochet flower is complete. An I-cord can be made for the stem. Refer to our guide on making I-cord with knitting needles and crochet hooks. The flower can serve as a beautiful coaster. It can look super cute if you attach them to a headband or a hair clip or dress up other projects such as a plain t-shirt or sweater or a baby blanket. 
Crochet some flowers and bring home the lively spring. Use premium crochet hooks from the Lantern Moon Collection for effortless crafting. Handcrafted from ebony wood, the crochet hooks have a liquid silk finish that feels smooth and light in your hands and works beautifully for all kinds of projects.