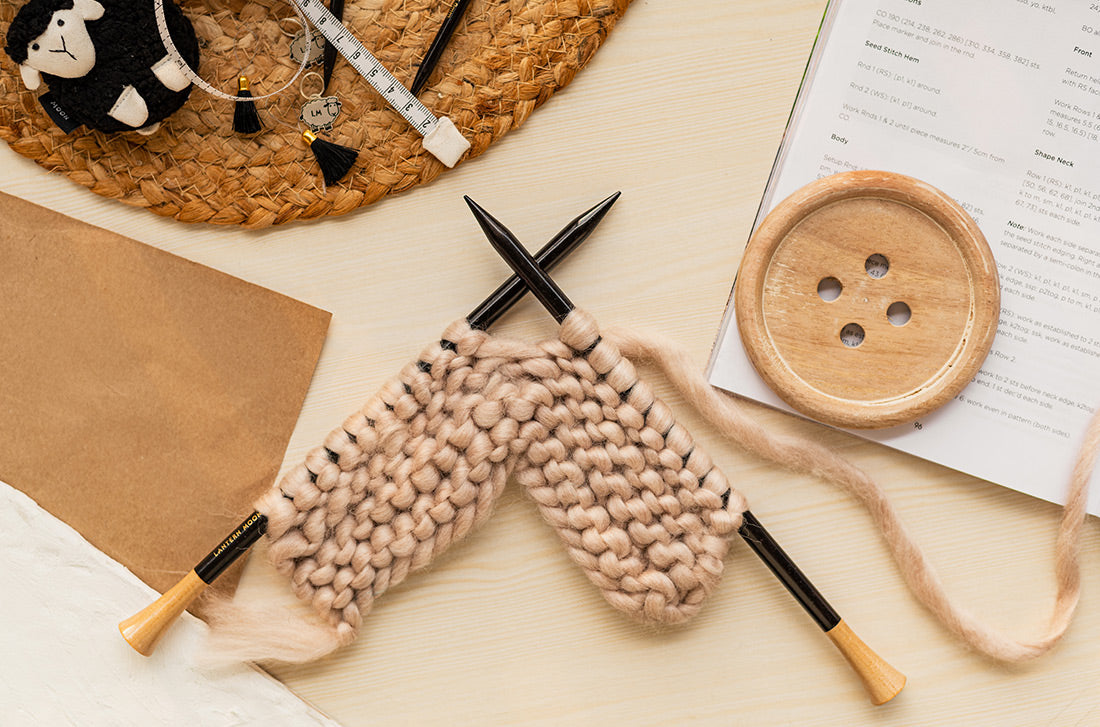 Every knitter has their own unique knitting style, different in the way of holding the knitting needles, placing yarn, and managing tension. No two knitters work in exactly the same way but the knitting community practices a few standard knitting styles and methods. The two main styles of knitting are called the 'English' method and the 'Continental' method. For the most part, they decide how you hold your yarn and how you wrap the yarn around your needle as you knit with any knitting needle type such as single-pointed, double-pointed, fixed, or interchangeable circulars.
In this blog post, we'll walk you through English and Continental knitting styles along with comparing them both. Whether you're a beginner who is not sure which style to use, or an experienced knitter looking to try a new technique, you'll find everything you need to decide which style is best for you. Remember, there is no right or wrong method, both are just different, and you can benefit from both! The knitting styles are not dependent on the knitting needles or the projects. You can make a hat in English style with double knitting pointed needles or in Continental style with circular needles. The same goes for single-pointed needles and circulars when knitting back and forth.
So, let's explore them both.
English Knitting Style 
The English knitting style involves using your right (dominant) hand to tension the yarn around the knitting needle and manage yarn tension. It is widely asserted that the English method is easier for new knitters to learn and is also one of the most practice styles by knitters worldwide. The knitting style is also known as 'throwing' as you basically throw the yarn over the needle tip to make stitches. The technique to make the knit and purl stitches remain the same. The knit stitch is made with yarn held in the back of the work while for the purl stitch, the yarn is brought to the front of the work.
Continental Knitting 
The Continental knitting style involves the knitter holding the yarn in the left hand (non-dominant hand but dominant for left-handed knitters) while managing yarn tension for making stitches. This includes picking or scooping up the yarn with the needle tip. The working yarn is not brought to the front or behind the needles to make knit or purl stitches as the yarn stay put and the needle is used to pick the stitches. Many knitters believe that continental knitting is quicker. In fact, crocheters who learn to knit find continental feels more natural in their hands.
The continental knitting style also has variations. The popular ones are the Norwegian and Russian styles where the yarn is held in the left hand but on different fingers and sides of the project.
Which Knitting Style is Simpler: English or Continental? 
Everyone has their own unique preference and there is no one-size-fits-all solution. Some find one style easier to grasp than the other due to prior experience, while some may have no preference.
It is generally accepted that the 'throwing' motion of English knitting makes it easier for newbies to keep their tension in check as the fingers are responsible for 'throwing' the yarn rather than having to hold it, making it especially effortless for working with super chunky yarns.
On the flip side, Continental knitting may be simpler for left-handed knitters or those who already have experience in crocheting.
Which Style is Quicker: Continental or English? 
It is plausible to knit rapidly with both methods. Nevertheless, Continental knitting is more frequently recognized as the speedier technique, since it requires smaller hand movements. Numerous of the world's most speedy knitters adopt the Continental style as a result of the rapidity of the 'picking' movement and the nearness of the working yarn to the needle's tip which facilitates the process of forming a new stitch.
Regardless of the Continental method usually being considered faster overall, the rate of knitting is also determined by the type of stitch pattern used. It is expedient for knit, purl and Fair Isle projects, however, it may be slower when using cable stitches.
What Difference Does It Make Choosing a Particular Style? 
At first glance, the two main knitting styles may appear insignificant, but there are a few perks that come with mastering both techniques.
1. Altering the Tension to Comply With Gauge
Gauge is a calculation of your knitting. Refer to our guide on why gauge is important. You are always recommended to knit one with the knitting needles and yarn you've planned for the project. If you are having difficulty maintaining your tension and conforming to the knitting gauge, switching between knitting styles could be helpful if you have tried changing the needle size or even the needle type. Usually, knitters will notice a slight variation in tension when they change styles.
2. Relieving Pain in the Hands and Wrists
Many times in case of pain and fatigue, knitters switch knitting needles. For example maybe from DPNs to circular knitting needles or from single-pointed to circulars. Similar to other activities that require frequent small hand movements, knitting may sometimes result in soreness in the hands and wrists – particularly during lengthy sessions.
To alleviate this discomfort, you could attempt alternating between knitting styles during a session. This serves to modify the movements of your hands and wrists as each stitch is created.
It is worth bearing in mind that sustained repetition of any particular motion can lead to fatigue. Thus, having the option to combine both methods and alternating them can be quite useful.
3. Increasing Knitting Expertise
Regardless of how long you've been knitting using one method, broadening your skillset by mastering the other technique may be advantageous.
Having the capacity to knit in both styles could be useful for certain knitting techniques and projects. For instance, it is possible to combine both knitting methods when using two colors of yarn in a single row – one color in your right hand and one in your left.
This accelerates the process and eliminates the necessity to substitute yarns when changing colors.
Apart from technique, there is simply a joy to be found in learning and honing new skills, even if you tend to lean towards one particular method more often.
Using Both Knitting Styles at Once
Many projects or stitch patterns become easier when you are using both knitting styles at once. For example, if you're working in a stockinette stitch (alternating rows of knit and purl stitches) with single-pointed needles, you could knit in the Continental style and purl in the English style. But first, make sure if your tension is noticeably different in each style then it can lead to inconsistency in the final knitted fabric.
A knitting technique that uses the two methods at the same time is Fair Isle or "stranded" knitting. As you can hold different colors of yarn in both hands, the two methods will simultaneously speed up the process and prevent the tangling of yarn and getting confused with the shades.
So, whether you work in English Style or Continental Style, the most important thing is to enjoy your craft. New knitting skills are always worth learning as you can express your creativity much more easily. However, quality knitting needles always translate into quality knitted fabric. The Lantern Moon Collection is a range of premium ebony wood knitting needles, crochet hooks and accessories. Handcrafted by skilled artisans, each needle and hook show the love of handmade with its luxury silk finish that assists with a smooth knitting experience.