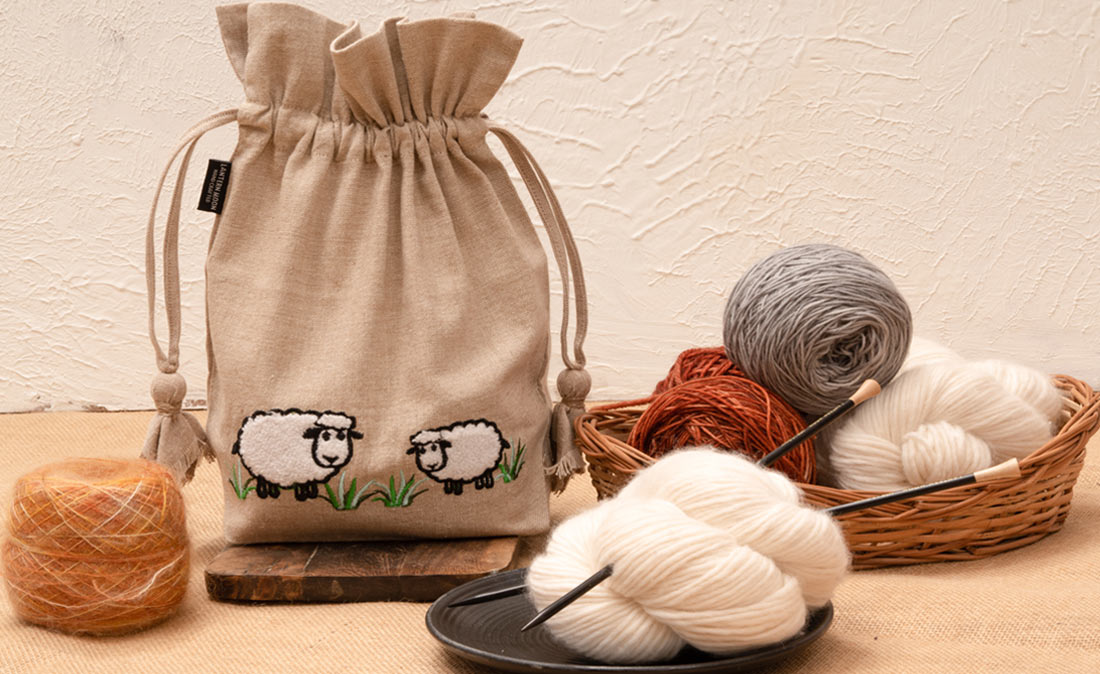 An I-cord is a narrow tube that can be knitted or crocheted. The tube can be easily made on any of your knitting needles (double-pointed, circulars, or single-pointed) as well as with a crochet hook. The cord adds to the beauty of other knitting and crochet projects while also serving as a creative accessory itself. From an accessory to a hat, bag, reading glasses or beautiful jewelry, the I-cord has multiple uses. The very popular knitter Elizabeth Zimmermann named it the "Idiot Cord" in honor of her accidental discovery of the simple technique. The I-cord is a perfect example of her attitude toward knitting; fun, free of needless complications, and full of discovery.
Making an I-cord is one of the easiest techniques, that even the most beginner knitter or crocheter can master! In this blog post, we will show you how to make a cord, with step-by-step instructions.
So, let's get started.
Knitting Needles: To knit an I-cord, you can choose knitting needles according to your comfort. though the tubes need to be knit in the round, you can make the cord on any knitting needle.  You can choose double-pointed, single-pointed, or even circular needles. Lantern Moon's premium ebony wood needles are the perfect balance between not too slippery and fast knitting and are ideal for the i-cord patterns. Remember to go for the right needle size mentioned in the pattern or the yarn label.
Knitting I-Cord in the round with double-pointed needles
As double-pointed needles are used to knit small circumference projects in the round, it is the most popular option.
Cast on 2- 5 stitches with a long-tail cast on and slide the stitches to the right end of your needle.
Knit across with plain knit stitches. Don't turn your project around, instead, slide the stitches back to the right end of the needle.
Keep the working yarn in the back of the WIP and knit across all stitches. Make sure to keep a high tension for the first two stitches.
Repeat steps 2+3 until you reached the desired length.
You can also refer to our blog on knitting with double-pointed needles.
Knitting I-Cord on Circular Needles/Single Pointed Needles 
You can also knit an i-cord without DPNs on circular needles as well as single-pointed needles. It's a bit more time-consuming, but it is recommended option if you plan to create longer cords.
Circular knitting needles are designed for knitting in the round but can be also used for knitting back and forth, while single-pointed needles only knit in flat patterns.
Cast on 2 - 5 stitches just like you did before.
Knit across the first row.
Slip all stitches back to the left needle.
Knit across.
Repeat the steps until you reached the desired length.
The trick to knit I-cord on STNs or circulars is really just slipping the stitches back to the needle after each row. Be aware that as you slip the stitches, it might loosen up so keep a tight tension.
Besides knit wise I-cords, there are options for purl wise ones. A pattern instructs how to make one.
Crochet an I-cord 
Start with yarn and an appropriately sized crochet hook. For a stiff cord, consider using a hook 1 or 2 sizes smaller than what is recommended for your yarn. Interestingly, our repair hook is shaped like a crochet hook and does great for I-cords.
Put a slip knot on your crochet hook.
Make two chains.
Skip 1 chain and insert your hook into the second. You will now have 2 loops on the hook.
Wrap the yarn over and draw up a loop. You will have 2 loops on the hook.
Remove the second loop from the hook but make sure to not let this loop unravel while it's off the hook.
Wrap the yarn over and draw up a loop. Make sure to not pull the yarn through too tightly, or it will unravel the loop that's off the hook.
Return the second loop to the hook. Wrap the yarn over and draw up a loop. You'll have 2 loops on the hook.
Continue to repeat the steps till you've reached the desired length, yarn over and draw through both loops. Weave in the ends with a finishing needle.
The I-Cord is reversible and looks like a chain on both sides.
For your next I-cord designs use any of your knitting needles or crochet hook. I-cords make beautiful edges to a blanket or scarf or any other project with visible edges. Get started right away.
Follow our blog for more techniques, tricks and craft tools & accessories.