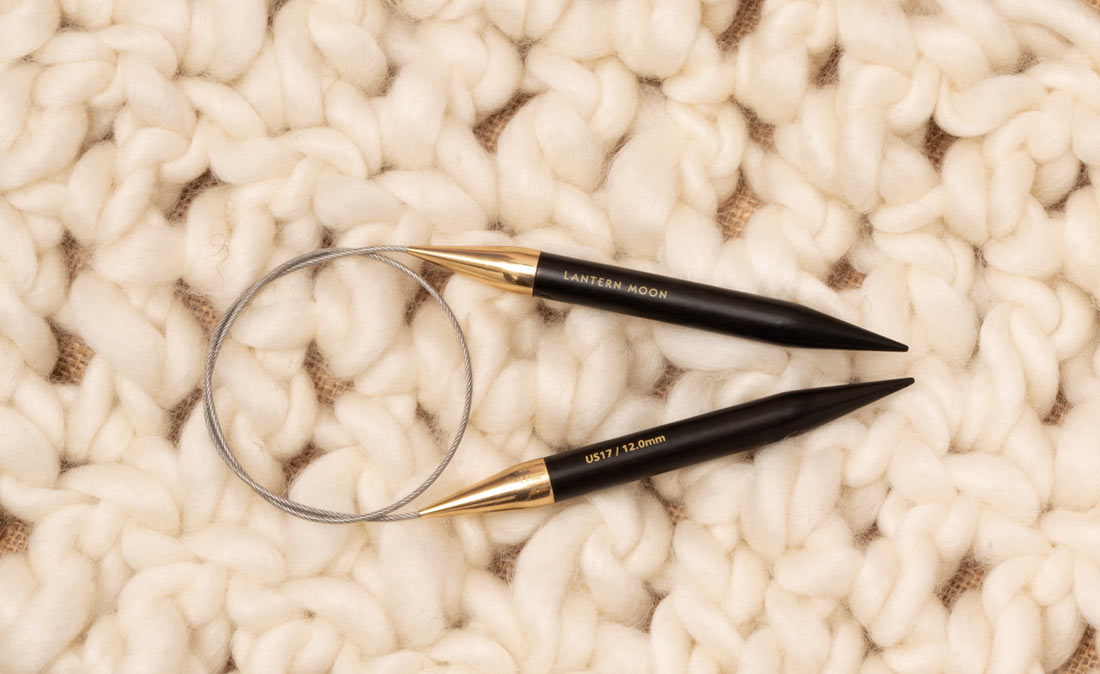 Knitting a baby blanket is fun and fulfilling. It is satisfying to see a baby wrapped in your handmade knitted labor of love. For this gift of love, all you need is knitting needles, yarn, and your knitting skills. If your experience (and time) is limited, you could begin with a simple project that comes together quickly. A knitted patchwork blanket creates an impressive gift. It's easy to do since it's made by knitting patches (squares or swatches) and joining them together. You can follow any knitting pattern online or design one. In this blog, we'll discuss the steps of making a patchwork blanket.
1. Choose a Size
Before you get your hands on knitting needles and get started, first decide the size of your baby blanket. Here are some suggested types and sizes of blankets:
Type of Blanket
Average Size

Lovey Blanket

10 - 12″ x 10- 12″

Bassinet

15 - 20″ x 15 - 20″

Preemie Blanket

20" x 20" to 24″ x 24″

20 -24" x  20 - 24″

New Born Baby Blanket

30″ x 30″

Child / Afghan Blanket

30″ to 40″

Crib Blanket

36"x 54" to 45″ x 60″

Receiving Blanket

 36″ x 36″
2. Choose your yarn
Choosing the right yarn can make or break your knitting or crochet project. For baby blankets, the yarn needs to be carefully selected. There might be enough yarn in your stash to make a cute baby blanket or you can go get brand new yarn. Make sure to get the right material and weight.
1. Yarn fiber
The best fiber choices for baby projects include cotton, bamboo and superwash wool (particularly merino). Just make sure it's soft and washable. Fluffy fibers such as mohair, angora and alpaca may look snuggly, but they are not a good option. Synthetic and fluffy fibers could easily be swallowed by a baby, and they might also irritate the baby's sensitive skin.
2. Yarn weight
Whatever you make needs to stand up to the demands of a baby, so the choice of yarn weight is important. The heavier-weight yarns such as Aran and chunky can be too restrictive for a tiny newborn, it is always recommended to stick to lighter 4ply and DK yarns.
3. Color
There's a huge range of colors, from simple neutrals to eye-catching brights. We also suggest using washable yarns since the blanket will need frequent washings.
3. Choose your knitting needles
Once you've settled on a yarn, it is time to choose your knitting needles. A patchwork blanket needs to be made by joining small squares. You can get this done on single-pointed needles or circulars. Choose straight needles that can carry all the cast-on stitches. For the circular knitting needles, fixed and interchangeable ones are fine as long as you can comfortably knit back and forth on one. 
4. Choose your stitches
Baby blankets can be made with basic knit and purl stitches, such as garter or stockinette stitch. Simple textured stitches also look and feel great. You can follow a blanket pattern or design one yourself. You can make patches of different knitting stitches. This will bring much more beauty to the blanket. If you want to try out new stitches, this is an excellent opportunity as you will be knitting only small squares.
5. Knit a Gauge Swatch 
Before you start with your actual knitting it is ideal to make a swatch. A gauge swatch will give you an idea of how much yarn you'll need, how the project will turn out, and if you need to make changes to your needle sizes. When you're knitting for babies you're working on a small scale, so even a few inches can make a big difference!
To make your swatch, simply knit at least 10x10cm (4" x 4")  in size, following the instructions given in your pattern. The best thing about the baby blanket is that you can use these patches on your project and not abandon or rip them.
6. Joining the Patches for a blanket
After you have had enough patches for the blanket, joining the patches for your blanket is an important step. To join patches use a mattress or whip stitch. If you are also a crocheter, you can join the small swatches with crochet stitches and create a nice border to bring it all together.  The seed stitch looks great and works nicely as a border on blankets and you can actually knit it during the making of the blanket.
Hopefully, we've gone through all the information you need to knit a patchwork blanket. Now have fun knitting with knitting needles and accessories from the Lantern Moon Collection. Follow our blog for more knitting & crochet inspiration, techniques, tricks and tips on yarn crafts!