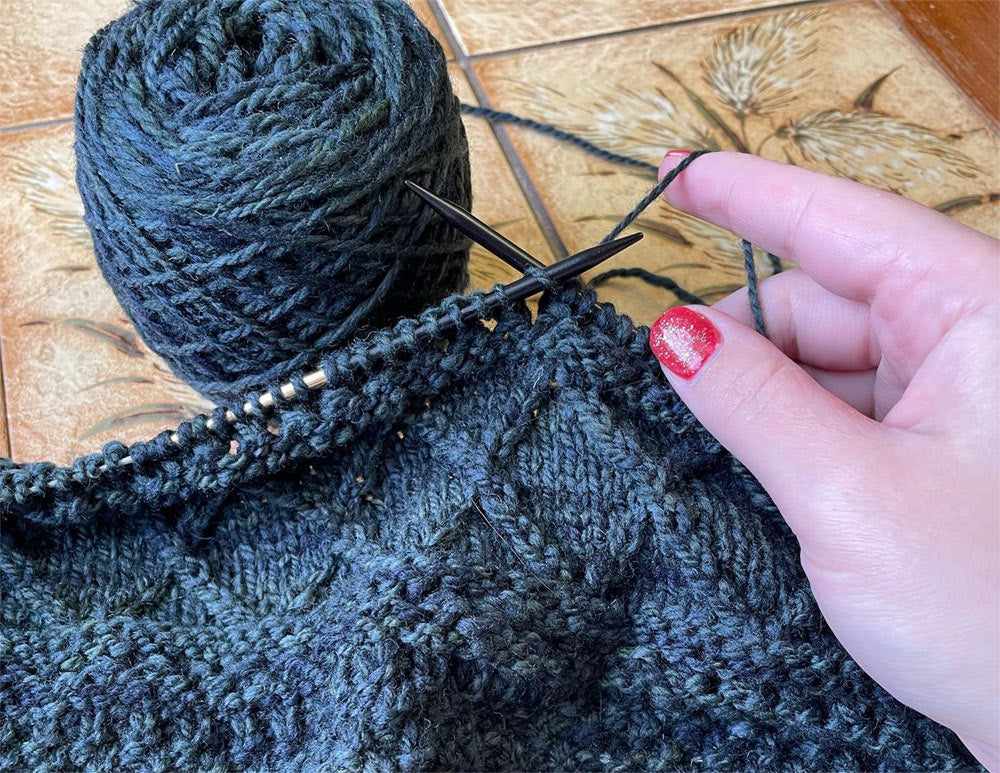 Knitting flat or circular, this question is on the minds of most knitters. It is important to understand the pros and cons to decide what suits you best. Most of us have learned to knit flat on a pair of straight single pointed knitting needles or the circular needles, creating our first scarf, shawl or afghan, you name it. At some point in our knitting journey, we move on to knit seamless items like socks or hats.  For knitting in the round, we need to get our hands on double pointed (DPNs) or circular knitting needles. But, as we knit more and more we have our favorites.
The knitting community is diverse. It is totally up to you to find your favorite knitting style and the needle type that works best for you. Whether you trust a pair of single pointed needles (STNs), circular knitting needles or perhaps a set of double pointed needles (DPNs), it is always recommended that you invest in quality knitting needles to serve you for years.
Knitting Flat
Knitting flat means knitting back and forth. Here you knit in parts and later seam the pieces together. To knit flat, you can either choose single-pointed needles or circulars.
With Single Pointed Needles
The single-pointed knitting needles (STNs) come in a pair with a stopper at the end. The method of working with them is, that you cast on, knit your row and then turn over the project and continue according to the pattern or till you have achieved your measurements. You will face the right side of the work in one row and the wrong side when knitting the other.
Pros
Tend to be more beginner-friendly.

In case of slight differences in measurements, the knitted pieces can be adjusted while sewing or seaming.
Cons
When

knitting large items, such as afghans or shawls, having all the stitches bundled up on the end of your STNs creates an overload of weight.

To allow edge stitches for your seams, you will end up knitting more stitches in general.
With Circular knitting Needles
These knitting needles are versatile. The needle tips have a length of cord joining them together. In the case of fixed circulars, the length cannot be changed while the interchangeable circular needles, and the cords can be changed as per as needed. Here too, you cast on the needle, then knit back and forth, turning the project after every row.
Pros
Beginner-friendly as well as for advanced knitters.

Can handle big projects as most of the weight lies on the cord and not needles.
Cons
The join of the needle and cord can snag yarn but choosing smooth needles helps with the problem.
Knitting Round
Knitting in the round means knitting seamlessly. You knit round and round and not rows. This method is best for socks, hats and all circular knitting projects. Knitting in a circle can be done on either circular knitting needles or on double-pointed needles.
With Circular Knitting Needles 
Circular knitting needles are considered to be the most versatile knitting needle types. In our range of knitting needles, you will find a huge variety of both fixed circular needles and interchangeable circular needles, both work well for knitting in the round.
Pros
The method is very easy. Cast on stitches on a knitting needle and begin knitting as the pattern instructs or you get to your measurements.

Minimal seaming is needed.

If your cable is long enough, you can even use the magic loop technique to knit

really small circumferences like mittens, sleeves, or socks on the same needle.

The needles are ergonomic as the cord carries the weight of the project.
Cons
It is harder to weave in tails.

It can be difficult to knit very small projects without the magic loop or proper cord length.
With Double Pointed Needles
The method of knitting in the round with a set of double-pointed needles is as old as knitting itself. The needles are joined together to form a triangle or square to knit seamlessly.
Pros
You can knit even the smallest circumference with DPNs, baby booties or tips of mittens.

There is no need to bind of projects until specified as the ends can be woven it with a finishing needle.
Cons
It is challenging to manage multiple needles.

The project might slip of any of the needles if kept carelessly.
Whether you prefer straight knitting needles or circular ones or knitting flat or in the round, it really comes down to your preference. In the end, it is the result that is important, the project must come out as the pattern instructs or the way you have planned. With Lantern Moon's range of premium knitting needles, you can create anything. To know more, you can refer to our blog post on Lantern Moon knitting needles. It is always recommended to have STNs, DPNs as well as circular knitting needles in your stash as you never know when you would require them!