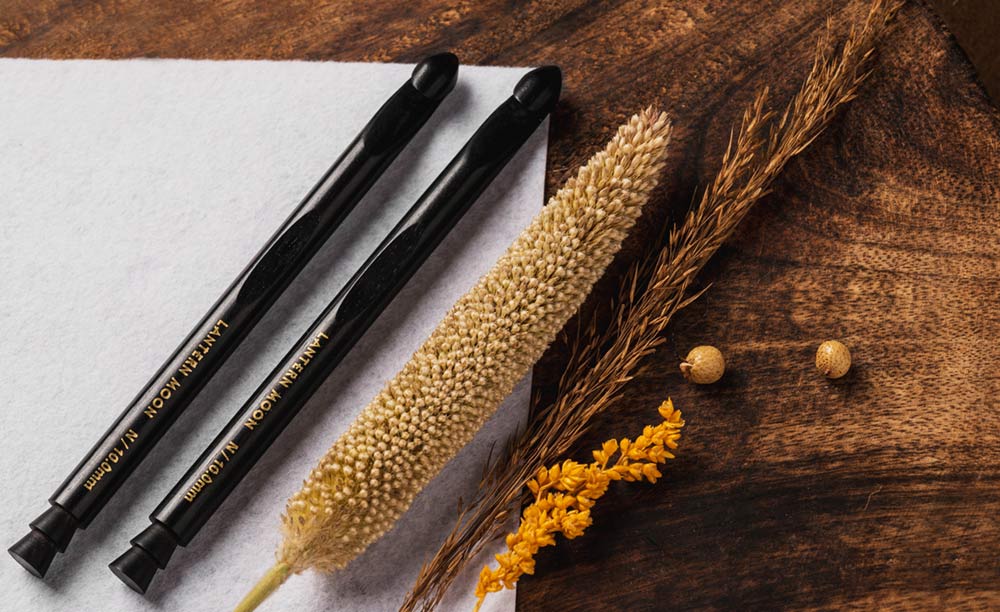 Crochet is a creative yarn craft that has so many health benefits. It keeps anxiety and depression at bay. Scientifically, it has been proven regular crocheting boost positive feelings among crafters. Before you begin crocheting, we have rounded a few things that you should know that will make crochet your choice of creative expression. You must be wondering if crochet is hard. The answer is, not really, every craft requires practice and time. The journey of each beginner crocheter is different, therefore what is easy to some may be difficult to others. But, as mentioned before practice you will get there to the point of artistic creativity.
So, let's take a look at 7 points to keep in mind when you begin with crochet
1. Choosing the right tools for crochet
Before anything, you must understand your tools. Crochet requires crochet hooks. You can also check out our blog on how to choose a crochet hook? They are available in a variety of materials and types. The most popular ones available in the market are single-ended crochet hooks and very unique Tunisian crochet hooks. Specially used for Tunisian crochet, the hooks come with interchangeable cords. Like knitting needles, crochet hooks have their own measurements. The size is measured by the diameter of the hook.
You are as good as your hook, so, they matter the most. You don't necessarily need to invest in everything, but finding the hook that works best for you will determine how much you enjoy crocheting and also how well your projects turn out. The comfort you feel with the crochet hook reflects on the tension of the yarn and how your stitches turn out to be.
Besides, a hook you also must have a few craft essentials such as scissors, stitch markers, darning needles, etc. When you are just starting, only pick up the basic supplies required.
2. Experiment 
There is no 'wrong way' in crochet. Every crocheter has a unique style of holding the crochet hook, tensioning the yarn and making the stitches. Most crocheters can be categorized as either knife holders or pen holders. Before you decide on what works best for you experiment with holding the hook. You might find yourself comfortable in another way and that is perfectly acceptable. The same goes while you tension the yarn, each person finds different ways to tension. Just let your creative juices flowing!
3. Learn and practice the basic stitches
The slip knot and chain stitch are crochet essentials. They are the first step of every crochet project, so it is necessary that you learn and practice with them regularly. Nearly all crochet stitches are derived from a combination of single crochet, half double crochet, double crochet and slip stitch. Once you mastered the basics you will have much greater success learning the other stitches. You can also learn about basic crochet stitches in our previous blog. Don't jump into a crochet project without a clear understanding of the basics.
4. Read the pattern carefully
Crochet patterns are of great help with any project. The web is one of the greatest resources for free patterns but before you begin anything, pay close attention to the website you are using. If it is based in the UK and you learned to crochet in the US (and vice versa) you may face issues. Crochet terms vary from US to UK. The stitch names are the same between the two countries, but the steps are different. Here's a handy chart for you to use if you need to translate between US and UK crochet terms.
| | |
| --- | --- |
| U.S./Canada | U.K. |
| slip stitch (sl st) | slip stitch (ss) |
| single crochet (sc) | double crochet (dc) |
| half double crochet (hdc) | half treble (htr) |
| double crochet (dc) | treble (tr) |
| treble/triple (tr) | double treble (dtr) |
| double treble/double triple (dtr) | triple treble (trtr) |
| gauge | tension |
| skip (sk) | miss |
| yarn over (yo) | yarn over hook (yoh) |
5. Use social media as a source of inspiration
Every craft requires inspiration! When you begin to crochet, spend time on Instagram and Pinterest gathering inspiration and sharing it with fellow crocheters. It's rewarding! Youtube is also a trusted source as fellow crafters come together with tutorials, advice and recommendations and so much more.
6. Be patient with yourself
Learning a new skill takes time while practice makes perfect.  It's hard as a beginner to look at a seasoned crocheter's work and think you'll ever get there. But, you will, with patience and time.
7. Join a crochet group
Yarncraft artists are lovely people and pretty open to newcomers. Join a community, near your house or online. You will get guidance and inspiration. As a beginner, you may feel stuck and here you will get the help you need. Plus, it is fun to craft along. So these are our tips of things that are helpful to know when you first start learning to crochet. With the right crochet hooks and accessories from the Lantern Moon collection, begin your journey.
Happy Crocheting!