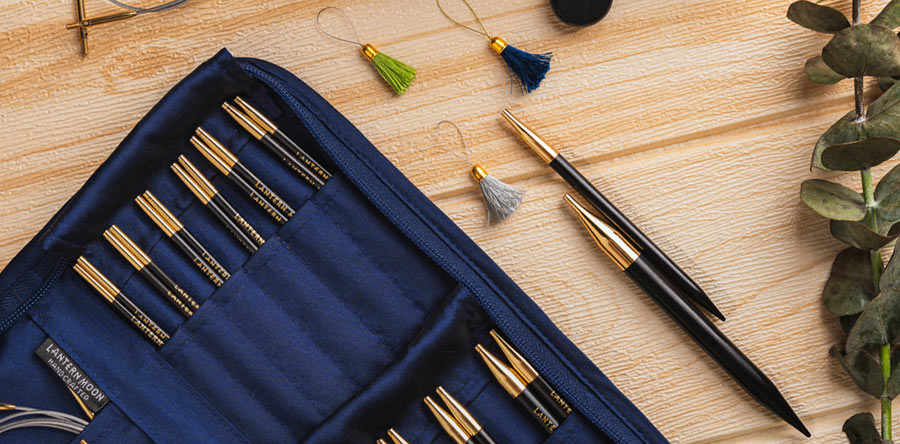 Knitting needles are undoubtedly the most cherished possession for any knitter. Whether it's a pair of single-pointed needles or a set of double-pointed or circular needles, your favorite tool also needs some love and attention every once in a while. It is believed in the knitting world that if you keep your needles happy, they'll make your knitting projects shine. So, with a little care and maintenance, you can keep your knitting needles in the perfect condition for a very long time. Investing in high-quality needles and sets guarantee a long knitting life, but even then they need love and care.
Here are a few tips about taking care of knitting needles.
Tips on Caring for Knitting Needles
Keep them clean. It's a good idea to occasionally clean the needles with muslin or shammy. The wooden ones will thank you with extra shine and flexibility. High-quality wooden needles also naturally become slick with lanolin in wool and oil from knitters' hands therefore it's best that you occasionally clean them with a soft cloth.
Moisturize them. Polish the needles with waxed paper to add a shine when they become dull or "grabby" from use. With a soft cloth, gently apply some beeswax, olive, or coconut oil to the surface of your needles and rub it in until completely absorbed.
Keep them smooth. To avoid potentially snagging or splitting yarn when knitting, use very fine sandpaper or emery board to smooth out any rough patches. This works best on bamboo or wooden needle. Be gentle about it, especially on the small sizes.
Keep needles out of extreme temperatures. Be it the cold or the heat keep the needles away from the high temperatures. When possible, avoid direct sunlight. Even if you knit outdoors keep your needles from the sun.
Keep needles undamaged and use them for knitting only. The knitting needles are not to be used to open a wine bottle, grab something, poke holes in packaging, or help reach something from a high shelf. The small needle sizes are to be particularly cared for. Do not sit on them or let them loose on the sofa or carpet.


Lantern Moon needles are handcrafted from premium ebony wood. The needles have been carefully crafted with honed tips that work for all types of yarn. The warm surface of the needles has a liquid silk finish. Great to hold, less slippery, and noiseless, these needles cause little muscle fatigue which makes them a favorite with anyone who tries them. With a little care and attention, these needles will remain smooth and lovely for years, enhancing your knitting experience every time you knit with them.
Caring for Knitting Needle Cords
Besides the needle tips, in the case of circular knitting needles, the cords also need to be cared for. When you are using the fixed circular needles or cords with one of our interchangeable needles or needles sets, it's best to use memory-free no-kink cords. Oftentimes the cords when packed for a long time, they need care. Before you start any project, give your cords a stretch. Dip the cords in warm water for a few seconds, pull out and give a gentle tug to straighten. Repeat, if necessary.
Lantern Moon cords are stainless steel nylon-coated materials that uncoil easily and stay relaxed with no twisting.
Another essential step in caring for your knitting needles is using cases to store your needles. An alternative for this could be investing in the needle sets. For the interchangeable needles, Lantern Moon has four popular sets- Heirloom, Legacy, Ancestry and Heritage. Each set contains needles in popular sizes along with cords and accessories.
The beautiful needle cases are crafted from traditional Indian khadi silk fabric with vibrant 'Ajrakh' prints. The historically rich weaving technique honors the indigenous crafts of the artisans that produce them.
The Circular Needles Empty Case is designed to store multiple sizes of needles. The zippered case contains 16 interior pockets for needles and 2 pockets for accessories. 
Interchangeable Needles Empty Case are available in a zippered and padded with 10 sleeves for multiple interchangeable needle tips, plus 5 pockets for cords or accessories. 
Double Pointed Needles Empty Case has 12 sleeves for the set of 5 DPNS, including an extra-large one pocket for circulars. The zip closure keeps all contents safely stored. 
Knit-Aid Empty Case has 6 pockets to keep a variety of tools on hand. The zip closure keeps all contents safely stored.
Lantern Moon is focused on craftsmanship and premium experience producing good-quality knitting tools that bring a lot of happiness and a great crafting experience to anyone who uses them. There is a certain magic in the handcrafted range of Lantern Moon knitting needles and crochet hooks. Skilled artisans give special attention to ensuring every handmade product has a long life and is a worthwhile investment.