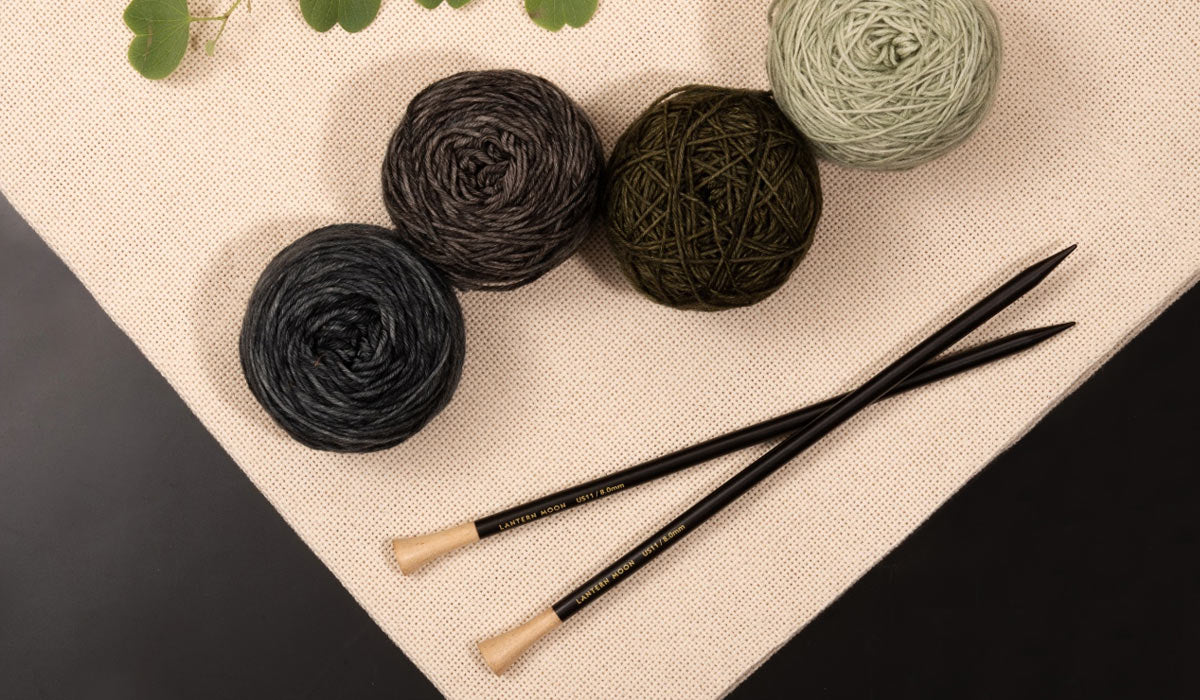 When it comes to knitting, nothing beats the feeling of making something beautiful with your hands, especially when you combine your talent with the soothing touch of wooden knitting needles or any other pair of needles. However, what do you do with all of those yarn scraps that are left over after a project that seems to multiply? Instead of letting them gather dust in your knitting basket, turn them into one-of-a-kind and creative projects that will not only clear out your stash but also add a personal touch to your life and home.
Renowned for its exquisite needlework supplies and accessories, Lantern Moon knows that each knitting project is an opportunity for artistic expression. We adore the craft of knitting and the creativity it inspires, which is why we've compiled a list of 12 unique knitting ideas for leftover yarn. With your audacious spirit and our quality tools, these projects are an intimidatingly brilliant way to make the most of your leftover yarn.
1. Ombre Gradient Shawl: Take those mismatched yarn leftovers and arrange them in a visually pleasing gradient. Knit a beautiful ombre shawl that transitions from one color to another, creating a stunning effect with Lantern Moon's exquisite tools. The beauty of ombre is that it never goes out of style, makes heads turn, and leaves your friends and family speechless.
2. Yarn Scrap Wall Art: Turn your leftover yarn into art by creating intricate yarn scrap wall hangings.
To create yarn scrap wall art:
Arrange leftover yarn by weaving and knotting it onto a wooden frame.
Experiment with various patterns like chevrons, macramé knots, or ombre gradients.
Mix colors and textures for unique designs.
No knitting is required; it's all about weaving and knotting to craft captivating home decor. By arranging the yarn in different patterns and colors on a wooden frame, you can craft unique, eye-catching decor for your home.
3. Stash Buster Blanket: Make a "stash buster" blanket from your scrapped yarn. Use a variety of stitch patterns, such as lace or cables, to create a multicolored, multitextured masterpiece. Each square can be a mini-project in its own right, helping to keep your knitting skills sharp.
4. Mismatched Sock Collection: Use your leftover yarn to knit unique pairs of socks and embrace the charm of mismatched socks. Double-pointed knitting needles are perfect for knitting socks, as they allow you to work in the round and shape the heel and toe. You can use them to create a collection of mismatched socks with your leftover yarn, experimenting with various colors and patterns. It's a fun way to give your outfit a hint of eccentricity.
5. Beanie Hats: Craft cozy beanie hats with your yarn scraps. Experiment with stripes, color blocks, or multicolored designs to keep your head warm in style and match your outfits with panache.
6. Patchwork Sweater: Use your leftover yarn in various colors and weights to create a patchwork sweater. Circular knitting needles are best for this type of project. You can knit the body and sleeves without seams, making the finishing process easier.
7. Rainbow Beanie: Knit a beanie with a rainbow motif to unleash your inner artist. Make a rainbow out of your leftover yarn and arrange the colors in a way that best represents your unique style. Stitch markers can help you achieve the best results.
8. Holiday Ornaments: Make festive ornaments out of yarn to get ahead of the holiday season. Your leftover yarn's range of hues and textures can be ideal for creating one-of-a-kind holiday decor, such as creating mini yarn-wrapped wreaths, snowflakes, or miniature sweater ornaments to add a personal and festive touch to your Christmas tree.
9. Entrelac Pillow Covers: Create gorgeous pillow covers by learning the intriguing art of entrelac knitting. It is a technique that produces a woven or basketweave appearance. Instead of knitting in rows, you pick up stitches to create a series of interconnected blocks, forming a captivating textured pattern. It's a unique and visually striking way to work with yarn, perfect for crafting intricate designs. Make beautiful, textured patterns with leftovers to add flair to any space.
10. Fingerless Gloves: These gloves offer warmth without sacrificing agility. Mix and match yarn remnants to create unique, fashionable hand warmers, perfect for cool weather and crafting.
11. Dishcloths: Handmade dishcloths are not only eco-friendly but also great for scrubbing. Experiment with colors and stitch patterns to craft functional, beautiful kitchen accessories.
12. Textured Coffee Cozy: Create textured coffee cozies to add a cozy touch to your morning brew. Wooden needles are great for knitting coffee cozies. These little, quick projects offer the ideal surface to try out various stitch patterns and color schemes.
Leftover yarn doesn't have to be a burden. You can create something special and endearing from those scraps with creativity and knitting proficiency. These 15 fabulously brilliant knitting projects are within your grasp with Lantern Moon's best knitting needles, tools, and accessories.
Now, grab your needles, embrace the art of upcycling, and let Lantern Moon's high-quality tools be your dependable allies in the quest for needlecraft perfection. Begin knitting your way to a more vibrant and environmentally friendly crafting journey. Don't let your leftover yarn go to waste; let it fuel your creativity and the joy of knitting.