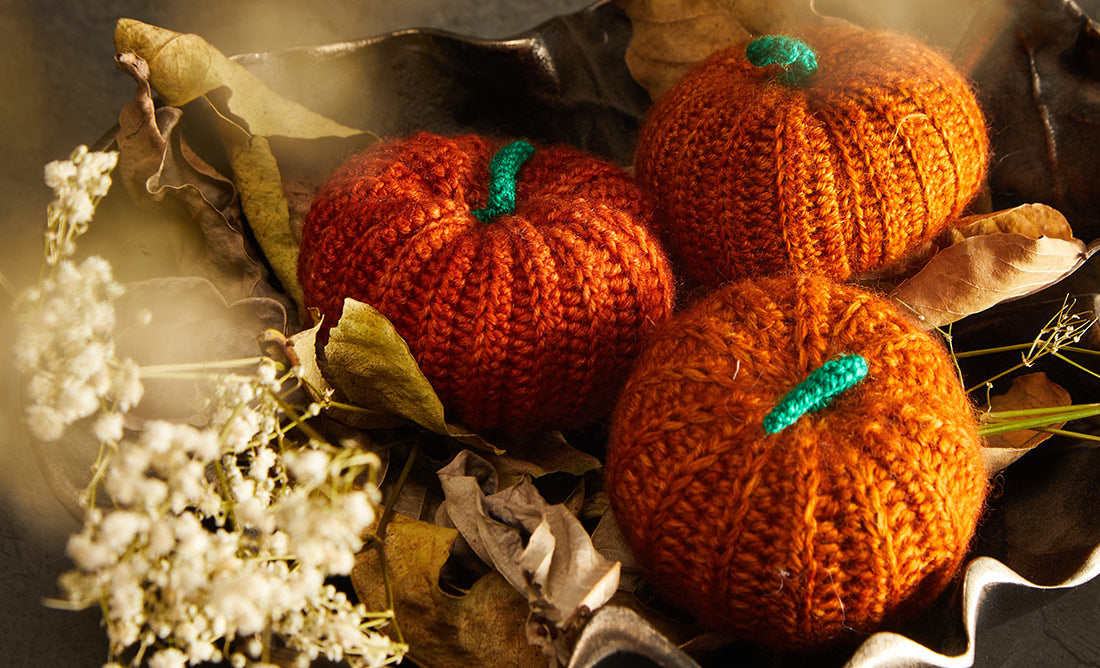 Fall has an undisputed icon – the Pumpkin. With the changing leaves and the season shifting to cooler days and nights, pumpkins are seen everywhere. From Halloween and Thanksgiving decorations to projects for the fall, the pumpkin makes its appearance everywhere. For knitters and crocheters, the most befitting option is creating fluffy pumpkins in their favorite colors with knitting needles and crochet hooks. In this blog post, we'll explore some delightful knitting and crocheting patterns for pumpkins that will add a touch of autumn charm to your home. You can work pumpkin patterns on your sweater or cardigan, hats, or socks, but there is a certain charm in having the fluffy décor gracing your homes.
Yarn pumpkins can be either knit or crocheted. For home décor, you can work it out in the coasters, dishcloths, buntings, pillow covers, and cushion covers. You can make it flat or round if you work with knitting needles. You can choose from single points, double points, fixed circulars or even interchangeable circulars. For crochet, you can use your single-ended crochet hooks or even work with interchangeable Tunisian crochet hooks for regular crochet stitches or work with the unique hybrid of knitting and crocheting- The Tunisian crochet.
Once you decide upon your tools, it is time to choose yarn. The first rule is that the yarn weight must match the knitting needle or crochet hook size. You can choose from the natural colors of yarn such as yellow, orange and green or experiment with unique shades matching your home décor.
Knitting Patterns for Pumpkin
Single Pointed Needles Knit a Flat Pattern
Knitting a flat pumpkin pattern is ideal for beginners and those who prefer traditional patterns. You'll need some yarn in your chosen pumpkin hue and single-pointed knitting needles to create your flat pumpkin. You can easily follow a pattern to make your pumpkin.
Start with a simple garter stitch rectangle, which will become the body of your pumpkin. Stockinette works too, but you have to work alternate rows of knit and purl stitches. Once your rectangle is complete, fold it in half and sew up the sides, leaving the top and bottom open. Stuff the pumpkin with fiberfill or stuffing, gather the top and secure it tightly. Add a stem in a contrasting color, and your flat-knit pumpkin is ready to adorn your fall display.
If you've worked other stitch patterns, such as cables or braids, they look beautiful on a pumpkin. If Jack-O'-Lantern is your style you can also make spooky eyes and a smile with black yarn or any other contrasting shade with a finishing needle and work duplicate stitches.
Double Pointed Needles for Cute Table Decorations
If you want to add a touch of whimsy to your fall table setting, consider knitting small pumpkin decorations with double-pointed needles. These mini pumpkins are perfect for table centerpieces or as individual place settings.
You can efficiently work your pumpkin if you are a pro at working with DPNs. Even if you plan to knit for the first time, this project is perfect as you can easily hide minor inconsistencies in the fabric. Begin by casting on several stitches and working in the round, gradually increasing to create a spherical shape. Once your pumpkin is the desired size, gather the stitches at the top and cinch them tightly. Add a tiny stem, and you've got adorable table decor that captures the essence of fall. Even for this project, you can make your version of Jack-O'-Lantern by duplicate stitches with a finishing needle. You can add textured effects with cables, braids or other stitch patterns.
Circular Knitting Needles for Plush Pumpkins
For a larger and plush pumpkin, use circular knitting needles. This technique allows you to create a seamless and round pumpkin that's perfect for cuddling or displaying on your couch. The choice of the length of the circular needle depends on the size of the pumpkin. The options are plenty from miniature pumpkins to ones to show off outdoors.
Start with a magic loop or cast on a small number of stitches, then increase evenly throughout each round for a small project. If you make a pumpkin for dining table décor, you can work with a needle of any length. Once your pumpkin reaches the desired size, stuff it generously with fiberfill, shaping it as you go. Switch to double-pointed needles to decrease stitches evenly. Finish off with a sturdy stem, and your plush pumpkin will be a cozy addition to your fall home decor.
Pumpkin Crochet Patterns
With a Single-ended Crochet Hook
Crocheting pumpkins is just as delightful as knitting them. Grab your crochet hook and choose your favorite pumpkin-inspired yarn colors to get started. Begin with a magic ring or chain a few stitches and join to form a circle. Work in rounds, increasing stitches to create a round pumpkin shape. After reaching the desired size, stuff the pumpkin firmly with fiberfill, shaping it as you go. Close the top and add a crocheted stem in a complementary color. These crocheted pumpkins are quick and perfect for adorning your mantel or table.
With Interchangeable Tunisian Crochet Hooks for Tunisian Stitches
If you're an adventurous crocheter looking for a unique twist on traditional pumpkin patterns, consider using interchangeable Tunisian crochet hooks. Tunisian crochet combines elements of both knitting and crocheting to create a beautiful textured fabric. To make a Tunisian crochet pumpkin, start with a foundation chain and use the Tunisian simple stitch to create a dense and textured pumpkin body. After finishing your Tunisian fabric, fold it halfway, stuff it, and cinch the top closed. Complete your pumpkin with a crocheted stem, and you'll have a one-of-a-kind pumpkin with a charming, handcrafted texture.
Whichever technique you choose, knitting or crocheting pumpkins for fall is a beautiful way to embrace the season's creative spirit and add a touch of handmade warmth to your home. You can experiment with various yarn colors and textures to create pumpkins that match your individual style and decor. So, gather your knitting needles or crochet hooks, select some cozy yarn, and let your creativity flow as you bring the essence of fall into your crafting projects. Whether you're a seasoned crafter or a beginner, these pumpkin patterns offer endless possibilities for crafting autumn magic with two hands.
The Lantern Moon Collection offers handcrafted tools and accessories. The premium knitting needles and crochet hooks are made from ebony wood. The liquid silk finish allows the smooth flow of stitches and works with all yarn fibers.
Happy knitting and crocheting!