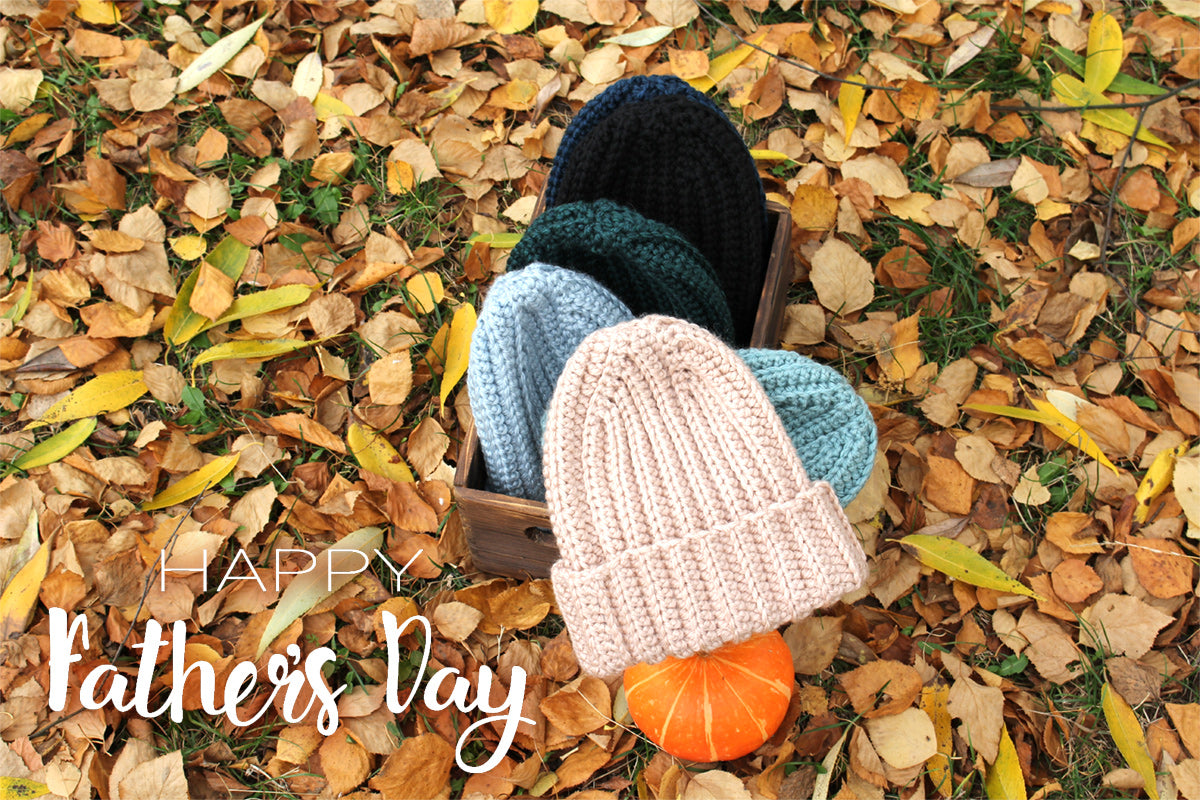 Father's Day is around the corner and just another wonderful day to express your love. Personalized gifts are rare and well-appreciated. A handmade gift is just right to show your love. If you have not picked up your knitting needles or crochet hooks for a while and are out of practice or a pattern, you still can make some lovely gifts for your dear dad. We've got some quick ideas ideal for knitters and crocheters of all skill levels. All you need is some yarn, your favorite tools, a few hours or the weekend at the most to get this done.
Remember to consider your father's preferences and style when selecting patterns, colors, and yarn. Though it's summer in most parts of the world, you can make a winter-inspired gift.
Here are a few knitting and crochet project ideas for Father's Day:
1. Tie 
Make a stylish tie for your dad using knitting or crochet techniques. Choose a soft yarn in his favorite color or opt for a classic pattern. It's a thoughtful and unique gift that he can wear on special occasions. Work with his favorites, you can make golf clubs or footballs or anything else you prefer. This can work with duplicate stitches or a finishing needle or with colorwork methods.
Knitting a tie is a preferable option to crocheting one. Crochet has a different stitch definition than knit stitches. While knitting creates a fabric that drapes well, crochet is more structured. You need to knit a length that drapes well. A basic pair of single-pointed knitting needles in US 3-5 sizes work with fine yarn weight.
2. Hat 
Hats are easy to make and are wonderful gifts. Create a cozy hat for your dad to keep him warm and stylish. Select a pattern that suits his taste, whether it's a classic beanie, a slouchy hat, or a brimmed cap. Consider using a yarn in his favorite sports team's colors for an added personal touch.
Now, for this choose knitting needles or crochet hooks according to your preference. You can make one in any basic design or follow a pattern to have an interesting stitch pattern. Follow our guide on how to knit and crochet a hat. Whether you knit or crochet a hat, both are perfectly fine as long as you complete a neat project. For knitting a hat, you can go ahead with any set of double-pointed knitting needles or a circular needle of the right length. Knitting it back and forth on straight needles is also fine but the project won't be entirely seamless.
3. Scarf
Craft a warm and comfortable scarf for your dad to brave chilly weather. You can also work on a stylish accessory for the warm weather. Choose a stitch pattern and yarn that reflect his style. The choice of whether to knit or crochet the scarf is up to you. It is a basic construction so you just need to make a rectangle fabric. Whether it's a simple garter stitch scarf or a more intricate cabled design, he'll appreciate the effort and warmth it provides. With knitting, you can take up the technique of double knitting that creates unique patterns on either side of the project. With duplicate stitches or any colorwork method, you can create unique patterns or write your father's or your favorite quote to make the gift all the more special. For crochet too, work with multiple yarns or try out the colorwork methods. Our quick guide on how to crochet a scarf will walk you through it. If you are an advanced crocheter, you can try out the Tunisian craft with your specialty interchangeable Tunisian crochet hooks. The knit-like stitches look good and are dense for a warm project.
4. Coffee Cozy 
 If your dad is a coffee or tea lover, knit or crochet a coffee cozy to keep his drink warm and his hands protected. Even if he is not a coffer-guy but into wine, the cozy can be customized to keep wine bottles cool and chilly. Customize it with his initials or a fun design. It's a small, practical gift that shows you care. You can get this done in an hour but serve him every time he gets a hot drink. Get matching coasters done as an entire gift kit. You can knit or crochet coasters too. If you are a fan of classic crochet granny squares, they will definitely make beautiful gifts.
 5. 
BBQ Apron
 If your dad enjoys grilling, consider making a BBQ apron. Knit or crochet a sturdy and functional apron with pockets to hold grilling utensils or spices. Opt for a durable yarn that can withstand outdoor use. You can involve both knitting and crocheting to make the parts of the apron and then assemble it together. Make a matching chef's hat to go with it.
6. Socks
Socks are loved gifts and no matter how many pairs you have, a handmade pair of socks is wonderful. Knitting socks on double-pointed needles is a quick and easy way to make a pair. If you are a fan of working with circular needles, choose one of the right lengths or work with the magic loop technique with one circular needle of an extra length or two circular needles. For warm and sturdy socks, crochet ones work too.
7. Gym Bags
If your dad is a fan of working out, a gym bag will be a great gift. Knit or crochet one, both are absolutely fine. You can spell out the gym or make some motifs of dumbbells and other stuff to personalize it.
You can go ahead with these interesting ideas or plan a gift with a previously knit or crocheted project in your dad's favorite color or with his favorite hobbies. After you've decided what you would like to make, now gather your supplies.
Yarn -

You can choose any yarn weight or color according to your chosen project. If you have a lot of stash from previous projects, now is the good time to put it to use. Sorting out your stash will help you find the right colors, weight and combinations.

Knitting Needles

- If you are a long-time knitter, your craft collection will serve you well. With multiple needle sizes and accessories, an interchangeable circular knitting needle set will work for all projects. Work with comfortable knitting needles in the right size and lengths.

Crochet Hooks

- A crochet hook size matching the yarn weight is essential. If you are a proud owner of single-ended crochet hook set then you will have multiple sizes. Even if you have a Tunisian crochet hook set, you can go ahead without attaching the cord. The set will have multiple hooks and accessories.

Accessories

- For a smooth crafting journey it is always recommended to work with stitch markers, sharp scissors, finishing needles, etc. A repair hook is also essential as it will help you correct knitting mistakes quickly and neatly.
Besides these ideas, you can knit or crochet anything with love and be received by your father as a wonderful gift. Remember to choose patterns and yarns that align with your dad's preferences and hobbies. Handmade gifts are always special and will be cherished by your dad on Father's Day. With the Lantern Moon Collection enjoy knitting and crocheting with premium knitting needles and crochet hooks. Made from ebony wood, the tools and accessories are handcrafted by skilled artisans. When the tools and accessories are so lovingly crafted it automatically shows love and passion.
Happy crafting for your dear father!