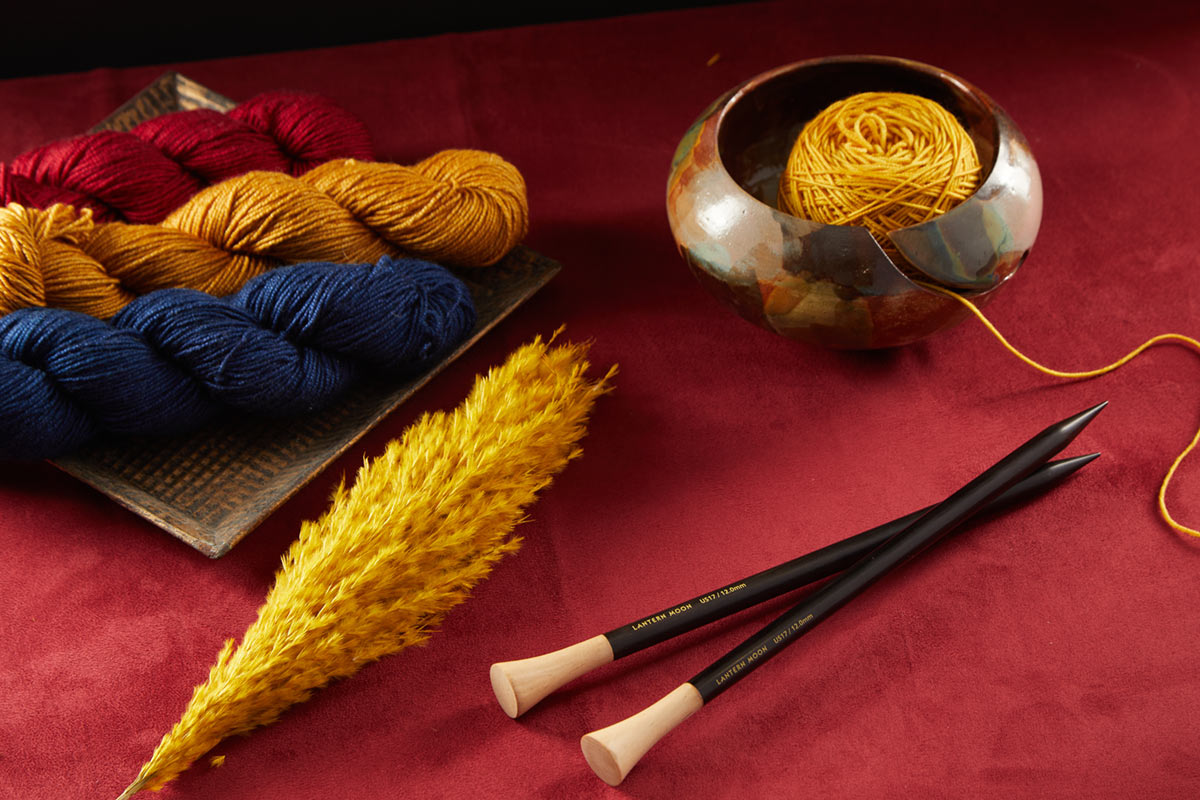 Wooden knitting needles are handy for all kinds of projects. Owing to the natural characteristic, the needles enjoy a smooth surface that lets the yarn glide while having a grab on the stitches. Generally, wooden knitting needles are not perceived as the choice for fast knitting needles. But, in case you are a lifelong wood knitter, you can try out a few tips to knit faster.
Like knitters, knitting needles are diverse. Not all knitters are the same as wooden knitting needles. It is always recommended to work with premium knitting needles. Smooth ebony wood is a unique material with a liquid silk-like finish that allows yarn to glide. Handcrafted by skilled artisans, the Lantern Moon ebony wood knitting needles serve knitters for many generations.
1. Make knitting a daily habit
The more you knit the faster you get. Try and make knitting a daily habit, even for 15-30 minutes. This way, the hand movements and stitch-making will settle in your muscle memory making it easier and more comfortable. Once you get into the daily habit, you will notice your knitting needles going a lot faster. Your knitting will also get easier and smoother.
2. Knit without looking at your needles
Knitting without looking may seem challenging but with time and practice, your memory will lead you. Not looking at your stitches at the time will allow your hands to fly. Also, when you learn to knit without looking at your work, you can complete your knitwork while catching up with friends or a movie or show. You can also knit while watching your kids play at the playground or reading a knitting magazine!
3. Knitting on circular needles
Many advanced knitters profess that the biggest time saver is working with circular knitting needles, whether you knit back and forth or in the round. The same pair of knitting needles can be used for both. If you are working with interchangeable needles you have a better chance to change the needle size or cord length according to the need of the project. The ergonomic knitting needles are smooth in the hand of all knitters. The cord supports most of the weight of the project leaving your hands and wrists free from stress and fatigue. Also, this way your shoulders and elbows are free from the rigid position of working with needles and yarn. Working with circular knitting needles comes as a habit to many knitters and you will have a better outcome knitting with them. 
4. Knitting in the round with needles of two sizes 
This knitting tip is especially for those who prefer to knit with interchangeable circular knitting needles for knitting in the round. Also, if you knit with high tension, you won't have much speed as the stitches won't flow as easily on your left needle. To solve this, change the left tip to a smaller size. Say, for example, if you are working with a US 8 size (5.00mm) you can swap the US 7 (4.50mm) for the left knitting needle. This will not mess with the gauge. And, if there are some minor inconsistencies, the blocking process will help you overcome some mistakes.
5. Tension your yarn efficiently
Every knitter has a unique way to tension yarn and they choose one they are comfortable with. But, it might not be right. Play around with different tensioning methods and find the one that works for you to increase your knitting speed. Make sure that yarn flow is effortless and not too loose to knit nor too hard to pull out more yarn.
6. Fixing mistakes without ripping out several rows
Mistakes are a part of knitting. The knowledge of fixing knitting mistakes is a big time saver! This way in the case of any mistake, instead of ripping out stitches and losing out your hard work and hours, you identify the mistake and try to fix it accordingly.
Fixing knitting mistakes depends on the mistake itself. If it's a dropped stitch you can correct it with a repair hook or use a crochet hook. You can follow our guide on how to fix a dropped stitch. For minor mistakes, you can let it go and continue with the pattern. They can be corrected with blocking or when you weave in yarn ends with a darning needle.
7. Plan your knitting
To knit faster and smoother, a secret trick is to plan your knitting. Whether you are planning your own design or following a knitting pattern, before you start make notes. When you go through the pattern you will be instructed on knitting needle sizes, yarn weight, gauge and even stitches and techniques. Make your own notes at every step. This way when you cast on your project, you are informed about every step you need to take saving on time and effort. You can focus on the knitting part and enjoy the flow.
8. Knit Looser
It is a trick of many fast knitters, is to knit looser. Tight stitches mean it is difficult to insert your needle into a stitch and pick the yarn through. Knitting looser stitches will find the opening quite effortlessly as there's much less resistance when pulling the yarn through getting you to knit faster. Knitting loose means knitting it uniformly at the same time.
9. Change your knitting style
While every knitter has a unique style when it comes to holding the knitting needles, tensioning the yarn and making stitches, the community follows five knitting styles. The continental knitting style and the English knitting style are the most common ones. Follow our guide on English vs Continental. The styles are different in the way the yarn is tensioned and brought to make the stitches. Many knitters are of the opinion that the Continental style is a lot more effective than the English knitting style. This is because when knitting continental you hold the yarn in your left hand and pick up the yarn without letting go of your needle. This means smaller motions and therefore faster.
If you are an expert at both knitting styles, you can try out the Lever knitting style, the method of production knitters.
10. Use Knitting Essentials aka Accessories
Knitting accessories are absolute essentials. They assist with knitting. With stitch markers, you can get so much done. They assist you with marking stitches for reference, marking the start of the round, holding loops together and so much more. Sharp scissors save your time with quick and easy snipping. Finishing needles get so much done to weave in yarn ends. A repair hook is a trusty tool to pick dropped stitches and more.
The premium knitting needles from the Lantern Moon Collection are made from ebony wood. One of the most expensive woods in the world provides smooth knitting and crochet tools. The knitting needles in options of single points, double-pointed, fixed circular or interchangeable circulars are lightweight and have a silken finish. With precision points, 24k brass-plated connectors, nylon-coated stainless steel swivel, and fixed cords, the needles offer a luxury crafting experience. For all your knitting needs, explore the knitting needle sets of interchangeable needles in multiple combinations that assist with a wide variety of projects.