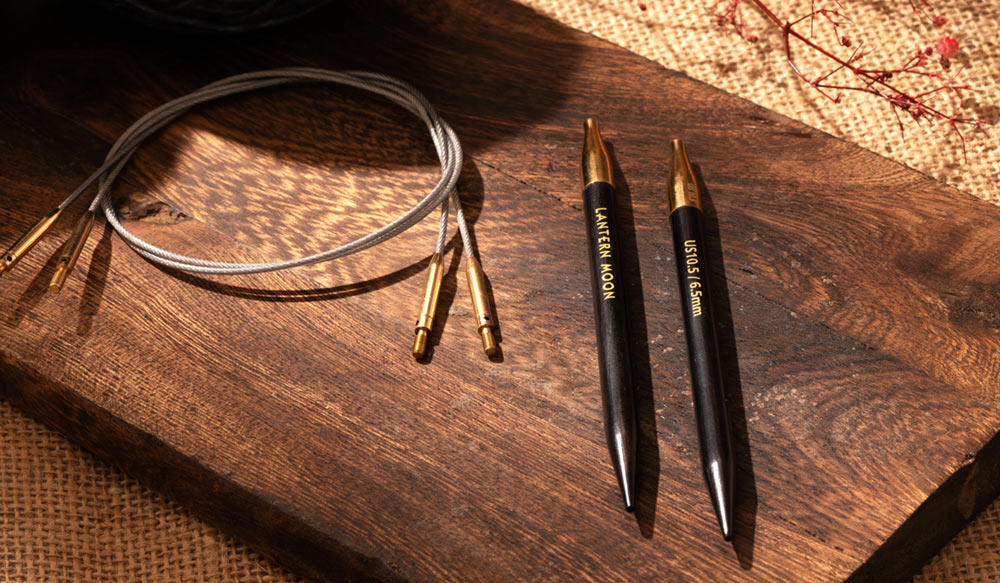 Knitting is a binding force that keeps the community connected through one art form. For newbies venturing into knitting, it can be a new, and sometimes mysterious task, especially if one is not aware of the basics such as the different types of knitting needles and needle sizes.
The art of knitting is thousands of years old and still going strong. You might be surprised to learn that, historically, men were known for their proficiency in knitting and weaving. Fishermen on those bad weather days when it was not possible to set sail learned to mend nets and knit garments. It was a source of additional income. Since then, the craft of knitting has not lost its shine.
To make things easier, here's a guide for knitting needles for the new knitter.
Types of Knitting Needles
Knitting needles come in three popular types. Each knitting needle has its benefits and features and knowing the difference and usages of the needles is helpful.
Single Pointed Knitting Needles (STNs)
Single pointed knitting needles are the most well-known and also one of the easiest types to learn on.  Just as the name suggests, straight needles have a straight shaft with one pointed end and a knob at the other end which holds stitches in place and prevents them from falling off.
Straight needles are used to make narrower flat pieces such as mufflers and scarves. Depending on the size of the needle and the yarn, the number of stitches can vary. The needles come in lengths of 10 to 16 inches. The longest ones are usually used for wider-width projects.
Circular Knitting Needles
It's been a little more than a century since circular knitting needles came into existence and are one of the most popular types. Besides many other reasons to knit with circular needles, the most common ones are as they are efficient for working in rows and for rounds. When worked in continuous "rounds", the circular needle forms a round of knitted material – having no seams.  These are often used for sweater bodies and for hats and accessories such as cowls. They are also suitable for patterns that are knitted flat. The knitter just needs to work each row back and forth and not connect them to form a circle.
Envision two short needle tips, each connected to a cable and forming one large needle from end to end. These come in two varieties- fixed circulars and interchangeable circular knitting needles. Both needle types are comfortable for beginners. The design of the needles allows the weight of the project to rest on the cords, so your wrists and hands do not tire out. The cord rests in your lap so the knitting is secure from unnecessary snags. These needles can be used for the most basic to complex knitting projects.
Double Pointed Knitting Needles (DPNs)
Double pointed knitting needles (also known as DPNs) are shorter and are pointed on both ends. These needles come in a set of five that work together to knit in the round. Depending on the width of the project you use 3 or 4 needles, one after another, while knitting with the extra needle. By knitting them in the sequence they form a seamless round shape – just like circulars.
Double-pointed knitting needles are often used to make small projects such as beanies, socks, and baby apparel.  They are also often used for knitting sleeves. Our previous blog on knitting with double pointed needles will help explain them further.
Knitting Needle Material
Knitting needles come in a variety of materials:  wood, bamboo, plastic, carbon, metal, and more.  All of them have their pros and cons, with texture playing an important role in the knitting process. Lantern Moon needles use the rare and responsibly harvested, Ebony wood. The exceptional materials reflect the magical beauty of Southeast Asia. It has a smooth surface and its dark color suggests its luxurious origin.
Knitting Needle Size
The size of a knitting needle is characterized by two important factors— the length and width of the needle. It is important to know the needle size since it helps determine the type of yarn that will work best.
2mm-2.75mm - Works best with a 15/3 fingering yarn.

3mm-4.5mm – Best to knit with 2 ply handspun DK yarns and 2 ply handspun fingering yarns. The higher-end size can also work with light worsted.

5mm- 6.5mm - works best with worsted and thicker yarns.

5mm-10mm - are used with a 2-ply worsted handspun yarn. This works best with chunky and super chunky yarns.
In knitting, you can use a particular needle size on any yarn size, depending on the kind of stitch that you want. For instance, you can use the 15/3 yarn on a 6-10mm needle size range if you're looking for a more lacey pattern with wider gaps or holes.
The extremely small needle sizes are tricky to use, and they are not suggested for beginners. Projects using small-sized needles will take a longer time to finish. Bigger size needles work best with bulkier yarns. Many people like to knit chunky scarves with bigger needles.  Beginners often find them easier to use since you can clearly see your stitches.
To give a better understanding of the other knitting needle sizes, our guide on understanding knitting needle sizes can be of help.
Which knitting needle is the best to start with?
All three types of knitting needles have pros and cons. Chances are you will like more than one – it depends on the piece you are making. It often comes down to the design or pattern, as well as the personal preference of the knitter. 
Now that we have explained the facts about knitting needles, it's time for you to start a new project. Visit Lantern Moon's blog and learn even more about knitting needles, tools, accessories, techniques, and more.  It's a treasure trove of interesting information. 
Happy knitting!