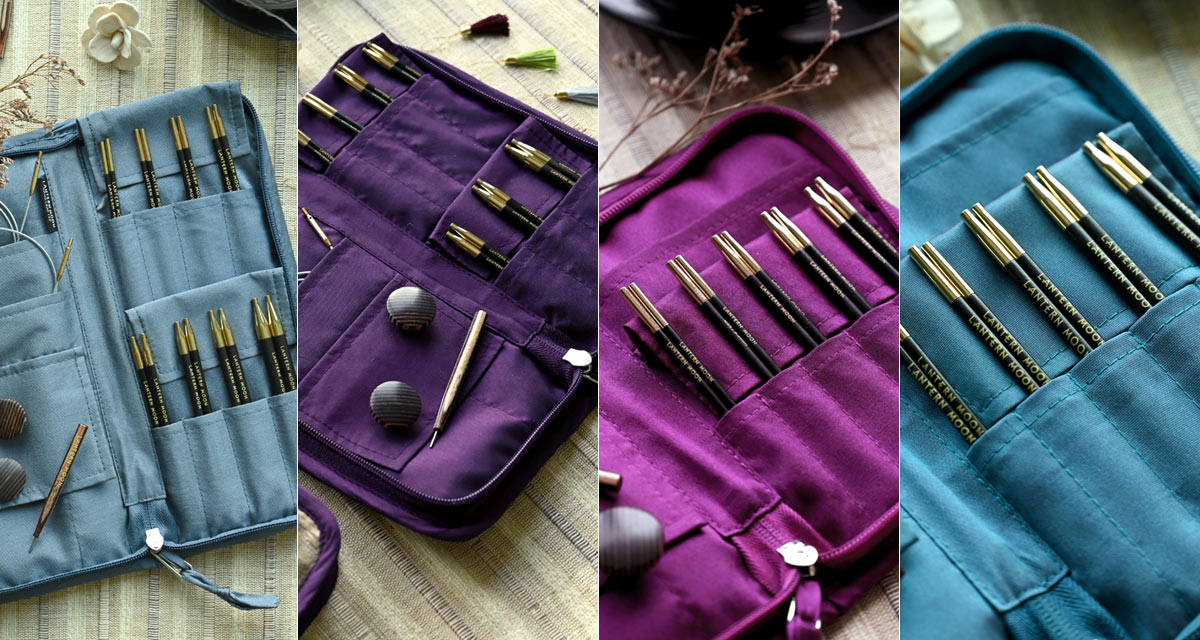 The Lantern Moon Collection offers beautiful and functional products to the yarn-crafting community with its handcrafted tools and accessories. Focused on craftsmanship and premium experience, there is a certain magic in the knitting needles and crochet hooks, and we think it comes down to the detailed finishing. Skilled artisans ensure that each handmade product is a worthwhile investment. 
Welcome to the newest members of the Lantern Moon family - Glory, Charm, Bliss, Grace, and Radiance! These hand-crafted sets of interchangeable knitting needles and single-ended crochet hooks are the latest additions to our community of knitting and crocheting enthusiasts. Like all our range, these tools are also made from the highest quality ebony wood and come nestled in stunning, hand-embroidered Khadi silk cases. With the versatile range of needle-cord combinations and delightful accessories, such as colorful stitch markers, wooden end caps, and tightening tools, you'll enter a state of blissful contentment as you watch your projects come to life. 
But that's not all! We're also excited to announce a range of new accessories, such as hand-crocheted retractable measuring tapes and tool kits, that will make your heart race with excitement. The Lantern Moon family continues to flourish, and we can't wait for you to be a part of it! 
The prized tools & accessories are perfect for all knitting needs as well as for gifting a loved knitter or crocheter. The interchangeable needle sets are versatile tools that assist with all kinds of knitting projects. 
The Glory Set 
Next is the Glory Set of interchangeable knitting needles. These 8 pairs of 5" (13 cm) needles handcrafted from the finest ebony wood, come in a range of sizes from US 2.5 - 11 (or 3.5 - 11 mm). The stainless steel swivel cords in lengths of 24", 32", and 40" are perfect for tackling flat-knitted projects as well as circumferences of sweaters to baby hats, socks and more. The circular knitting needles ensure a smooth, enjoyable knitting experience, whether you are a beginner or a seasoned knitter. The kit is perfect for knitters who like to enjoy their craft on the go, on a weekend getaway and more. 
The Charm Set 
Just like its name, this knitting needle set is a charming combination of style and functionality. The Charm Set of interchangeable needles is ideal for knitters who are fans of circular needles. 
The set contains five pairs of 5" long ebony wood needle tips in US size 2.5 (3 mm) - 8 (5 mm), 2 stainless steel swivel cords of 24" and 32", plus accessories. The needles are smoothly tapered while the cord lengths make sure you are able to tackle any project with confidence and style. Whether it's knitting large and bulky items in the round or flat or Magic Loop technique for shorter seamless projects, you've got everything ready. Regardless of whether you craft at home or while commuting, the set is a handy case for your creative needs. 
Bliss Set
The last of the new interchangeable needle sets, the Bliss Set of Interchangeable Knitting Needles are designed to bring joy to your crafting experience. The seven pairs of 4" (10 cm) needles in US sizes 2.5 - 10 (3 - 6 mm) gives you access to work on a wide variety of yarn types and weight. The two stainless steel swivel cords of 16" (40cm) & 20" (50cm) will provide you comfort to be able to knit any round project from mittens to socks to hats to a scarf or dishcloth with ease and comfort. 
Grace Set 
Just like its name the Grace set of interchangeable knitting needles reflects elegance. The handmade Ajrakh printed case on Indian Khadi silk in a deep shade of cranberry reflects beauty and grace. The five pairs of 4" (10 cm) needle tips and swivel cords lengths of 16" and 20" (40 and 50 cm) and accessories such as colourful tassel stitch markers is perfect for knitting a wide variety of projects. 
Think of a quick dishcloth or a scarf or even a hat, with this set you have got everything ready for use. Carry the set on your regular commute, walk in the park or while chatting with friends and have a project finished in a short period of time. 
Radiance Set 
Crafted from luxurious, lustrous ebony wood, the Radiance set of single-ended crochet hooks has six popular hooks in US sizes G - L (4 - 8 mm). Housed in an elegant Khadi silk case with multiple pockets it is a great kit to have for both new and experienced crocheters. With the Radiance set, you'll be able to bring a wide variety of your crochet projects to life. 
So come and join us in welcoming these latest additions to our content range and discover the endless possibilities of creativity and craftsmanship with the finest tools at your fingertips. We all know an artisan is only as good as their tools. Invest in the best, and you'll never be disappointed in the results. 
Besides these new interchangeable needle sets, explore the range of knitting needles, crochet hooks and accessories. With their exceptional finishing and details, we believe that they are ideal tools for all knitters, from beginners to experienced. The whimsical accessories deserve a special mention with each piece made by the hands of skilled artisans. The cute hand-crocheted retractable measuring tapes Ladybug, Fish, and Sunflower, sock monkey and merino sheep help you design your own garments and follow instructions carefully. The accessory holders- Sherpa and Baabs are lovingly made by hand bringing to life our favorite woolly creatures to have you assist you with your projects. The Knit out Box is loved by all yarn lovers for its beauty and benefit of carrying yarn and keeping them mess-free at all times. 
Skilled craftsmanship is not just focused on the tools, the beauty and grace of "Ajrak" and "Ikat" feature in fabric cases. The natural, hand-woven fabric Khadi has a long history and is valued worldwide. While Ajrak is an ancient hand block-printing method, Ikat is a dyeing method that have unmatched appeal to all lovers of handcrafted skills.
The Lantern Moon Collection honors the indigenous traditions of the artisans that are passed on over generations! We are a community that values art and creativity and when you support handcrafted, you support the continuation of skilled arts for the next generation.