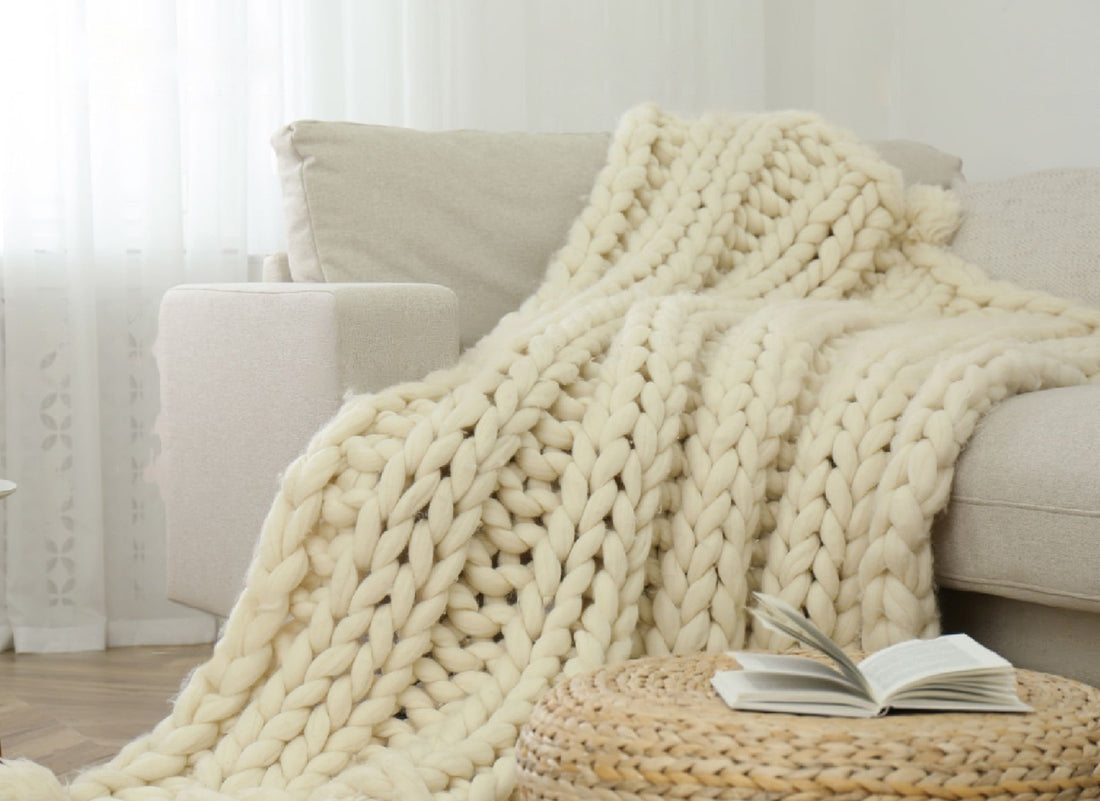 Chunky wool blankets are wonderful. They are the ideal winter gift for your loved ones or yourself and even when you think of helping out someone. They are easy to make on knitting needles (normal sizes too work but will be too bulky) as well as crochet hooks. Wool is a loved yarn fiber given its warmth, beauty, and ease. Knitters have been knitting with wool for centuries and to date, it remains loved. Chunky-weight blankets of wool look plush, bring beauty to your home and keep you warm. Another plus is, you don't even need a pattern as you can easily plan your own design. If you are looking for a guide on how to knit a chunky weight, we will walk you through all the steps of how to successfully craft your project.
How to Choose Wool Yarn for your blanket? 
Choosing wool for your chunky blanket is very simple. Wool is an amazing natural yarn fiber derived from our favorite four-legged creature. It is eco-friendly and perfectly warms up even in cold weather. Also, the yarn is a resilient fiber therefore forgiving of mistakes. It is easy to unravel and reuse wool. There are abundant color choices as the fiber is very dye friendly. The yarn can be used by all, as people aren't allergic to wool but lanolin, the natural oil in the fiber which can be removed by washing the yarn. Also, the yarn is responsive to blocking giving much help to knitters in matters of size, hiding mistakes and more. Our guide on how to choose the best wool for crochet will assist you in deciding.
Now coming to the quantity, a chunky wool blanket will need around 1500 yards for an adult-size 80-inch length and width. Baby blankets of 20 inches would require less as will a throw of 50-60 inches. The quantity differs due to the stitch pattern too, garter and stockinette are basic patterns while texture stitches will require more. Of course, you can also craft your blanket from scraps left from previous projects. You can double up or use multiple yarn to get the desired thickness. With this multiple threads you can also get cute color effects. The exact calculation of the amount of yarn can only be determined with a gauge swatch. Mark the yarn with two knots and make 10 stitches and then unravel. Multiply the amount of yarn by the number of stitches needed for the blanket and you will have the exact quantity of yarn. Make sure to consider extra inches to weave in yarn ends.
What kind of knitting needles for a chunky blanket? 
Chunky weight wool yarn is on the heavier side, therefore it is best if you use circular knitting needles of the size that matches the yarn. Our guide on knitting back and forth with circular needles will help you in case of any doubts. A pattern or the yarn label will have the exact size. The needle sizes US 11 - US 17 are perfect for the chunky wool. The circular needle cord ensures that the weight of your project will rest safely in your lap and not put any strain on your hands and wrists. The smooth ebony wood knitting needles allow stitches to flow.
An interchangeable circular needle set is a good option. They provide popular needle sizes along with cords long enough to accommodate the huge number of stitches and accessories that help you with your projects.
Besides knitting needles, make sure to have stitch markers (enough for the blanket), measuring tape, a finishing needle, a repair hook (to fix dropped stitches), and a yarn box to keep your yarn neat and secure as this project will take weeks to complete.
What Stitches do I have to know? 
To knit a blanket, it is enough to know how to cast on, make plain knit stitches and bind off. If you can knit and purl, the whole universe of possible stitch combinations and patterns opens up.
knitting the loop stitch for the entire blanket or simply use them at the edges. SImilar the seed stitch is a simple and reversible two-row repeat pattern and will give your item an eye-catching structure. Another stitch pattern that will look beautiful is the basketweave pattern but chunky wool might not be the best option. You can start with a gauge swatch and our guide on knitting the basketweave stitch pattern in easy steps.
Cast Off
Once your blanket is ready, it is time to bind off. Use any bind-off method you prefer. Make sure to follow knit-wise for knit stitches and purl-wise for purl stitches.
Finishing 
For the best finish, weave in the yarn ends with a finishing needle. Wool felts easily therefore over time the yarn tails gets buried in the fabric and strengths it. There will be at least two ends and multiple if you have used many skeins. If you do not prefer to weave in, work with the yarn tails while you are knitting.
You can also go ahead with the finger or arm knitting, but it is always better to use knitting needles or crochet hook to transform the yarn.
With this get ready to start your chunky wool blanket of Lantern Moon knitting needles. The luxury silk finish of the ebony wood needles help with easy stitch passing. The handcrafted needles are made by skilled artisans that understand the prized value of the knitting tools and accessories.
Happy winter knitting!