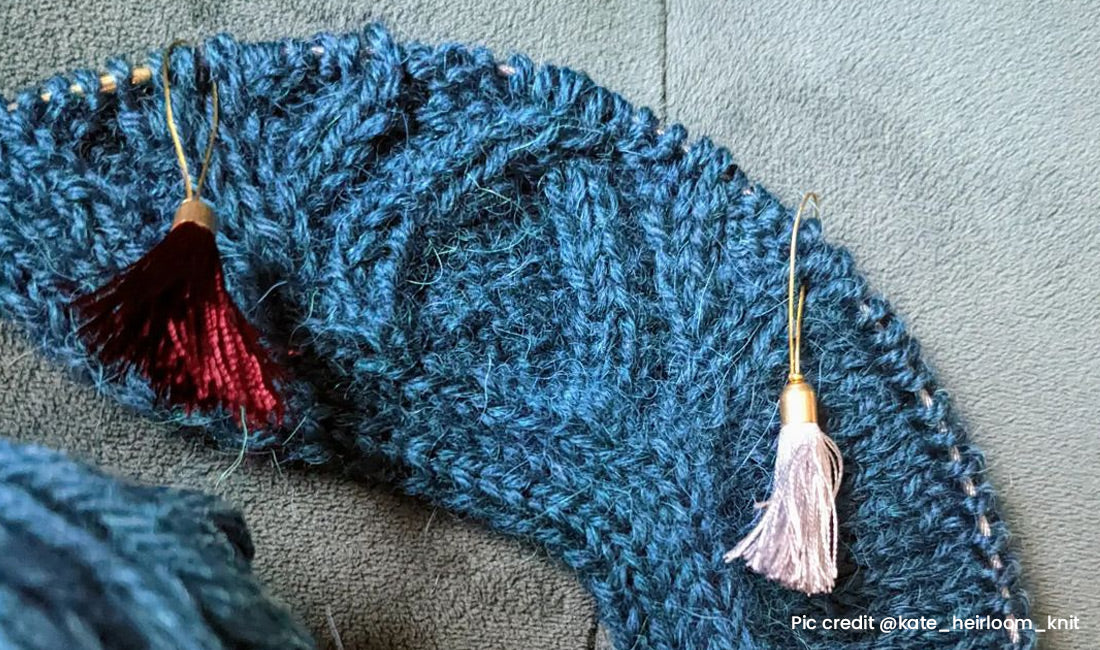 Once you have learned to knit and purl, put your skill to good use and start with a project on your knitting needles for yourself or a loved one. Of course, you can quickly begin by making something simple like a scarf, dishcloths, etc. But, let's face it, many knitters took to knitting to fashion turn to garments. After all, can we ever have enough of those? Cardigans are knitted garments that look beautiful and are a fashion statement for people of all ages. The simple pattern can be made with circular knitting needles in one piece in seamless rounds or in parts on single pointed knitting needles. They can be worked with various yarn weights, making it an all-season project. Besides, the stockinette or garter stitch, you can work with lovely textured stitches, cables, and techniques.
Circular knitting needles are everyday needles for many knitters. Given their versatile use of knitting seamlessly in the round as well as back and forth; they are needles that allow multiple knitting projects and styles. In this blog, we'll walk you through points to consider when knitting a cardigan on circular knitting needles. You can choose a knitting pattern or go ahead and experiment with your own design. If you are undecided, refer to our guide on knitting flat vs circulars.
Choosing the yarn 
If you are following a pattern, it will mention the yarn fiber and weight along with approximate grams or yards needed. If you want to experiment, first think of the recipient of the cardigan, a baby would have different needs than adults. If you require warmth, use merino wool or an acrylic blend. Summers cardigans would look good with light yarns such as mohair or superwash. The chunky weight is perfect for a quick project and for a warm winter gift. The colors are totally up to your choice. Even if the pattern recommends one color, you can add stripes by knitting at least two or three rows or rounds in the same shade.
Choosing Knitting Needles 
After you've chosen the yarn, it's time to decide upon the knitting needles. The needle size will also be mentioned in the yarn label or the pattern. The general rule is heavy yarn weight = bigger needle sizes and light yarn weight = small needle sizes. But, you can experiment too. Bigger needle sizes + lightweight yarn = lace fabric.
You can use circular needles from the start to finish the project but it is recommended to have a set of double-pointed knitting needles to help in the decreases. An interchangeable circular needle set or individual sizes would also help with different cord lengths. Besides the needle, do not skip the knitting accessories. Stitch markers, a repair hook, finishing needles, sharp scissors and many others would help in smoothly finishing your project. It is recommended to have them all to start your project.
Knit a Gauge Swatch 
With your yarn and knitting needles in hand, do not hurry to begin your project. Start with knitting a gauge swatch. A very important step for the successful completion of knitting projects, the gauge swatch is a sample of your entire project.
Knitting pieces are designed to fit a body, so you need to get an accurate gauge so they'll come out the size the designer intended. Knit a 4" (10 cm) square swatch with the same knitting needles and yarn you'll be using for the project. Wash and block according to instructions or details on the yarn label. After the square is dry, with a measuring tape count the stitches in an inch vertically for the row count and horizontally for the stitch count. If you have the same number as the pattern instructs, then you have the right gauge. Reknit on different needles if you need to, a bigger size if you have more stitches, and a size smaller if you have fewer stitches. Even if the gauge is different and you love the effect, go ahead with it.
Sizes 
Knitting patterns for garments are often offered in S, M, L, XL versions along with notes to calculate. If you want to attempt without a pattern then you have to calculate on your own.
For your cardigan, you need the measurements of
Neck circumference. Depending on V-neck, round, or other designs, calculate the circumference.
Chest/Bust around the fullest part.
Raglan, measured diagonally from your shoulder seam at the point where it meets the collar to the side seam at the
Armhole Depth from the top outside edge of the shoulder down to the armpit.
Body Length from underarm to your desired length (crop, regular, long or tunic cardigan).
Waist around at height of the
Back Waist Length from the most prominent bone at the base of the neck to the natural waistline.
Cross back from shoulder to shoulder.
Hip circumference at the widest point.
Sleeve Length from armpit to cuff with the arm slightly bent.
Center Back Neck to Cuff with arm slightly bent, from the base of neck across shoulder around the bend of elbow to wrist.
Upper Arm around the widest section above the elbow.
Wrist circumference.
Elbow with arms
Essential Knitting Techniques for the Cardigan Project 
For the cardigan make sure that you have enough practice in these essential knitting techniques.
Cast on: There are many ways, from stretchy ones to ones with constricted stitches, to choose one accordingly. 
Knit and Purl Stitches: The basic stitches in knitting - knit & purl are the foundation of all other stitch patterns. 
Increases and Decreases: To shape your cardigan you may need to increase and decrease stitches. 
Bind-off: Secure your stitches before taking the project off the knitting needles. Make sure the method matches the cast on technique. 
Weave in yarn ends: Every project and pattern demands its own ways to weave in yarn ends neatly. Make sure to have a few tricks and the right-sized finishing needle. Refer to our guide on how to weave in yarn ends. 
With this, you are ready to knit your first cardigan. You can start with the circular knitting needle or a set with multiple needle sizes, cord lengths and accessories.
 Happy Knitting!