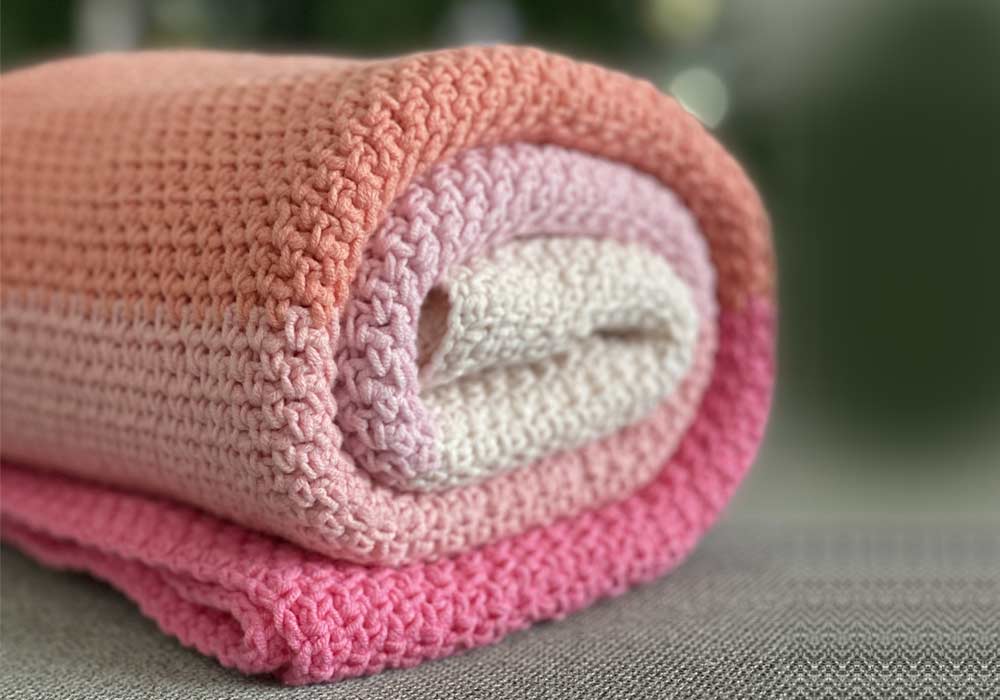 Ask any crocheter or knitter if they have enough yarn and they will never say yes. Over their crafting journey, they stash up plenty of yarn, some from finished projects, some from regular to the LYS (local yarn shops), and some even gifts from loved ones. If you are wondering what to do with extra yarn, one ideal solution is a "Stash Blanket". While you can knit a blanket too, we will discuss a crochet blanket in this blog.
It's easy to develop your own pattern or "recipe" using the yarn you have in your collection and the crochet hook that goes with it. So, let's walk through the steps to make one that uses up those lovely leftovers. Also, if you are new to crochet or thinking to get into crocheting (there are a few things you need to know with this blog), you still can follow this guide to crochet a blanket. Just step the point on choosing your yarn and get yourself new yarn.
Choosing Your Yarn
If you've been crocheting for a long time you might have a large assortment of many weights of yarn. Worsted weight yarn is ideal for a blanket as lighter weight yarn takes much longer to crochet and the heavier yarn may be too warm for a blanket.
Collect the yarn you're planning to use. If you have different yarn weights, separate the yarn stashes into separate piles – one for each weight. If possible, make sure that the fiber content is the same (or similar) for all yarns. Lightweight yarn can be doubled up to make one strand. Also if you own one size of hook, you need to understand the right crochet hook to go with the yarn.
Choosing a Crochet Hook
Whether crocheting a large or small blanket, the hook should be one that is comfortable in your hand and is suitable for the yarn weight. You can use a single-ended crochet hook or a Tunisian crochet hook. We suggest using a hook that's a little bigger than is normally called for with the type of yarn you're using. This helps even out the gauge when you're using yarns that vary in thickness.
Choosing the Size of Your Project
After you've collected the yarn oddments you need to plan the size of your project, "guestimate" if you have enough. We are not suggesting you measure the yardages of all your odds, but make an estimate based on the size of each ball of yarn. For example, a baby or child-sized blanket of about 36″ square will use about 1,000 yards of yarn, while a 5x5″ blanket, will use approximately 2,000 yards. 
The project can be any size or shape that you want. Obviously, bigger projects need more yarn. If you are running short, ask your crochet buddies if they are willing to share.
Make a Gauge Swatch
Pick up the yarn you wish to use. Chain about 20 stitches and crochet about 20 rows to crochet a swatch. Since the gauge doesn't have to be exact on a blanket, you can just pull the swatch off the hook when you've crocheted a few inches and measure how many stitches you are getting per four inches. This step will help you calculate the gauge. When make a gauge swatch, be sure to use the same stitch you plan to use for the project.
The Math
A stash blanket requires a  minimal amount of math. Plan how wide you want your blanket to be and multiply that inch width by the number of stitches you got per inch on the gauge swatch. This is how many stitches you need to start. This is why it is always recommended to crochet a gauge swatch before you begin. To make the calculations easier measuring tapes are handy tools.
Crochet Stitches and Techniques 
This is your project and you can plan it any way you decide, as long as you have enough yarn. You can use single crochet or double crochet stitches or even treble stitches. Single crochet stitches will create a dense effect, double crochet a little more open and treble stitches a very airy fabric. Choose the stitch according to the weight you wish. You could also choose to crochet granny squares and join them to make a blanket.
If you are a beginner you need to learn the basic crochet stitches and practice with this project.
Finishing in Style
Once you've crocheted and bound off your stash blanket, you'll have multiple yarn ends to weave in. Using a tapestry needle, simply tackle one at a time and weave the ends in parallel to the neighboring few stitches in the back. Many people find weaving in ends to be a meditative process. Just remember to leave long enough ends when you end and begin a new yarn color.
If you used the yarn you already had on hand, there was no extra money spent and you created something useful and pretty. Where once there were only raw materials, there is now something useful. Be proud of yourself!