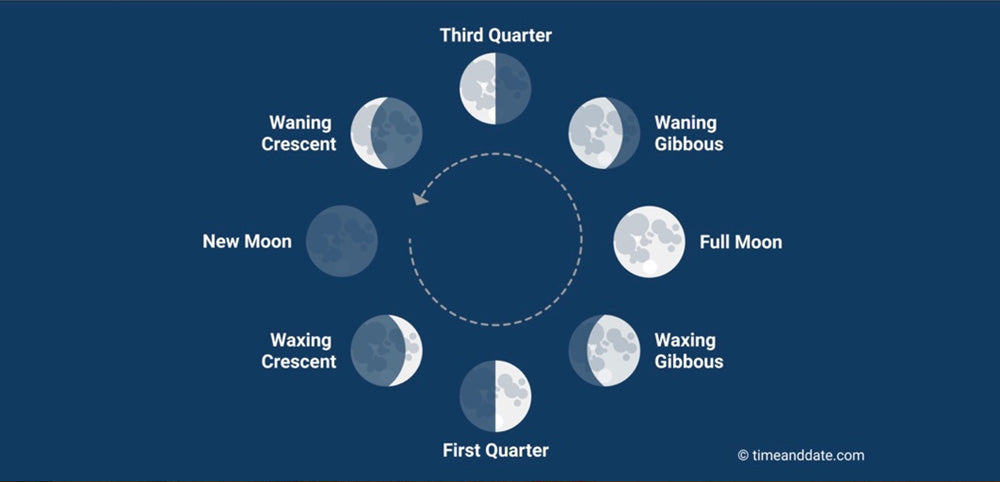 We'll be welcoming the next First Quarter Moon on March 10th.  It is also known as a half- moon  because 50% of the Moon's face is lit up. Whether it is the left or right half depends on where you are on Earth. Oh well,  I know it may be confusing, but I like to dwell on the fact that it's a forward moving moon and, as such, it represents strength, focus, determination and commitment to action – all positive attributes.
For those of us who love to knit and work with fibers of all types, focus is a good thing. While knitting is, for many of us, blissful relaxation, it does require determination and commitment to learning the craft and growing in its practice. To that end, I like to use the best tools to support what I am spending valuable time on. I find it in the full range of needle types in the Lantern Moon Collection.
One thing all Lantern Moon needles  have in common is the quality of the materials.  All are made from Indian Ebony, a sustainably supported and very beautiful wood. The polished surface provides the ideal glide for all types of yarns from cotton to cashmere.  The 24K   finishing on the brass connectors on the Destiny  fixed circular and Interchangeable Needles insures no snagging of yarn as you knit away.
The other mark of a quality circular needle is the easy handling of the connecting cords. Specifically, that includes their flexibility and  how easily they  can be stored away.  All Lantern Moon needles receive high marks on these qualities with no annoying  twisting while knitting. They also lay flat when tucked away in their case or your storage cupboard
Many of us learned on straight, single tip needles and still like to use them.  The Lantern Moon Single Point Needles are a study in elegance.  Their end caps are shaped in a slight flare and their contrast to the dark wood of the needle itself shows them to their best advantage. 
All the points on all the needles are honed perfectly and  work with all yarns and plies.
If you are experienced in the use of double point needles, you might wish  to look at the  Lantern Moon double point sets.  The double point sets of 5  come in 2 lengths: 6" and 8".
The points are smooth as silk, as is the finish, and makes for easy transition from one to the next. 
Lantern Moon needles have a distinctive heritage and it shows in all aspects of the design and styling. Read a bit about the Lantern Moon Story here.  As we approach this "half" moon  which begins on March 10th,  Lantern Moon's designers and developers hope you will consider spending some time with us  on our new site.   We love hearing from our knitting and crochet artists.  Please let us know if you have any questions and share with us any of your projects.  We will get back to you with focus!!